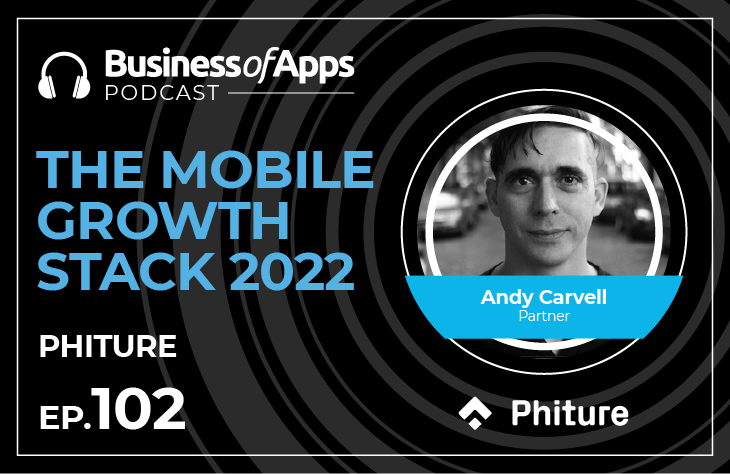 No matter what it's about, if you are serious about building something, like building a house / car / space ship or your mobile app product, you need a plan or what we call in IT – a stack.
I'm sure you see where I'm going with it, I have Andy Carvell on the episode and I've just mentioned a stack… Right – on this episode we're to talk about The Mobile Growth Stack to be precise, 2022 edition. I bet for many of you this situation may look familiar – either you are at the beginning of your app project or its well underway, you wonder what are my ALL options to build and launch a successful app business?
As it happens quite often with many concepts or ideas that go viral, the Mobile Growth Stack was conceived by Andy out of necessity when he needed to put together all his ideas for an app project, working at SoundCloud.
Now, to be clear, do not think of this stack as your ultimate To Do list. It service a different function of being a depiction, if you will, of the entire landscape of possible activities you may be involved with, working on your app project, including such stages as app user acquisition & retention, app engagement, monetization, tech solutions to use and more.
Today's Topics Include:
Andy's background – from a software engineer at Nokia, Marketing Lead at SoundCloud to Partner & Co-Founder at Phiture – Berlin-based 100+ strong mobile growth consultancy
Mobile Growth Stack: definition and its genesis
The Acquisition section of the stack
The Engagement & Retention section of the stack
The Monetization section of the stack
The Tech section of the stack
The Strategic Management section of the stack
The Analytics & Insights section of the stack
The Management Insights section of the stack
Android or iOS? Actually both :-), to be up-to-date with what's happening on both platforms
What was Andy's first mobile phone? Nokia 7110
What features would Andy miss most leaving his smartphone at home? Google Maps 🙂
What's missing from mobile app technology? Even better Night Mode on an iPhone.
Links and Resources:
Quotes from Andy Carvell:
"Than I ended up joining SoundCloud, who were a growing platform at that point, I think I joined at 29, I was employee number 89, I think.
That's one of the major misconception, actually, about the Mobile Growth Stack. There is lots of stuff in it, if  you've seen it you can see at mobilegrowhstack.com, it's a quite a busy page, there is a lot of information on there. And I think one of the things that people often think is that they have to do all of these things in order to succeed and it's absolutely not the case.
I really do believe that app analytics and insights should be the foundation on which you're building your whole growth efforts on."
Follow the Business Of Apps podcast