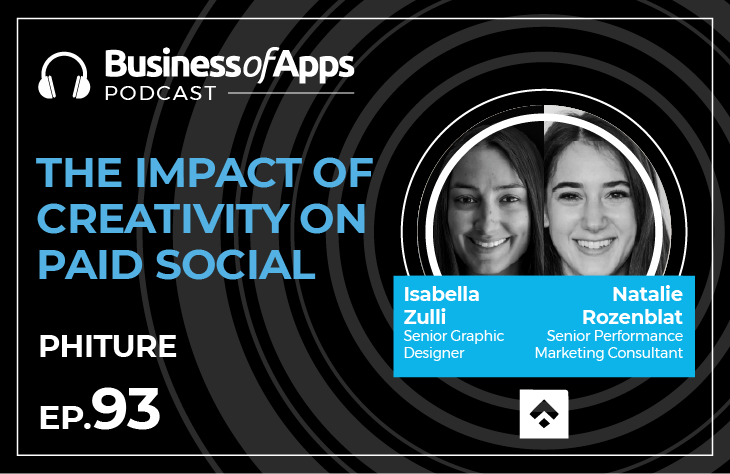 Alright, every once in a while I like to begin an episode with a question to the audience – what do you do every morning? You brush your teeth, at least I hope so, have your breakfast, take a shower. Am I missing something? Yes – you check your Instagram or TikTok feed. Why do you do it? This is the question for another time and another episode.
Right now, my point is that sometimes in those feeds one of the ads grabs your attention. Why? If you are an app marketer and your job is to acquire new users for your app, to generate more revenue, I bet you would love to know the answer on this question. You would love to have those graphic creatives that really engage people and lure them to your app, wouldn't you?
To answer this question, to give you some fodder for what those highly engaging mobile app ad creatives look like, I've invited Natalie and Isabella.
Today's Topics Include:
Natalie's and Isabella's background
What makes an ad creative stand out the rest, what allows it not to blend with other graphics in people's social media feeds
How to design your ad creative hit
Tools to use to get an inspiration to design your own highly engaging ad
Psychology behind high engagement of successful ad creatives
Ad creatives A/B testing: best practices
Android or iOS? iOS for both Bella and Natalie
What features would Natalie and Isabella miss most? Messaging apps and maps
What's missing from mobile app technology? Better battery for Bella and Natalie is just fine with her smartphone current capabilities
Links and Resources:
Quotes from Natalie and Isabella:
"The first step is really understanding who the audience is, what are their business needs. Then we look at historical ad performance, we can already learn from what was tested, what worked, what hasn't worked.
It's really about like standing out of the rest, which is why like that step three, when we conducting a competitive research and we are gathering inspiration – it's a really important stage for design team.
Depending on your audience of course, celebrity influencers can generate really positive performance. But depending on the experience, depending on the app, you know, just getting your real users even to create content for you. Like I would recommend to not being afraid apps to reach out their user base and, you know, see if anyone actually use the app in everyday life."
Follow the Business Of Apps podcast