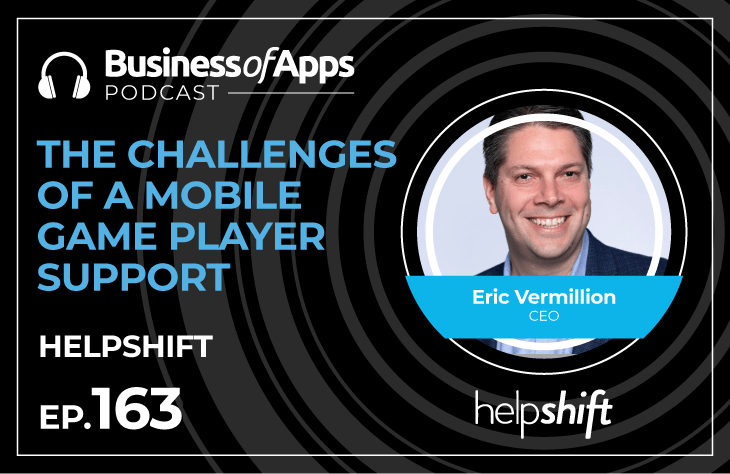 We all like it when things go smoothly and prefer it to stay that way but the Universe is messy so people's experience with mobile apps and mobile games can be too.
As much as app developers do their best to deliver the best experience to the users, they are just human beings, even if the code is perfect – which is extremely rarely the case if ever, there are maybe issues with how people interact with the app.
The solution? A support system that will help you to resolve all those issues for your mobile game users. Today, Eric will tell us about the challenges of mobile game player support.
Today's Topics Include:
Eric Vermillion's background
What is Helpshift
The challenges and requirements of mobile game support
What it takes to provide support for non-mobile game platforms
The role of Generative AI in a video game player support
Can Generative AI impact programmatic ad campaigns' costs
Generative AI impact on jobs in the programmatic ad sector
AR and VR games player support
What Eric would like to change about the programmatic tech sector the most
Android or iOS?
Eric's first mobile phone
Leaving his smartphone at home, what features would Eric miss most?
What features he would like to see added to his smartphone?
Links and Resources:
Quotes from Eric Vermillion:
"I find mobile games incredibly interesting because having a nice chunk of my career working in a broader cross-vertical support environment where I've done banks, insurance companies, some legacy brands and sort of have this preconceived notion of how the support is delivered – you put a bunch of people in the building and you call them, you send out physical mail and that sort of stuff. Gaming moves faster than that!"
"For consoles, you aren't in the game, you aren't in the environment and so you have to depart and go engage and support in a different way."
Follow the Business Of Apps podcast