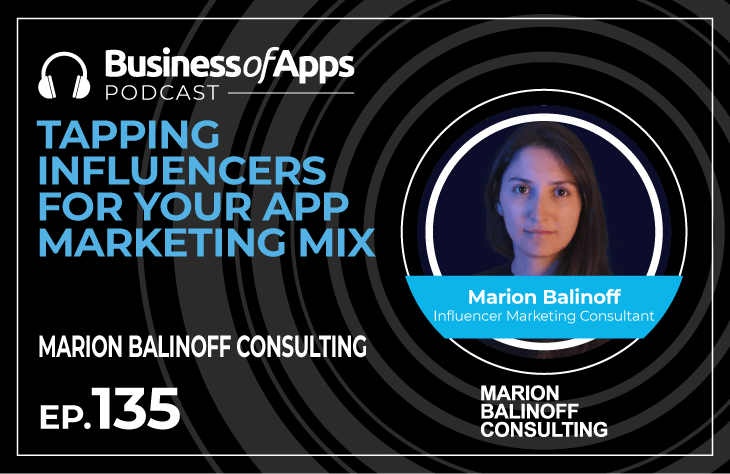 Today I'd like to continue the Influencer marketing theme, covering with Marion running an Influencer marketing campaign.
Now previously on this podcast, we covered this topic conceptually multiple times, and I bet you read about its pros and cons on blogs, watched presentations, etc but this time I want to focus specifically on launching your own campaign, I want to give you an example of how it should be done so you can avoid costly mistakes.
Today's Topics Include:
What social media platforms does Marion suggest to run ad campaigns for mobile apps?
Strategies for social media platforms that are efficient for app marketing today
Social media marketing campaign testing strategies
Strategies to mitigate issues that may arise with social media campaigns
What Influencers are capable to deliver for a mobile app ad campaign
Takeaways
A single thing Marion would really like to change about Influencer marketing
Android or iOS?
Marion's first mobile phone
Leaving her smartphone at home, what features would Marion miss most?
What features Marion would like to see added to her smartphone?
Links and Resources:
Quotes from Marion Balinoff:
"It starts with understanding the audience that we want to target like with any other acquisition channel. We need to understand where the audience is."
"In TikTok you can place the link that it's going to be only in the bio of the influencer, hence you aren't going to get a lot of trackable traffic. On YouTube, on the contrary, you have the link that is directly in the video description, it's right below the content and it's going to be much more accessible "
"…that means you need to increase the Conversion Rate. To do so you can have, for example, gift code links that will grant your audience some free goodies."
Follow the Business Of Apps podcast