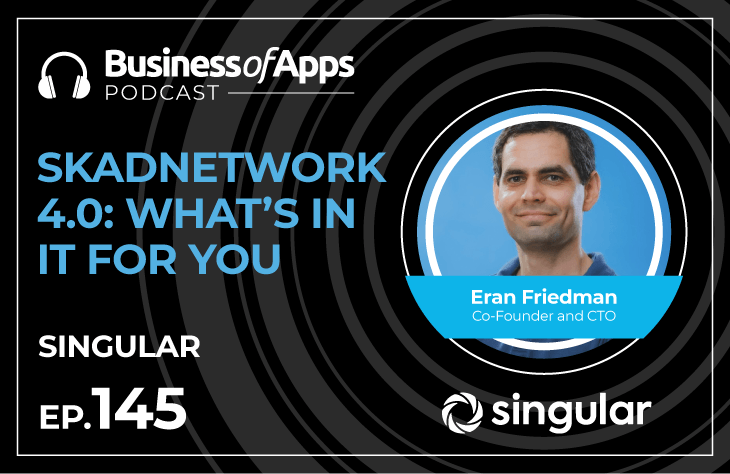 It was late March 2018, a pretty unassuming day. Except this is when Apple launched its SKAdNetwork. I bet back then many people weren't sure what letters in this acronym should and shouldn't be capitalized, let alone what impact this ad network API from Apple will have on the app industry.
Five years forward – it is one of the most discussed topics among mobile app marketers, app publishers, ad networks, and Mobile Measurement Partners or just MMPs. In this episode, Eran will tell about what SKAdNetwork 4.0 has brought to the table, how big of a deal it is, and more.
Today's Topics Include:
What is SKAdNetwork
SKAdNetwork 4.0 updates: Crowd Anonymity and Source Identifier
Multiple Postbacks
Postbacks Delays and Locking Conversion
Web-to-app support
Conversion Value Decrease
How well this recent update addressed advertisers' dreams and hopes
What Eran would like to change about the mobile app industry
Android or iOS?
Eran's first mobile phone
Leaving his smartphone at home, what features would Eran miss most?
What features Eran would like to see added to his smartphone?
Links and Resources:
Quotes from Eran Friedman:
"The challenge was though [with the Crowd Anonymity predecessor], and it leads us to the Crowd Anonymity, it was a very simplified threshold. It was practically impossible to optimize for SKAdNetwork"
"There is always room for improvement, generally speaking, SKAdNetwork. 4.0 is still new for us. It's very different from what marketers used to know from IDFA."
"I think of changes [for the app industry] that encourage more innovation, interesting opportunities. Like a potential new app ecosystem [from Microsoft]  that may be launched soon."
Follow the Business Of Apps podcast