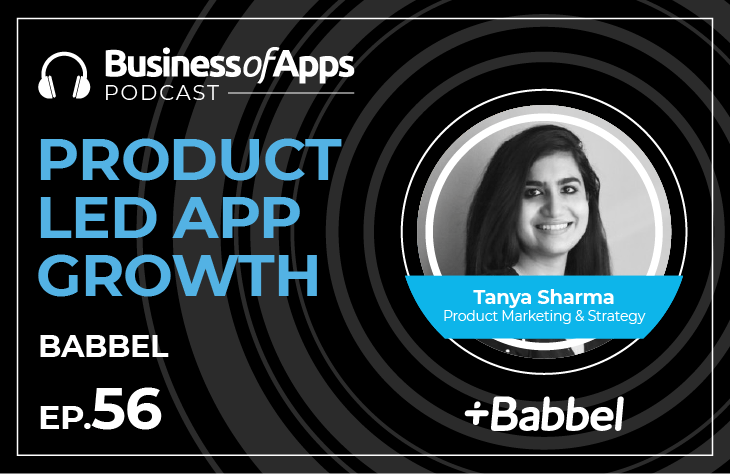 Mobile app growth and how to achieve it are in the center of any well-thought app marketing strategy. You may power your app growth with paid marketing or the product itself may lead its growth.
Every app has a diverse audience, some people find the app extremely useful and use it enthusiastically. Others are less engaging, and then there are those who download apps but hardly if ever, use them. Do you have an emotional relationship with specific apps? It's okay. Most users do to feel connected.
Today's guest is Tanya Sharma from Babbel, a digital language learning product. Tanya talks about product marketing and user acquisition to grow a database of app core users.
Today's Topics Include:
✔️ Connecting the Dots: Tanya's path as a consultant to app marketing to acquire users
✔️ Product Managing Marketing: Balance different channels to acquire different users
✔️ Growth Marketing Principles: Follow the lean startup method—build, measure, learn
✔️ App User Acquisition: Native or paid ads? Build sustainable scheme to power UI
✔️ Channel vs. User Acquisition Strategy: Awareness, conversion/direct response, retention
✔️ Product Life Growth Guard: Quality of users acquired, not cost to acquire users
✔️ Marketer's Best Friends: Pay attention to loyal users to increase conversion rates
✔️ Referral Concept: Understand logic and motivation for users to recommend products
✔️ Key Takeaways: Leverage core user base by tracking and rewarding repetitive behaviors
✔️ Android or iOS? iOS
✔️ Favorite mobile app(s) today? KptnCook
✔️ What iPhone/iPad technology would Tanya find useful? Gesture controls, multitasking
Links and Resources:
Quotes from Tanya Sharma:
"What got me really excited to move into product marketing and especially user acquisition was the idea of being in the intersection of being creative, having insights, analytics, and the business knowledge needed to actually bring the kind of users that use your product."
"Measure is important because no growth marketer can exist without knowing success metrics."
"What makes these loyal users so special is that they're advocates of your product. They go out there, talk about your product, and bring you free new users."
"Leveraging your core audience to expand your user base is the fastest and the cheapest way to grow and scale your product."
Follow the Business Of Apps podcast