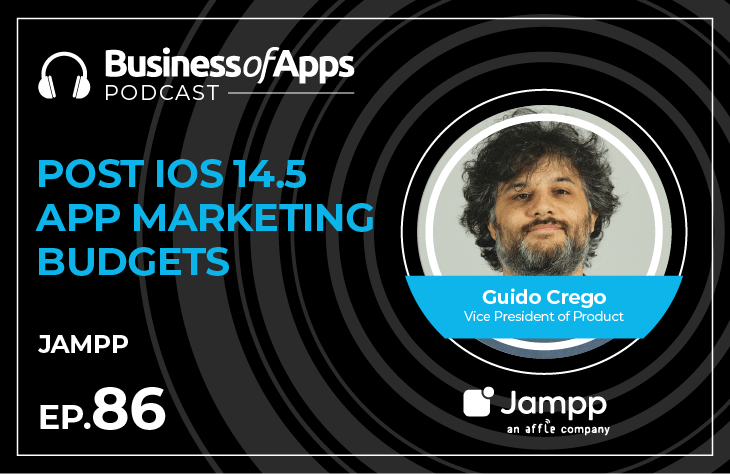 iOS 14.5. If you aren't in the app marketing industry, this version number of the Apple's mobile operating system won't tell about the whole drama associated with it. It is just what the Settings app on your iPhone suggested you to update your smartphone with. That's it. 
But if your job is to promote mobile apps, I bet you've been following the fallout of its release by Apple this spring real close. 
In this episode Guido sheds light on what's going on with App Retargeting, iOS versus Android ad campaigns shift, IDFA and more.
Today's Topics Include:
✔️Guido started his career as a Search Engine Optimization specialist in a small but vibrant and dynamic Argentinian tech community
✔️ Jampp, part of the Affle company, is a programmatic advertising platform used by the most ambitious companies to accelerate their mobile businesses.
✔️ The update on what's going with app retargeting, after Apple's introduction of its ATT (App Tracking Transparency) framework early on this year.
✔️ Reality check on the current status of IDFA – are people really rejecting app tracking in messes as many people afraid they will a few months ago?
✔️ With all recent updates what's coming up next for the mobile app industry?
✔️On which side of the Android & iOS duopoly Guido is? iOS on his iPhone 12 Pro
✔️ What apps would Guido miss the most if he leaves the smartphone home. Google Maps
✔️ What hardware / software features Guido is waiting for? Augmented Reality tech
Links and Resources:
Quotes from Guido Crego:
"Argentina is actually a pretty interesting place for tech, although the internal market is small, a lot of successful companies in Latin Americas are started from Argentina.
The reality is when it comes to the split per operating system, it changes a lot depending on the region mostly because, as you may know, different markets and different countries in the world will have different penetration of operating systems. In places like Latin America they are really big on Android and iOS is not that big.
The reality is we are all learning, advertisers are learning how to do it, DSPs are learning how to do it and MMPs are learning how to do it (work with SKADnetwork efficiently)"
Follow the Business Of Apps podcast