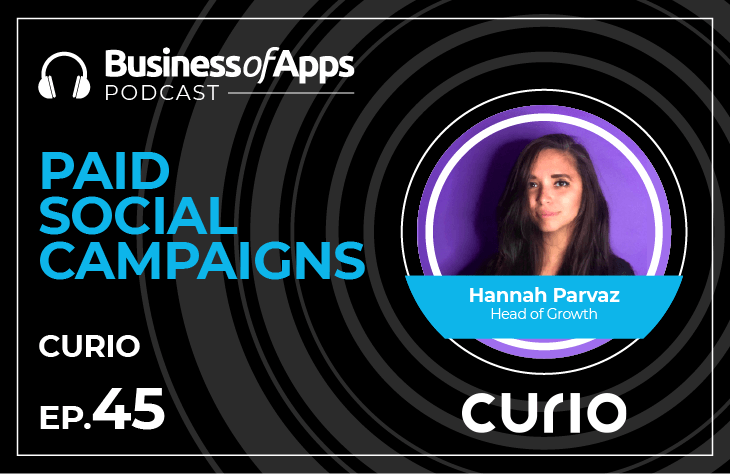 Paid social campaigns are what our today's guest app marketer Hannah Parvaz is well known and praised for. Over the years, she was multiple time in charge of an app growth from a pre-launch to millions of users.
App marketers need to connect app with users to grow and sustain a successful app business. First comes search, followed by paid acquisition and social campaigns to drive installs for
apps.
Today Hannah Parvaz is Head of Growth at Curio, an audio platform featuring a curated library of expertly narrated journalism.
Today's Topics Include:
✔️  Audio vs. Text: Audio is better medium for learning, understanding, and connecting
✔️  Authentic Speech Narration: Stories are narrated by people, rather than robots
✔️  Curio's Competition? Apple News+ is simply another option with a different focus
✔️  Product, Users, Experiments: How to prepare, launch, and run social media campaigns
✔️  Social Campaign Copy: Optimize app store listing and obtain high comprehension score
✔️  Mistakes: Too much text in images, not trying/testing platforms, and narrowing audience
✔️  Creatives: Everything requires teamwork in a startup, one can't run everything well
✔️  Android or iOS? iOS
✔️  Favorite App(s): Freetrade and Letterboxd
✔️  What's Hannah looking forward to with app technology in the future? iOS 14 widgets
Links and Resources:
Quotes by Hannah Parvaz:
"Because we're curating everything, we know that everything is packed with insight. We only pick pieces we think will be evergreen, so they can have a long shelf life."
"Audio is a better medium for learning. Our main goal is really to just help everyone understand the world better so that people can really connect with each other."
"We're more focused on journalism and storytelling. We're not really about the fast news cycle."
"Everything requires teamwork in a startup, unless you're somehow like a very talented magician. You can't really run everything by yourself well."
Follow the Business Of Apps podcast