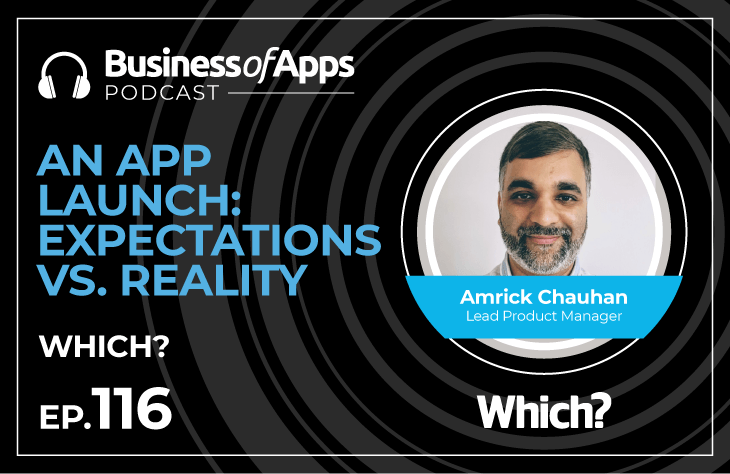 Expectations versus reality. This theme is as old as this world. In so many walks of life, we set our expectations high, we're driven by optimism, which on itself is a great quality but sometimes it may lead you to a very frustrating experience.
Mobile app development and marketing can be one of the brightest examples, especially when venture capital is involved and the expectations that app projects will deliver quick returns are high.
Today we have Amrick to tell us the story of expectations versus the reality of developing and launching the app called Which?.
Today's Topics Include:
Amrick's career spans Financial Times, Sainsbury, KFC, Guardian, and now Which? – the UK's consumer champion, the non-profit organization that protects consumers.
Which? app development key lessons learned
How app development teams can avoid making common mistakes
What app categories are the hardest to develop apps for
Android or iOS? iOS longtime user
Amrick's first mobile phone. Nokia 3010
What features would Amrick miss most? Apple Pay
What's missing from mobile app technology? More AR and VR capabilities
Links and Resources:
Quotes from Amrick Chauhan:
"It was quite interesting to me because I had a chance to reflect on the journey of building and then launching an app."
"So that first assumption about product features was really us having an expectation we knew what we needed to build. We thought we did."
"I think a lot of it comes down to the culture that you have within the company. There are some obvious mistakes that you should avoid doing, things like choosing the right text style..etc. But I don't think anyone should really be afraid of making mistakes."
Follow the Business Of Apps podcast