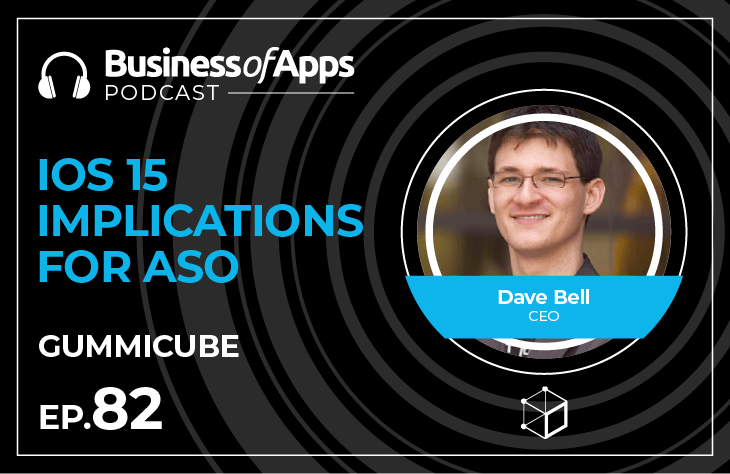 Year in, year out Apple has been improving its mobile operating system that every iPhone runs on – the iOS. This year its 15th version has just hit the market. In some years, Apple's focus is on introducing new features, others on polishing some features, sometimes they don't get a particular feature right from the first shot and they need to revisit it again next year – Apple's engineers are human beings, like you and me.
In particular, amongst all these updates there are some that are of interest to mobile app marketers. Today we'll cover such updates introduced with iOS 15 and we have Dave Bell, CEO of Gummicube, a leader in providing Big Data Analytics for the App Stores, which is used for App Store Optimization, Mobile Marketing and Market Analysis, here to tell all about it.
Today's Topics Include:
✔️Dave's been in the mobile marketing space since 1999, actually was among developers who created and published apps for featured phones, before the rise of Apple's iOS App Store for the iPhone.
✔️Gummicube is the oldest North America-based App Store Optimization company, more than 11 years on the market, built the tech to help app marketers to understand how the app stores work from an app marketing perspective.
✔️Apple's focus with iOS, as well as in general, is app users' data privacy and creating a more robust experience for app marketers.
✔️iOS 15 beta feature Private Relay, which is essentially Apple's VPN – another Apple's step in the direction of replacing iOS apps developed by a third party, when the stakes are high, like in the case of iOS app users privacy and data safety.
✔️Updates for the iOS's Spotlight
✔️A/B testing solution for iOS
✔️Custom Product Pages
✔️Searchable In-App Events
✔️SKAdNetwork enhancements
✔️App Clips updates
✔️Dave's iOS 15 favorite features
Links and Resources:
Quotes from Dave Bell:
"Apple is moving in the direction when they are going to make it more convinient for their user to stay with Apple ecosystem.
Frankly, if you're looking at the amount of time people spend in mobile apps versus websites, I think the statistics is 88% of the time is being spent in the mobile app versus web.
But I think that actually the reality of In-App Events is going to be much more broad because of this in even in apps, you know, categories you wouldn't think of, like Productivity, Utilities simply because in-app events are re-engagement ASO."
Follow the Business Of Apps podcast