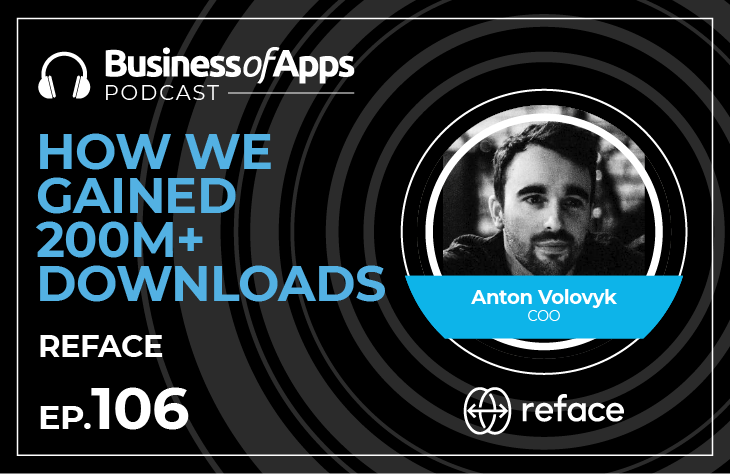 Since the inception of the iPhone and its innovative App Store, we heard many success stories of apps that grabbed so many people's attention because of their novelty, practical application or just pure fun. Some of those apps were brainstormed, developed and marketed by Ukrainians.
But that was before the war in Ukraine. Now, imagine if you own one of the most popular mobile apps of today and your home country was invaded. How do you reconcile the challenge of growing your app and the wa-a-a-ay bigger one caused by the invasion?
Today Anton will tell us the story of those challenges.
Today's Topics Include:
Anton's path in business – from hopes to joint financial corporate world to one of the most popular mobile apps of today
What is Reface
Reface underlining tech
Reface's growth trajectory
Reface app creating & marketing lessons learned
Android or iOS? iOS
What was Anton's first mobile phone? Motorola
What features would Anton miss the most leaving his smartphone at home? Calendar app
What's missing from mobile app technology? Being able to use the iPhone as a bottle opener 🙂
Links and Resources:
Quotes from Anton Volovyk:
"I think the link between our kind of machine learning magic, the product features, the product flow and content is what makes Reface so amazing.
When the user clicks on creating a Reface or Faceswap or any other mechanics than this request goes to a backend and the backend reroutes this request to machine learning production, which utilizes GPUs to create an output which then sends to the mobile.
It's a hard question because I think every new technology, every new breakthrough comes with potential problems. It really depends on the main actors who try to handle this tech and then it may take the good and the bad turn. But in general, I think, the good thing is that a lot of companies who work in this space such as Reface, build a business around this technology and therefore it's super important actually to make this area as ethical as possible."
Follow the Business Of Apps podcast