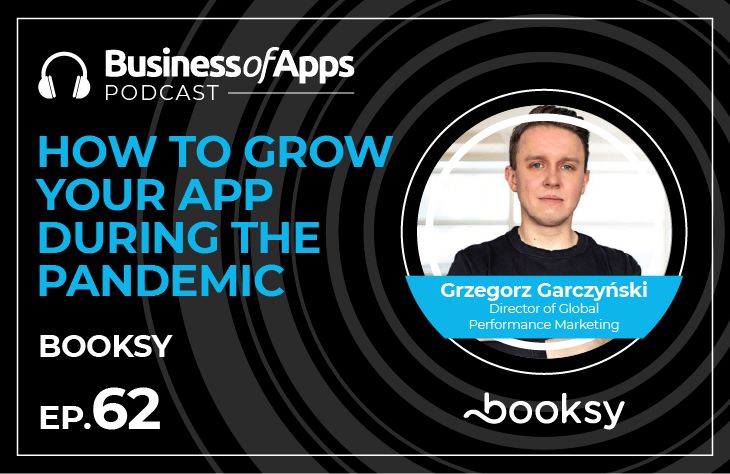 It's been a second year as the whole world has been dealing with the COVID-19 pandemic. Obviously, mobile app businesses are being impacted by this pandemic as well, for many app onwers it has changed their app development plans and how they market their apps. 
On this episode we have Grzegorz Garczyński, Director of Global Performance Marketing at Booksy to talk about how COVID changed how people use the app, how the app changed itself and more.
Today's Topics Include:
✔️ Booksy: a duo of B2B and B2C apps – one for people to book their haircuts, tatooes, massage sessions and more, the other to let businesses manage their bookings with clients more efficiently.
✔️ Booksy customers and how COVID influenced their app use case: anybody who needs to book barbershops, tatoo saloons visits, hasn't changed much but helps them organize their visits during pandemic better.
✔️ Countries booksy is big at: US, UK, Poland, Brasil, South Africa and Spain, Mexico.
✔️ How COVID influenced the app itself: fast growth was replaced by survive mode as the pandemic hit, the app got online services.
✔️ COVID's impact on the app's marketing: persuading people to use the app was replaced by running search ads to reach people who want an app like Booksy.
✔️Do they use TikTok for marketing: not at the moment but it's on their radar for sure.
✔️Takeaways: good quality content is the key to survive tough times like now.
✔️ Android or iOS? iOS
✔️ What app would Jess miss most? Apple Pay and the Apple's Health app
Links and Resources:
Quotes from Grzegorz Garczyński:
"From the perspective of the customer application, it could be anyone. Whoever wants to book an appointment."
"In each country, the restrictions are or were quite strong. Thanks to the application, the salon owners can control the flow of customers and at the same time, attract new ones."
"Both apps grew in popularity after the lockdown."
"People are trying to find their way to organize their businesses."
"If we want to build an effective business, we need to be aligned with organic behaviors."
Follow the Business Of Apps podcast