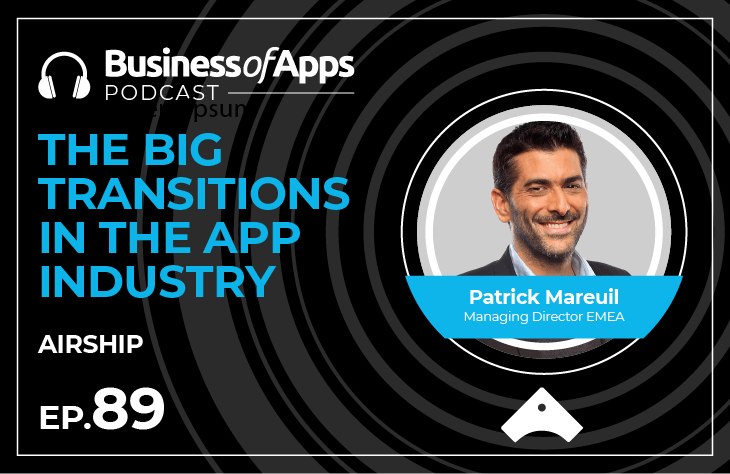 To say that we live in a time of change would be a big understatement. Pick up any area of your life and you can find a substantial change there. Many changes were caused or accelerated by COVID-19 last year.
In the mobile app industry specifically, a titanic shift was caused by the notion of privacy, the safety and ownership of people's digital information.
Questions such as "How people can protect their online data?", "Should they let companies use their data, – even anonymized – for generating profit for those companies?" – today all these questions are being heavily debated all the time.
In this episode, we want to help brands to better understand this new environment and to do so we've invited Patrick Mareuil, Managing Director EMEA at Airship, a mobile app experience platform.
Today's Topics Include:
In a contrast with a famous way of how many Silicon Valley startups were launched – in a garage – Patrick and his partner launched their first company in early 2000 in a…kitchen. Today Patrick is a Managing Director of Europe, the Middle East and Africa regions at Airship, a mobile app experience company with more than a decade of experience under its belt.
How brands should adapt to the new reality when mobile app user privacy is on the radar of all tech companies
Lessons for brands after a year and a half of living and operating in the world where COVID-19 impacts every aspect of economy
Mobile marketing strategy changes brands should consider
Android or iOS? iOS
What features would Patrick miss most? Camera and Google Maps app
What's missing from mobile app technology? Better battery life, more apps for life enhancements.
Links and Resources:
Quotes from Patrick Mareuil:
"I see these changes as a win for consumer privacy but it does create some challenges for a company, as you've said, have to adapt to that new era.
There is gonna have to be some equal value change between the brands and the user and the users they want more control, they want more transparency and they open to data collection if the brands are able to bring them relevancy.
Where there is that reciprocal value exchange that's when it's a win-win relationship."
Follow the Business Of Apps podcast