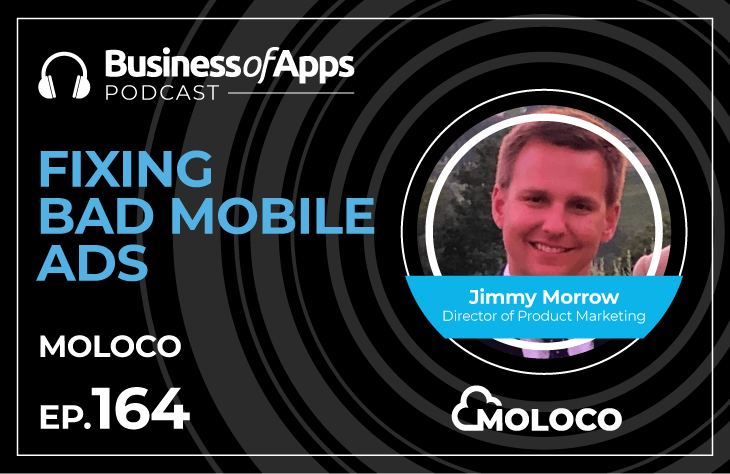 Okay, let's start with the obvious – nothing is perfect. By the time you get to your 40s, hopefully, sooner, you realize that as much as you try to do your best there is always a margin for error. But that is not to say that you shouldn't try.
Speaking of something you should try harder – mobile ads. To me, it feels like nobody is even trying to make them good. How so? What are we doing about it? This is exactly what we're going to tackle with Jimmy on this episode.
Today's Topics Include:
Jimmy Marrow's background
What is Moloco
Why do we see SO MANY bad ads?
Digital ads' recent history
The story of ad click attribution
What's up with Click Arms Race?
What does Moloco have to offer to solve it?
What app marketers can do about bad ads
Android or iOS?
Jimmy's first mobile phone
Leaving his smartphone at home, what features would Jimmy miss most?
What features he would like to see added to his smartphone?
Links and Resources:
Quotes from Jimmy Morrow:
"If you think about it, arguably it's [digital advertising] one of the most successful businesses for the past 30 years."
"Back in the day, it was pretty simple – advertisers had a good sense of their ROI in marketing and it made digital advertising an extremely lucrative business."
" From 2017, the pre-ATT era, to 2020 I would call it a kind of fat-thumb era, where is essentially like networks and other platforms started to introduce the idea – how can I get more credit in the ecosystem.
Follow the Business Of Apps podcast