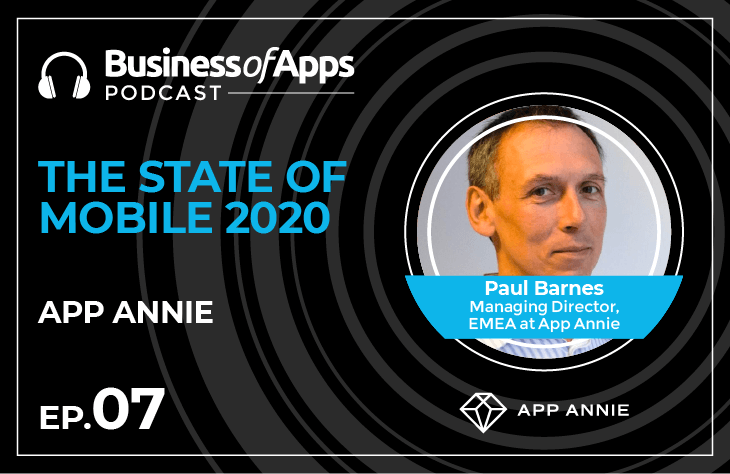 Welcome to the world of apps and app analytics.
You would need to think hard to find a single area in our lives that isn't influenced by mobile apps. Long passed the moment of novelty and today the major measure stick for mobile apps success is how much value do they bring to people's lives.
Now, if you are a brand or publisher you need somebody who can take a bird view on the whole app ecosystem and give  you a snapshot of what apps are popular globally or in specific countries, what app categories are one their peak and wise versa and so much more.
Since 2010 such company has been App Annie, the mobile data and analytics company, which Apple itself quotes from time to time when it talks about app ecosystem.
Today's guest is Paul Barnes, Managing Director for Europe, Middle East at App Annie. The mobile data and analytics company issues quarterly and annual reports. In this episode, we discuss the State of Mobile 2020 Report.
Today's Topics Include:
Different World, Different Data: Report shifts focus from downloads to usage, revenue

 

How much time do most people spend in apps? Global average is 3 hours 40 minutes per user/per day depending on data, bandwidth, and download restrictions
Gen Z vs. Baby Boomers: What age groups spend more or less time in apps?

 

Current market share of mobile games? Not everyone is a gamer, but expect billion-dollar industry to remain steady
Mobile ad monetization is bigger and growing faster than what transacts through stores
Trends: Mobile apps are more engaging and effective at reaching people via brand ads

 

Current outlook for apps and platforms? 50% increase in sessions; multiple or bundled subscriptions for streaming services
Links and Resources:
Quotes by Paul Barnes:
"It was just incredible to see the disruption that was happening in market research and analysis as the world shifted to mobile."
"Pretty much every country in the world, year on year, we see an increase in the amount of time that people are spending in apps."
"As time goes on, how do you make sure you're one of those apps that people are going to invest significant time in?"
"Digital equals mobile; digital equals apps."