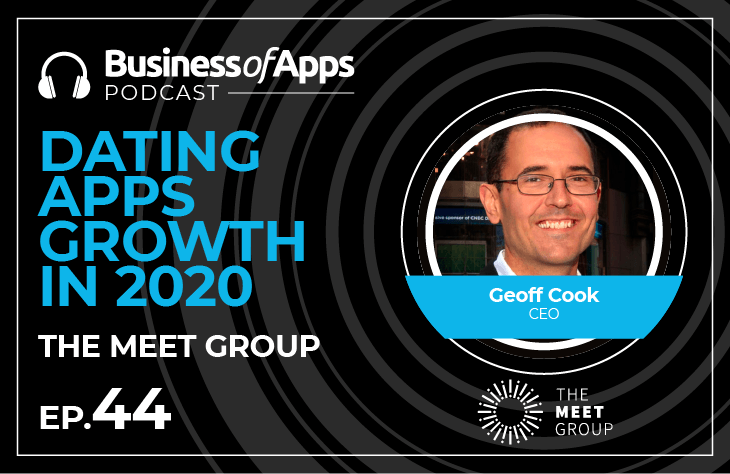 An app growth is always on the radar of every app developer or a brand. Eavesdrop any app marketing team brainstorming session and you'll hear them avidly discussing  how to gain more loyal app users and what user acquisition channels to focus on.
Now, dating apps have a special place in the app industry and in our lives. No matter where you live, your age, or your gender, you probably use mobile apps to connect with others and dating apps is surely one way of doing that.
Today's guest is Geoffrey Cook, CEO of The Meet Group. Meeting other people to socialize or date is simply part of human nature. The Meet Group is the largest provider of live streaming dating apps.
Today's Topics Include:
✔️  Five Dating Apps: MeetMe, SKOUT, Tagged, LOVOO, and GROWLr
✔️  Dating Community: 15 million monthly users mostly in United States and Europe
✔️  Live Streaming Solution: Monetizes via users giving each other virtual gifts
✔️  COVID Impact: Created significant increase in dating game usage in past five months
✔️  Management Tools: Shift to remote work using Zoom, Slack, and more for productivity
✔️  Marketing Channels: Singling out pricing power to acquire new users for growth strategy
✔️  Types of Content: Create user-generated content in form of chats and messages
✔️  Live Streaming: Consumption and production offers connection during social distancing
✔️  Videos: More efficient, more information available, and less risk swiping left or right
✔️  Android or iOS? iOS
✔️  Favorite App(s): Medium
✔️  What's Geoffrey looking forward to with app technology in the future? Authenticity and AI
Links and Resources:
Quotes by Geoffrey Cook:
"The way we think of ourselves is really as the mobile version of the bar, the coffeehouse, this social gathering place."
"What we've been doing that's fairly unique is adding live streaming video to dating since 2016. And lately, we've been aiming to make everyone the star of their own dating show."
"We, essentially, use all the same tools we used before the pandemic. We just use them more given that there is no in-person contact."
"Marketing is always a challenge. Year over year, we're seeing rates (cost per registrations) go up as it costs more to acquire users."
Follow the Business Of Apps podcast