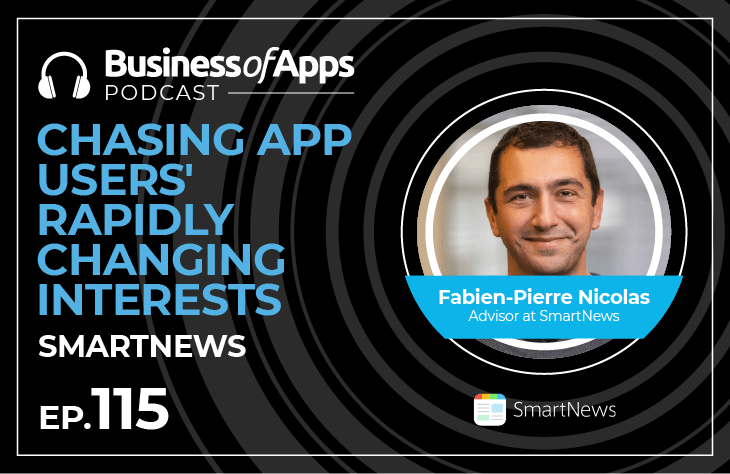 If you app marketer, one of the things at your job that rises your pulse and eyebrows is the mobile churn. This is the KPI that measures the percentage of users who have abandoned your app, the logic goes – the smaller the number the better but unfortunately in real life, this number is always bigger than you would want it to be.
So people leave apps, in some cases to some glitches but in some cases because their interests change. From a technical perspective, the app may be fine but it just doesn't deliver the experience they need.
In this episode, Fabien will tell us the story of chasing app users' rapidly changing interests.
Today's Topics Include:
Fabien's career spans the famous PC console gaming company Ubisoft, the industry-leading mobile data analytics company Data.ai (formerly known as App Annie), and now Smartnews – the award-winning news app.
Product-driven vs. Consumer-driven culture
What changes SmartNews team introduced to strengthen their business
Segmentation
Chosen segments to scale
Product-Marketing alignment
Adaptation
The right technology stack
Proactive vs. reactive
Trying unusual ideas
Android or iOS? Android
Fabien's first mobile phone.
What features would Arthur miss most? Apps to read news 🙂
What's missing from mobile app technology? Live translation capabilities
Links and Resources:
Quotes from Fabien-Pierre Nicolas:
"Typically, a lot of people are comsuming news in the morning time, just as you wake up to catch up with what happened or what might happened when you're asleep. And there is as well a phenomen of consumption right before going to bed."
"I will probably compare it to the dart board is essentially your marketing budget. And you should say "hey, where should I throw my darts and whom should I aim this budget?"
"When we looked at all Japanese market, we asked ourselves – "which segments are we underindexing, especially when it comes to preferences and what do they want?""
Follow the Business Of Apps podcast