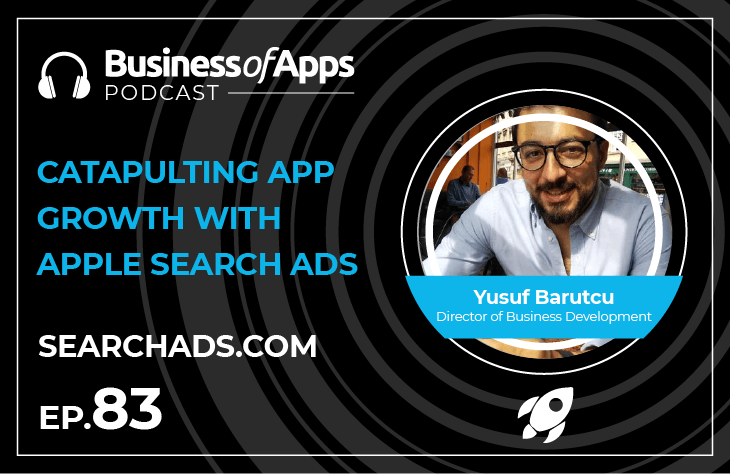 Every app marketer is on a quest to acquire more users for her or his app. Today's app marketing toolbox consists of such well time-proven tools as App Store Optimization, Paid User Acquisition via ad networks, paid ads platforms from Facebook, Google, Twitter, Pinterest and such, as well as content marketing, PR, ads in podcasts, on TV, radio and even good old outdoor ads.
But when it comes to iOS apps specifically, the Apple's Search Ads stands out as one of the most powerful weapons in the app marketer's arsenal. The platform has gone through a few years of evolution to become an effective tool to drive iOS app installs on multiple markets. In this episode we have Yusuf Barutcu of SearchAds.com to tell us about how to use this platform efficiently and scale up your app user acquisition campaign.
Today's Topics Include:
✔️ Yusuf began his career in e-commerce and for the last 12 years he's been an app search marketer, spending the last 2+ years in the SearchAds.com team
✔️ SearchAds.com helps app marketers to plug Apple's Search Ads to their overall app user acquisition campaigns and have a holistic view on their UA efforts. It provides tools you need to find the best keywords, scale your marketing campaigns, and to be at the top of App Store search.
✔️ 60% of all iOS app downloads are driven by search – hence Search Ads is the must platform to use
✔️ The core of a successful Search Ads campaign is to define as much keywords relevant to your app as possible
✔️ Always consider a broader context than your app's purpose to discover additional keywords to drive app installs
✔️ Make sure you bid on keywords that present your brand to avoid loosing traffic to your competitors
✔️ To market your app on 60 markets for dozens of keywords you need to use automation tools, unless you are a super human
✔️ iOS15 Custom Pages bring new capabilities for the visual creatives on the iOS App Store.
✔️ Search is a source of a high quality traffic, people open up the App Store app to search with an intent to find a specific app
✔️ On which side of the Android & iOS duopoly Yusuf is? iOS (and never looked back)
✔️ What apps would Nick miss the most if he leaves the smartphone home. Slack 🙂
Links and Resources:
Quoеtes from Yusuf Barutcu:
"The main quality traffic generator is search. Because there have an intent to get what they after, so if what they after is what you have then you should be there.
Once you follow the right strategy, well – bingo, it's not a rocket science and you can easily grow your business.
To speak loudly about that, at Mobile Action platform we have around 6 million keyword crawled every day."