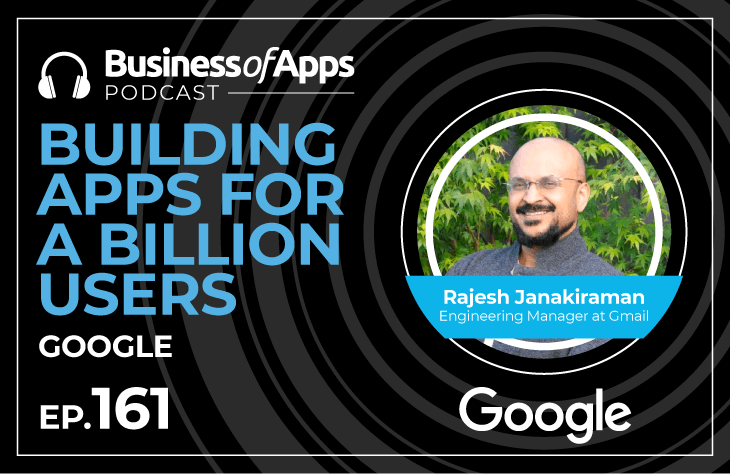 One of the things that set mobile apps apart from desktop software is the scale. Since 2008, when the mobile app stores were launched, and on, scale has been a crucial ingredient for any iOS or Android app project success. 
For both Apple's and Google's app ecosystems to grow mobile apps had to be affordable for lots of people. But for app developers and brands to make app enterprises profitable, they had to acquire a large number of users. 
And there is more – in some cases when we talk about a free app from one of the most influential companies on the planet – Gmail app, we're talking about roughly 1.8 billion users. This scale implies some unique challenges we're going to be discussing with Rajesh today.
Today's Topics Include:
Rajesh Janakiraman's background
Definition of app onboarding
Challenges of building an app for billions of users – development and management-wise
Rajesh's Thoughts on Generative AI in Gmail
Toughest projects in Rajesh's career
What Rajesh would like to change about tech the most
Android or iOS?
Rajesh's first mobile phone
Leaving his smartphone at home, what features would Rajesh miss most?
What features he would like to see added to his smartphone?
Links and Resources:
Quotes from Rajesh Janakiraman:
"Having a product [Gmail] maintained that reputation for so long is a very difficult thing to do"
"It's such a massive set of users that you see this whole spectrum of how they use the product."
"Just from your device perspective, you see the latest $1,500 Samsung device running the latest version of Android with hundreds of Gb of storage, so it's not gonna matter how much space you take up of their phone, with multiple processors so it's gonna matter how efficient your app is, all the way to the $10 no-name smartphone."
Follow the Business Of Apps podcast