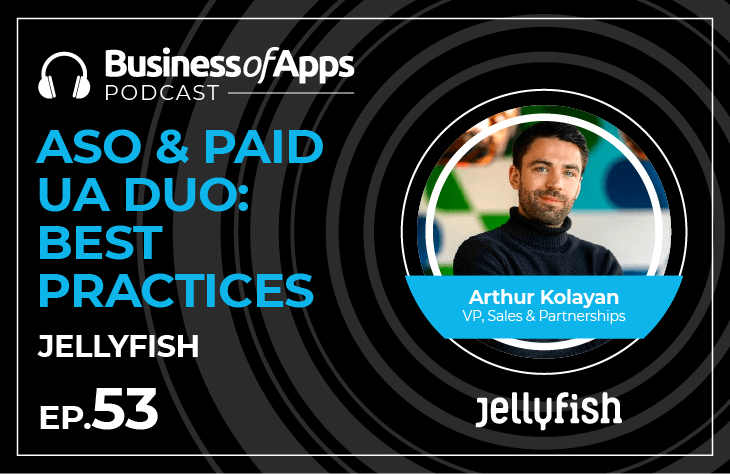 Ask a professional app marketer "what is in your marketing toolbox?" and he'll tell you – App Store Optimization, Paid User Acquisition, Influencer Marketing, PR, podcasts, TV and radio.
Now, you can split all that app marketing techniques into two buckets: Organic and Paid. Organic relies on distribution channels that you don't spend your money on. With paid, you do. It's that simple. As an app marketer, should you go with organic, paid, or both?
Today's guest is Arthur Kolajan, VP of Sales and Partnerships at Jellyfish. Arthur talks about how to make the difficult choice between organic or paid app marketing.
Today's Topics Include:
✔️ How Arthur got involved in app marketing: Recruiter, new role, and recommendations
✔️ Why is it called Jellyfish? True story—founders wanted something without 'digital'
✔️ Organic App Marketing: Strategy and optimization needed to be successful
✔️ Paid App Marketing: Facebook, Instagram, and other channels for brand awareness
✔️ App Lifecycle: Conceptualizing, funding, developing, and marketing
✔️ Overnight success? Launching app without strategy requires marketing and money
✔️ When to launch: Anytime is the right time for marketing an app
✔️ App Visibility: Simple to find, download, generate profit; complex with number of apps
✔️ App Stores: Reasons why they exist to make informed decisions
✔️ Apple Search vs. Google Ads: Two biggest paid app platforms and marketing potential
✔️ App Ad Campaigns:
Optimize relevant metadata for high conversion and high visibility
Make keywords effective and creative by testing banners, copy, and users
Track data points (Conversion, cost, consistent organic/paid communication)
✔️ Android or iOS? iOS
✔️ What is Arthur's favorite mobile app(s) today? Multiplayer gaming apps
✔️ What's Arthur's wanting with app technologies? Social audio
Links and Resources:
Quotes by Arthur Kolajan:
"The reality is that for organic to actually work, you need to have a strategy in place."
"It's some additional PR, but it's more about app store optimization. It's more about search engine optimization for your Website. It's about creating this viral to loop some referral campaigns."
"The right timing is actually any timing because when you launch, you want to support your launch with the proper strategy. When you grow, you don't want to lose to small competitors."
"If they stop marketing, they will die. "
"You need to go where there's less competition, and then you will be found. The reality is that less competition means less data. So, you actually are more likely to be found if you go into a competitive category because there will be more data about what people search for."
Follow the Business Of Apps podcast