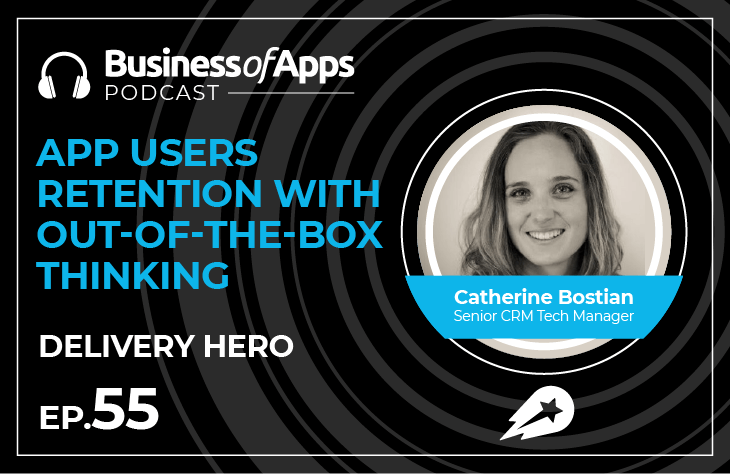 On this episode we're talking about app users retention – one of the hardest nut to crack for any app marketer. The method to crack this nut we're suggesting is out-of-the-box thinking.
Sink or think? When you're trying to solve a problem, no matter how hard you try, it can all be in vain. That's when it's time to think out of the box by being a lifelong learner.
Today's guest is Catherine Bostian, Senior CRM Tech Manager at Delivery Hero. Catherine talks about how to apply out-of-the-box thinking to app user retention.
Today's Topics Include:
✔️ Growth Marketing Career: Strategic and technical backgrounds to understand customers
✔️ Growth Marketing Levers: Power of code and communication for data-driven mindset
✔️ What Delivery Hero does? Online food ordering and delivery markets in a lot of places
✔️ Business Values: Delivering solutions, aiming higher, and caring about customers
✔️ Out-of-the-Box Thinking: Figurative box with walls made of categorical assumptions
✔️ In-the-Box Troublemakers: Common wisdom, soapbox speakers, and false assumptions
✔️ False Consensus: How humans overestimate how someone else will react to something
✔️ App User Retention Strategy:
Approach customer problems as opportunities to identify assumptions
Identify insights and elements, such as content
Test new and better ways of what you are doing to customers
✔️ Key Takeaways:
World views, marketing approach are subconsciously colored by assumptions
Be empowered to question and test assumptions to improve users' experience
Not a one-and-done process, but a continual evolution of learning
✔️ Android or iOS? iOS
✔️ Favorite mobile app(s) today? Down Dog
✔️ What app technology would Catherine find useful personally? Augmented reality
Links and Resources:
Quotes by Catherine Bostian:
"I kind of picture it being stuck inside a figurative box where the walls are made up of assumptions and a world view that we spent a lifetime developing."
"Out-of-the-box thinking has to be this explosive process where we come to understand what those assumptions and worldviews are, and then we can begin to break free of them by asking questions and testing as part of an iterative process."
False Consensus Effect: Describes how we as humans overestimate how likely someone else is to react based on how we ourselves would react to something.
"Our worldview and therefore our strategy or approach to marketing is often subcounsciously colored by our assumptions. That doesn't make us powerless, but rather that empowers us to question and test those assumptions to improve users' experience of our product and also, hopefully in the end, their lives. Lastly, it's not a one-and-done process, but rather a continual evolution of learning. Go forth and think outside the box."
Follow the Business Of Apps podcast