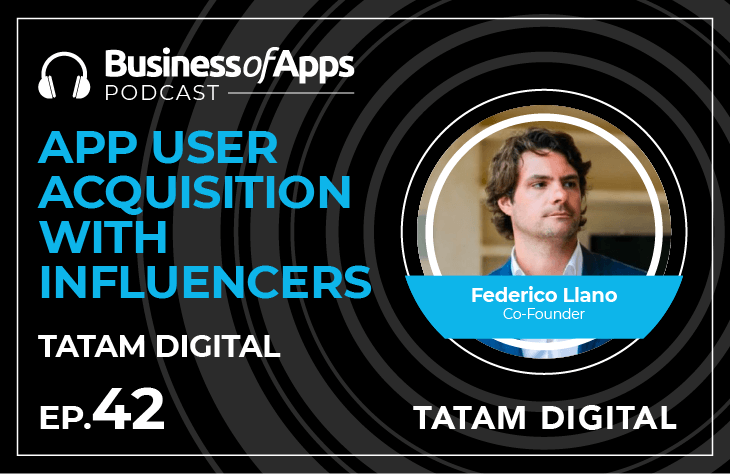 Do you know who are Influencers? Do you know that app user acquisition with Influencers is one of the app marketing techniques that help brands to connect their apps with tens of thousands of users?
Ok. Let's start with Influencers.
Influencers are movie, music celebrities or regular down-to-earth folks like you and me, who acquired vast amounts of devoted followers on social media around common interests they are passionate about. Popular influencers with millions of followers are often involved with various product endorsements, including mobile apps.
To make these product endorsements efficient and help app brands to achieve their specific goals, influencer marketing agencies stepped up.
Today's guest is Federico Llano, co-founder of TATAM Digital. He talks about how influencer marketing works for mobile apps.
Today's Topics Include:
✔️  Entrepreneur or Influencer? Federico's sales and marketing background as a gamer
✔️  What is influencer marketing? Consistently eyeing influencers into marketing mix
✔️  Who is an influencer? Someone with reach and influence on a certain audience
✔️  Do's and Don'ts: What's right and wrong with influencer marketing?
✔️  TATEM: Created to take a different approach to influencer marketing in the corporate world
✔️  Leverage Language: Connect with and talk on the same level when approaching brands
✔️  Influence Power: Equals ability to drive sales in the real world, not engagement rates
✔️  KPIs: Measure and optimize influencer performance to compare ROI
✔️  Mistakes Made: Not committing adequate time and patience to learn
✔️  Dealing with Influencers: Negotiate to price and meet deadlines
✔️  Best Fit Categories: Recurring revenue and subscription model for influencer marketing
✔️  Best Assets of Influencers: Curators of products, caring storytellers, believers in benefits
Links and Resources:
Quotes by Federico Llano:
"Influencer marketing is consistently eyeing influencers into your marketing mix."
"We consider an influencer, someone that has both the reach and the influence on a certain audience. They are digital natives and they are actual content creators…not just a pretty face."
Influence Power: Equals ability to drive sales in the real world, not engagement rates.
Elephant in the Room: Marketers invest $9 billion in influencer marketing, but 90% is not measured or understood.
Follow the Business Of Apps podcast