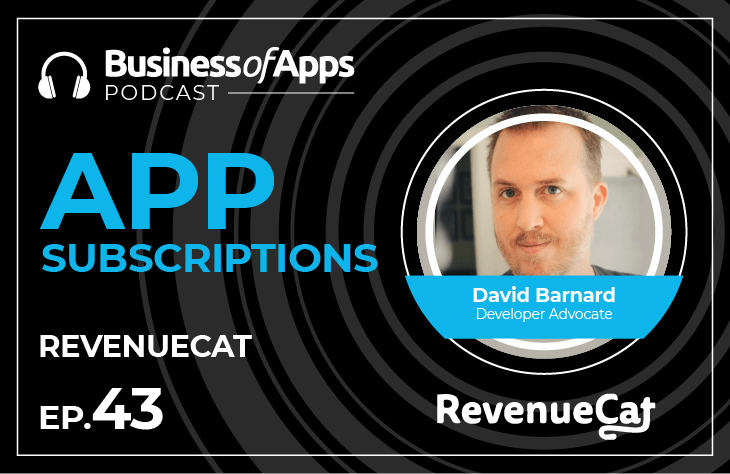 App Subscriptions – right now they feel so familiar and omnipresent.
Need some examples?
Do you watch movies on Netflix? Listen to music on Spotify? Get things delivered by Amazon Prime? Many app developers have gone to the subscription model to make money.
Today's guest is David Barnard, Developer Advocate at RevenueCat. He talks about the pros and cons of app subscriptions. Spoiler alert – it's not all roses and rainbows.
Today's Topics Include:
✔️  Development Background: Building apps from the beginning of Apple's iPhone SDK
✔️  Role at RevenueCat: Solve problems and make it a better product to monetize apps
✔️  App Subscription Pros: Customer and advocate uses RevenueCat to make money
✔️  App Subscription Cons: Bugs and code challenges create headaches and disasters
✔️  David's App Business: RevenueCat, Launch Center Pro, and Weather Up
✔️  RevenueCat's Mission: Help developers make more money
✔️  Why RevenueCat? Basic and broad platform without complexity for subscription apps
✔️  App Testing: RevenueCat's new price testing feature sets best price to generate revenue
✔️  COVID: Accelerated RevenueCat's business by working remotely before lockdowns
✔️  Money in the Bank: Series A funding provides additional revenue, growth, and flexibility
✔️  Free, Paid, or Freemium? App subscriptions experience slow progression on app stores
✔️  App Subscriptions: Keep consumers in mind to use app consistently and deliver value
✔️  Product Roadmap: Focus on retention, price optimization, and planning process
✔️  What's David looking forward to with app technology in the future? Widgets on homescreen and iOS 14 release for privacy focused user acquisition
Links and Resources:
Quotes by David Barnard:
"If you're adding subscriptions to your app, you need all this infrastructure."
"We charge our users because we provide a really great service that actually helps them make more money."
"You've really got to match the value you are delivering to users."
"Subscriptions are incredibly difficult to implement and get right."
Follow the Business Of Apps podcast