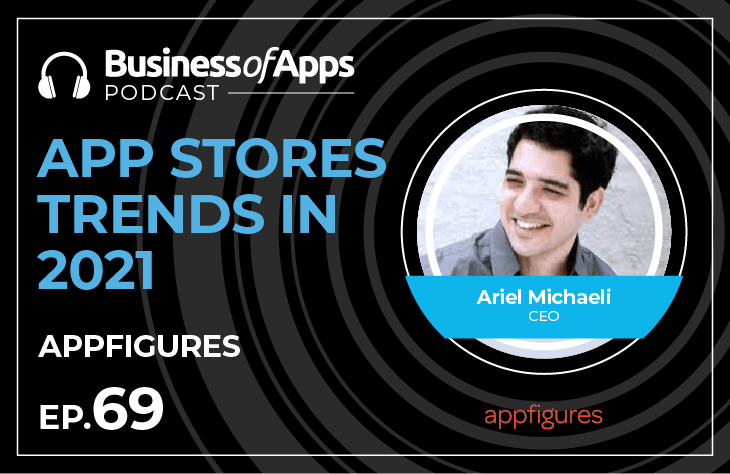 Most of us wake up in the morning, check the weather, then the traffic on the way to work,  unless your office isn't your desk, sitting next to your bed, and of course, catch up on social media. Throughout your day, you  spend time launching apps on your smartphone, smartwatch, or tablet.
Today's guest is Ariel Michaeli from Appfigures, which takes a holistic view on the app industry  as a whole and provides insights on app trends. Appfigures offers ASO tools, analytics, and  intelligence to optimize for more organic downloads.
Today's Topics Include:
✔️ Appfigures: All about building platforms and helping as many people as possible
✔️ Gamers and Brothers: Can we make a game for the iPhone and still pay our bills?
✔️ Word of Mouth: Eventually gave access to Appfigures and no longer making games
✔️ Most popular app categories:
Before COVID (BC): Entertainment, games, and business
After COVID (AC): Health and fitness, games, entertainment, and business
Both BC and AC: Travel and business
✔️ Shift: Do you use an app to watch TV on a big screen or video stream to a small device?
✔️ Top Grossing App: YouTube, but Tik Tok is climbing the charts and taking over
✔️ Evergreen Hits: Apps that depend on want vs. need, such as hottest games and widgets
✔️ App Market Mindset: How big is the market and how much are users willing to pay?
✔️ Subscriptions are key to success or failure; always look at competitors and similar apps
✔️ ASO: Whether or not to allow apps to track and target users for search or organic ads
✔️ Android or iOS? iOS
✔️ What app features would Ariel miss most? Email
✔️ What is missing from mobile app technology? Augmented reality (AR)
Links and Resources:
Ariel Michaeli on LinkedIn

Quotes from Ariel Michaeli:

"It's always been for me about how can I build a platform that takes either something I'm really good at or something that I care about a lot or, something that I see me, myself using and turn it into a solution for as many people as possible."

"That's how the idea of Appfigures was born. We needed some sort of platform to track our own  data."

"It's easier to have a service that has an app, even if the service is mostly reliant on an app."

"(App Market) For you to know that means the difference between success and failure."

Follow the Business Of Apps podcast