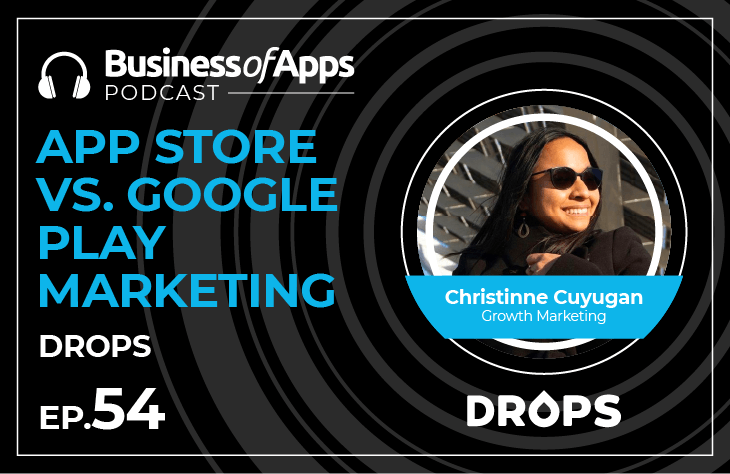 Today mobile app marketers are in a constant battle to connect apps with as many users as possible and their battle field are the Apple's App Store and Google Play store.
After years of fierce competition, both Apple and Google have won the app war. Apple got the premium part of the market by delivering high-quality apps, but Google successfully scaled to reach a much broader market segment.
Today's guest is Christinne Cuyugan, Growth Marketing Lead at Drops, a learning language app. If you want to learn a language, it only takes five minutes a day. At Drops, Christinne focuses on strategizing growth opportunities for the app and app store marketing. She talks about how app marketing is different in the Apple App Store compared to Google Play.
Today's Topics Include:
✔️ Christinne's Career Growth: Customer support specialist to user acquisition position
✔️ App Marketing Psychology: How colors, tactics impact user behavior to perceive brands
✔️ Drops: Focuses on building language essentials, such as vocabulary, into a habit
✔️ What are the similarities and differences between Apple and Google app stores?
✔️ Four Elements: Great screenshots, preview video, keyword strategy, and 4-star rating
✔️ Partnership: Focus on product/app to deliver Apple's high standards for user experience
✔️ Evergreen Techniques: Screenshots capture app and testing gains trust
✔️ Mistakes: Apps fail, so prioritize acquisition and monetization for sustainable growth
✔️ Christinne's Wishful Thinking:
Wants Apple to allow casting and downloads per keyword
Wants Google to be transparent with reporting and rankings
✔️ Other App Stores: Amazon and Chinese must haves
✔️ Android or iOS? iOS
✔️ Favorite mobile app(s) today? Drops and Too Good To Go
✔️ What app technology would Christinne find useful in daily life? Augmented Reality (AR)
Links and Resources:
Quotes by Christinne Cuyugan:
"Drops is a language learning app, whose main mission is to make language learning awesome and fun and beautiful."
"You definitely need four things to make your app shine in both stores."
"The first one or two screenshots definitely need to capture your app in the best way possible. It needs to be attractive enough for users to give your app the chance."
"Even if your brand isn't known, but the app is trusted and also you see what you would get out of it, I think that a lot of users would give it a chance."
Follow the Business Of Apps podcast