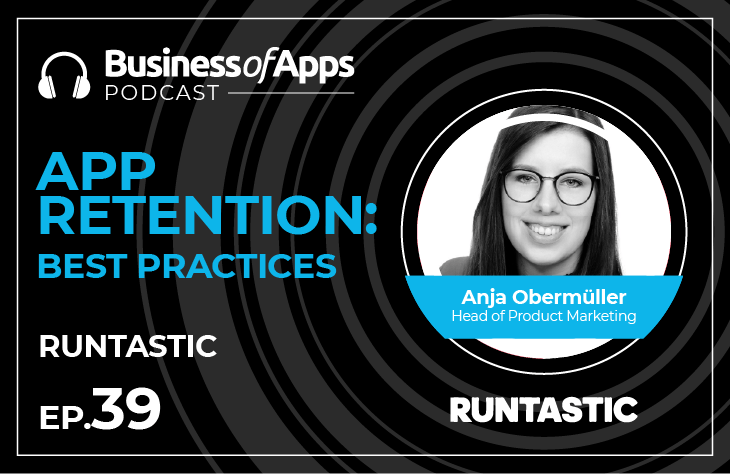 App retention has been one of the most heated app marketing topics. 
Let's put it this way. What would you say if people buy your masterpiece but only to get through a few pages or the first chapter and never open it again? It not only happens with books, but mobile apps. Ask any app marketer with a decent experience and she or he would sigh and nod. 
Today's guest is Anja Obermüller, Head of Product Marketing at Runtastic, where adidas's running and training apps help runners live a happy and healthy life. Anja shares best practices for app retention. 
Today's Topics Include:
✔️  Lifestyle Routine: Different apps serve different purposes
✔️  Sneak Peak: What level of retention should be expected from your app?
✔️  Sneaker Hack: Anja's better with numbers than words
✔️  Name Change: Runtastic Running and Results to adidas Running and Training
✔️  Runtastic is Fantastic: More than 300 million downloads and 270 employees worldwide  
✔️  Incline, Don't Decline: Identify natural product usage interval (daily, weekly, etc.)
✔️  Dig into Data: Realize retention problem, not optimize what you want
✔️  Biggest Mistakes: Don't put monetization over retention or rely on benchmarks
✔️  Push Notification vs. Proxy Metric: Create a behavior of wanting to return to app
✔️  Preventive Measures: Continue to grow and change through retention optimization   
Links and Resources:
adidas Running and Training Apps by Runtastic
Quotes by Anja Obermüller:
"I'm way better with numbers than with text. I'm a total fan of impact estimations, forecasts—everything that's related to numbers."
"Before even getting started with retention rate optimization is identifying your product usage interval."
"It's really important to figure out where your retention problem really is and not just optimizing for what you have."
"One of the biggest mistakes is to put monetization over retention…engagement builds the foundation of monetization."
Follow the Business Of Apps podcast