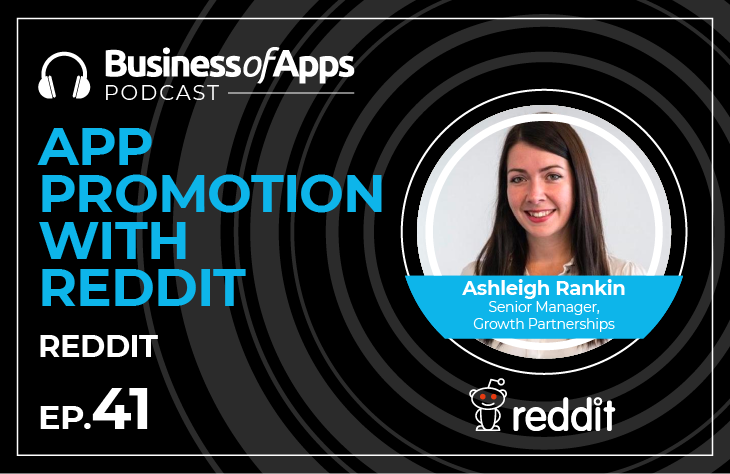 App marketing is not a sprint, but a marathon. You are on a constant quest to find new channels to reach your app users. Most of us know about Facebook, Google, and Apple ads, but what do you know about app promotion with Reddit?
Reddit is a social news aggregation, web content rating, and discussion website and mobile app. Launched in 2005, it has evolved into the biggest online "public square" to discussion a great number of topics, as of 2019 used by 430 million people on a monthly basis.
Today's guest is Ashleigh Rankin, senior manager of growth partnerships at Reddit. Ashleigh shares best practices for marketing apps on Reddit.
Today's Topics Include:
✔️  Reddit Company: Network of more than 130,000 communities based on interests
✔️  Reddit's Mission: Bring community and belonging to the world
✔️  Reddit's Rules/Policies: Moderation keeps the platform clean, and safe for brands, and people
✔️  Reddit's Robust System: Human judgment, nearly no AI involvement
✔️  Reddit Ads: Now with postgres, app marketers can drive app sales and installs
✔️  Native Ads: Brand participation adds value and resonates with specific Reddit users
✔️  Reddit Insights: Two-way communication channel for honest and targeted feedback
✔️  App Categories: Gaming and tech recruiting produce better outcomes/more installs
Links and Resources:
Quotes by Ashleigh Rankin:
"People come to engage with content that they are passionate about."
Reddit's Mission: Bring community and belonging to the world.
"One of the really beautiful things about Reddit is that if you run…an interest-targeted campaign, you can find audiences that you didn't necessarily know you had."
"It's just really important to test and learn and then hone in on what does work and optimize towards that."
Follow the Business Of Apps podcast