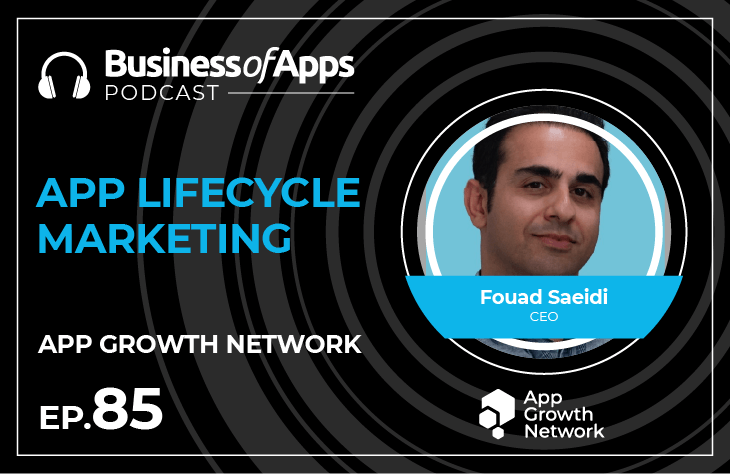 As you're reading these lines, around the world dozens and dozens of app marketing teams work on brainstorming new ideas to give their app a leg up on competition. They crunch data from app analytics tools, trying to figure out why people churn away from their app, decide on plugging in a new app user acquisition channel and so on. The list is endless. If you put together all those activities together you get the App Lifecycle marketing notion – a holistic view on an app marketing, when all activities are viewed as a part of the general picture. It's about long term strategy and being able to think a few steps ahead and plan ahead.
In this episode we have Fouad Saeidi, CEO of App Growth Network to walk you through the app marketing funnel that is at the base of the App Lifecycle marketing.
Today's Topics Include:
✔️Fouad has been in digital marketing in over a decade. Started at a mobile games startup in 2013, in 2018 he founded App Growth Network – currently one of the leading app marketing agencies on the market.
✔️ App Growth Network is an app marketing agency with over 250 mobile apps under its marketing belt.
✔️ What is App Lifecycle marketing
✔️ Marketing funnel and its stages
✔️App user acquisition, activation, retention and monetization
✔️ On which side of the Android & iOS duopoly Fouad is? iOS on his beloved iPhone 12 Pro
✔️ What apps would Fouad miss the most if he leaves the smartphone home. Slack 🙂
✔️ What hardware / software features Fouad is waiting for? Small thinks like unread feature for Messages app.
Links and Resources:
Quotes from Fouad Saeidi:
"A Lifecycle marketing is about creating an effective strategy that meet customers' needs at the right stage.
The first step is obviously to focus on the value proposition – how is my product is different?
You are just launching a product, do you really want that million (of users) right now? Or do you want to have thousand to ten thousand downloads to validate every stage of the product? "
Follow the Business Of Apps podcast