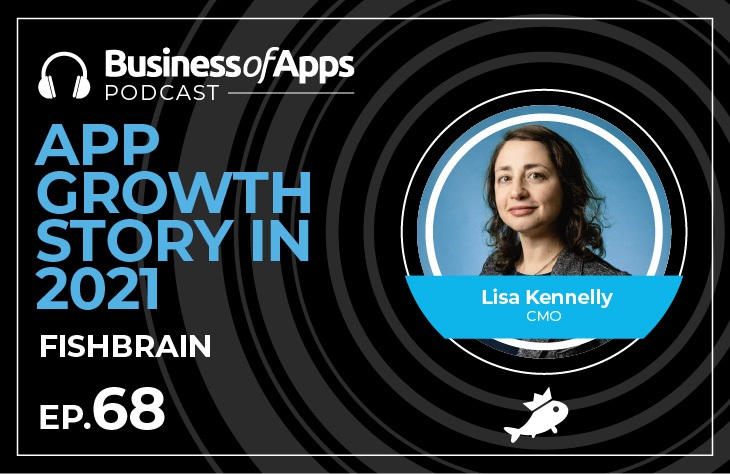 What are most app marketers doing this year compared to last year? Probably not what they planned on, which was incremental app growth techniques and trying new user acquisition channels. Instead, they are trying to adapt their businesses to the world because of COVID-19.
Today's guest is Lisa Kennelly, Chief Marketing Officer at Fishbrain. Lisa shares how Fishbrain has been dealing with the new app industry landscape and the app's growth story.
Are you hooked on fishing?
Today's Topics Include:
✔️ Mentality of Marketing: Sense of what should work for locals and worldwide
✔️ Fishbrain: App for fishing—the world's most popular hobby
✔️ Fishbrain Data: Who, what, where, when, why, and how to catch fish
✔️ eCommerce: If you're going fishing, you need to spend money on fishing gear
✔️ Spirit of Community: Based on emotions and relationships between people
✔️ Fishbrain Growth: Fishing's an activity you could do during COVID
✔️ Retention and Competition: Challenge to retain customers who go shopping elsewhere
✔️ Partnership Criteria: Providers of maps, boats, brands, and data research
✔️ Marketing Channels: Google, Facebook, Instagram, affiliates, influencers, native ads
✔️ Target Audience, not TikTok: Plenty of young users, but not the revenue drivers
✔️ Subscription Model: Fishbrain Pro offer adds data to add more value
✔️ Key Takeaways: People management takes more time and energy than expected
✔️ Android or iOS? iOS
✔️ What app features would Lisa miss most? Camera
✔️ What is missing from mobile app technology? Too much reliance on smartphones
Links and Resources:
Quotes from Lisa Kennelly:
"Fishbrain is an app for fishing, and fishing is actually the world's most popular hobby."
"Even if you personally are not into fishing, I bet you know somebody very close to you who is obsessed with fishing."
"We were able to take the social, turn that into utility, and in the last couple of years, we added in the eCommerce, as well. If you're going fishing, of course you need to have a lot of fishing gear."
"How do you keep people motivated? How do you see when they need a break? How do you balance that and find ways to keep them engaged? That takes a lot of effort."
Follow the Business Of Apps podcast