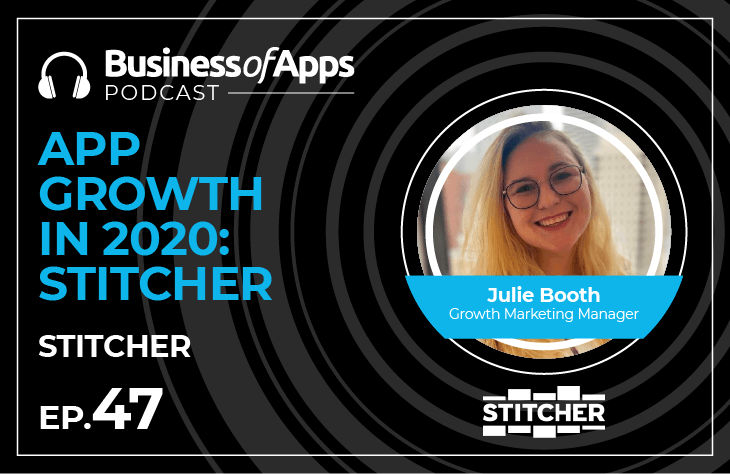 Do you listen podcasts? Since they emerged as a new medium on iTunes in early 2000, they've grown to a huge source of information for people about pretty much anything you can think of.
Last year alone, 90 million people in the United States listened to podcasts at least once a month. They spend hours listening to hosts that they trust talk about all kinds of topics.
Today's guest is Julie Booth, Senior Growth Marketing Manager at Stitcher. Julie shares how Stitcher has become one of the leading podcast platforms and apps.
Today's Topics Include:
 ✔️  Favorite Podcasts: Everchanging list includes You're Wrong About and reality TV recaps
✔️ How do people choose podcast apps? Depends on content, curiosity, and features
✔️ Product Design Challenges: People don't always know what they want or will use
✔️ Stitcher Difference: Advanced features for customization and control specific to podcasts
✔️ Free to use Forever: Stitcher provides podcast listeners with a great listening experience
✔️ Geographical Anomalies: Average Stitcher user is older, affluent, and educated
✔️ COVID: App usage adapted from listening during commute, not at all, to remote routine
✔️ User Acquisition: Podcasting is still a niche entertainment medium and faces competition
✔️ User Acquisition Channels/Universal App Campaigns: Google, influencers, partnerships
✔️ Android or iOS? iOS
✔️ Favorite App(s): Facebook Messenger
✔️ What's Julie looking forward to with app technology in the future? iOS 14 widgets, personal vs. professional privacy
Links and Resources:
Stitcher

Quotes by Julie Booth:

"For the podcast app, we find a lot of people say they want a feature, but then never use that feature."

"A podcasting app is really the frame, it's not the picture."

"We provide a lot of control to users that other apps don't."

"Getting people into podcasting is what I focus on the most…it's really hard to get someone to switch apps once they've started."

Follow the Business Of Apps podcast