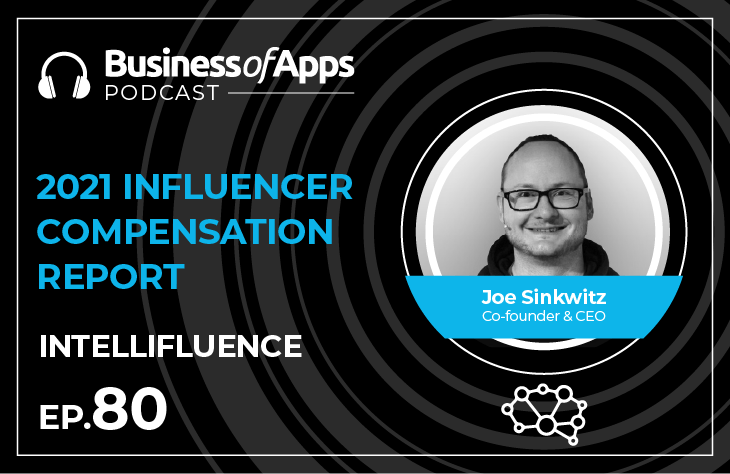 One of the biggest differences in a life of a marketer, from let's say, 10 years ago is that today a big chunk, of not entire, marketing campaign that she or he runs for a brand's product or service takes place on social media. But the reason why marketing on social media really works is people. Influencers Or Creators.
Now question is – how much do they charge? Well, the answer is classic – it depends. It depends on a particular social media platform and other factors. Today we've got Joe Sinkwitz, CEO at Intellinfluence marketing platform that helps brands partner with key influencers to achieve better results, to riddle this question for you.
Today's Topics Include:
✔️Joe is a veteran of digital marketing, spending a quarter of a century in this area and Intellinfluence his latest creation.
✔️Intellifluence is the largest warm contact Influencer marketing network
✔️How the idea to issue the 2021 Influencer Compensation Report came about and what did it take
✔️How much does it take to launch a marketing campaign via Influencers on Instagram
✔️How much do Influencers charge for a marketing campaign on Twitter and who are the biggest Influencers on Twitter
✔️What would be a marketing budget to fun an Influencer marketing campaign via Influencers on YouTube
✔️What is a ballpark for a marketing campaign via Influencers on TikTok.
✔️What are the biggest takeaways from the report for brands
✔️Influencer versus Creator – what's the difference and what brands should know about each.
✔️ On which side of the Android & iOS duopoly Sacha is? iOS
✔️ What apps would Joe miss the most if he leaves the smartphone home. You would be surprised – good old making calls 🙂
✔️ What is missing from mobile app technology? The mix of AR with auto-translation makes traveling easier.
Links and Resources:
Quotes from Joe Sinkwitz:
"The hard part was getting people to fill up the survey
So the data absolutely will be skewed towards micro-influencers internet network but it's really interesting just to see how they felt about everyone.
The coolest thing that came out 41% felt that brand is not pitching them the right amounts."
Follow the Business Of Apps podcast