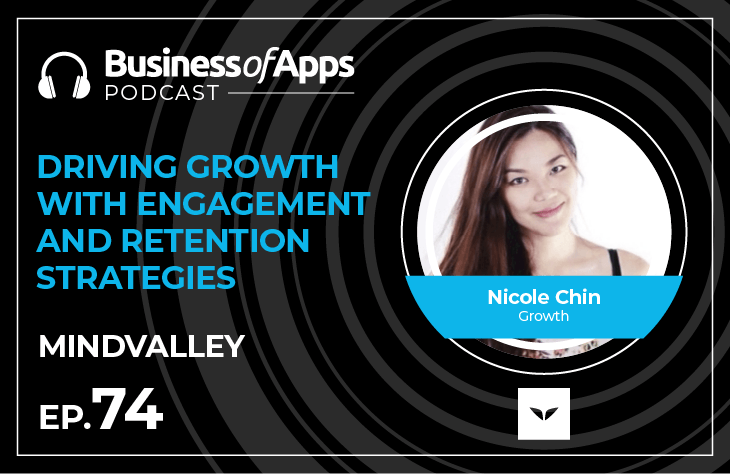 The app growth is the most popular and challenging topic among mobile app marketers. Pull away couple app marketers, get them some coffee and chances are they will drag you into a conversation about mobile app growth.
A mobile app lifecycle is a marathon that, like any other growth of a 🌱, crystal,  👶, it requires knowledge, planning and dedication. 
In this episode Nicole Chin, growth marketer at Mindvalley will tell you how to approach an app growth as a system and even somewhat automate it.
Today's Topics Include:
✔️ Nicole's path: from a management consulting to a growth marketer at Mindvalley
✔️ Mindvalley – a subscription-based app tech platform to sells online courses with a mindset of a startup, even after being for years on the market
✔️ AARRR – acquisition, activation, retention, referral, revenue, what the marketing funnel is all about.
✔️ App growth as a system, a holistic look at growing your mobile app
✔️ Is it possible to automate app growth?
✔️ How long should you wait to let your app audience to check out your app to see if it works for them?
✔️ How to get people who aren't your app loyal core users to get back to your app? What puts they away?
✔️  Strategies to achieve mobile app users retention. Achieve the real engagement with the app, not clicking on the app for the sake of inflating the MAU to report your share holders on a quarter financial call.
✔️ The hardest part of the mobile app growth business
✔️ iOS vs. Android: iOS
✔️ First mobile phone: Nokia
✔️ Smartphone feature Nicole would miss the most leaving the phone at home: taking picture to stay safe from harassment on the street.
✔️ New software / hardware features Nicole would love to get on her iPhone: totally happy with what it does for her now.
Links and Resources:
Quotes from Nicole Chin:
There is a foundation that an app and a business has to reach first and it's a product / market fit. A lot of times if you don't reach a product / market fit, no matter what you do it's gonna be difficult to growth.
It's not a one size fits all, even within your product you can really drill down further for 20% who are coming back and what about the other 80%?
What you really want to know whether or not there is any traction for the app. So it's really defined by users, installs and  downloads.
Follow the Business Of Apps podcast