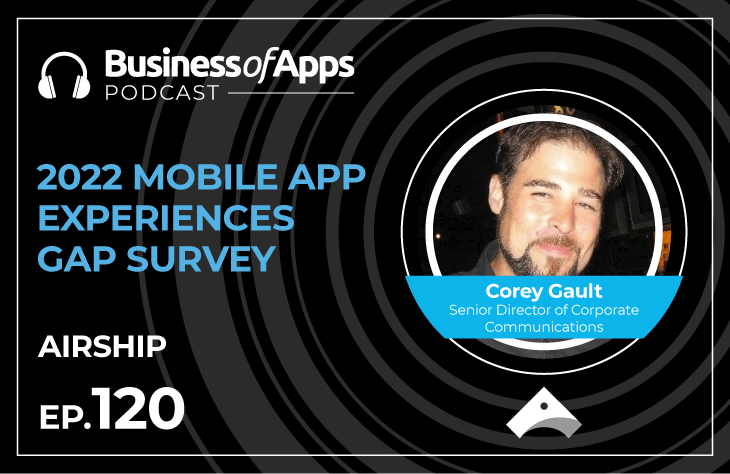 Think about it, from the time you wake up in the morning to the moment you fall asleep at night you use tools. Please, don't picture necessarily a hammer or a screwdriver as a tool, I mean tools in a broader sense – means that help you to do tasks, small and big – create a reminder, set a timer, calculate something, get up in time, and so on. And, of course, a big part of the toolbox you take your tools from are mobile apps.
Now, your experience of using those apps is a function of how much energy and brainstorming was put into the apps by their developers. In this episode, Corey will be talking about Airship's brand new survey that talks about how much effort goes – or should go – into a mobile app experience development.
Today's Topics Include:
Corey's career spans 25 years in public relations with being Senior Director of Corporate Communications at Airship now
General findings of the 2022 Mobile App Experiences Gap Survey
Gap #1 – ASO
Gap #2 – Release Cadence
Gap #3 – Onboarding
Gap #4 – Preference Centers
Gap #5 – Customer Surveys
Gap #6 – Experience Optimization
Gap #7 – Team Communications
Android or iOS? iOS on iPhone X
What features would Corey miss most? A bunch of apps, hard to pinpoint any specific one
What's missing from mobile app technology?
Links and Resources:
Quotes from Corey Gault:
"We've seen a lot of industry research, lots of companies earning reports, showing the exponential value that apps deliver for their business."
"If you really think about ASO, it's the first step in any app's success. People need to be able to find the app."
"In fact, the survey found that 97% of marketers that feature walkthroughs, permission prompts, these types of onboarding experiences have a significant impact on user behavior."
Follow the Business Of Apps podcast