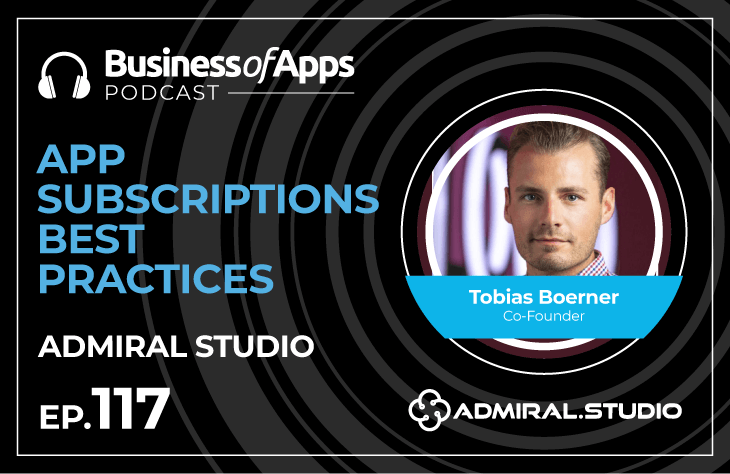 It's been a while since we talked on this podcast about App Subscriptions – the latest business model for mobile apps that powers revenue generation for so many apps today.
It all started with video and audio streaming services such as Netflix and Spotify but then….it turned out that the model actually works for so many other apps.
But popularity doesn't necessarily mean that app brands actually know how to make the most of it. In this episode, we have Tobias Boerner, Co-Founder at Admiral Studio talking about the best practices for App Subscriptions.
Today's Topics Include:
What is Admiral Media/Studio all about? Connecting Web3 world with NFT space
NFT: Non-fungible token concept is out of this world and over the heads of most
App Businesses: Rely on three models—app ads, purchases, and subscriptions
Switch to subscriptions? Tobias recommends adding not switching revenue streams
App Subscription Mistakes: Not enough or no A/B testing in place for conversion rates
App Subscription Successes: Duolingo uses a world-class gamification approach
Pay Subscription Plans: When 1 revenue stream doesn't meet financial needs to grow
Future of App Subscription Model: More flexibility and creativity for app businesses
Android or iOS? iOS
What features would Tobias miss most? To be connected
What's missing from mobile app technology? AR and VR: Connect with the real world
Links and Resources:
Quotes from Tobias Boerner:
"To be very good in things, it's very important to have a very deep understanding of how this world is working."
"We believe here, in the studio, that very soon in the near future, a lot of companies need help with marketing approaches and make that happen. We will very soon release a lot of new activities in Web3 space."
"Apps, they monetize through ads, only start along the journey of thinking, 'Oh, how can we implement subscription or how is it possible to switch to subscription?"
"I'm a very big fan of subscriptions, but I would not recommend to switch the model. I think it's an additional revenue stream."
Follow the Business Of Apps podcast