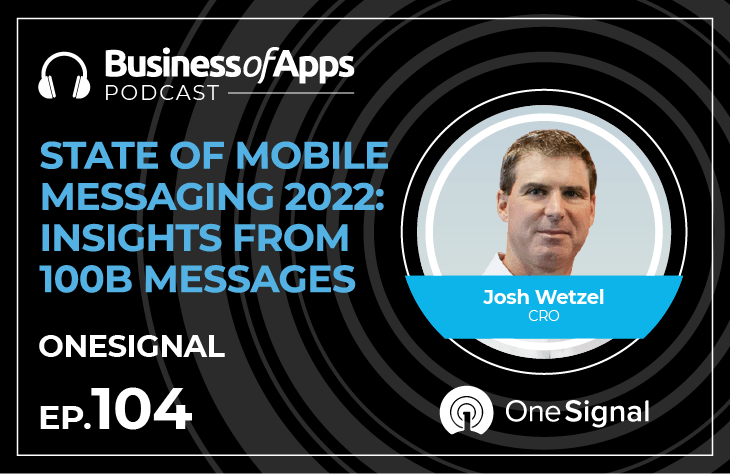 According to Statista, in 2021, daily, emails alone were sent a whopping 320 billion times. Emails – the first kind of digital messaging that was adopted at mid-90s and by now they exist almost solely for business and occasionally Millennials or older generations may share something via email when really don't need or don't want a quick turnaround.
Now add on top of it 100 billion WhatsApp messages, countless number of FB Messenger, Apple's iMessage, Telegram, Viber, WeChat messages and some more send via dozens less popular Instant Messaging apps. It's an ocean of messages that circulate every day, every hour, every millisecond.
In this episode we have Josh from OneSignal to share with you an insight from 100 billion messages sent by OneSignal.
Today's Topics Include:
Josh's story – born in Palo Alto, for the last 20+ years his career included working for Adobe, CBS Interactive, eBay, PubMatic and since 2018 at OneSignal
Mobile messaging options for app marketers to use
Email as the first mass communication tool
Push Notifications
In-app Messaging
 Josh suggestions to app developers, marketers and brands for how to adjust to Apple's ATT framework
Android or iOS? iOS
What was Josh's first mobile phone? Hard to say, Josh got his hands on a lot of early smartphone models, working as CNET reviewer back in the day
What features would Josh miss most leaving his smartphone at home?
What's missing from mobile app technology? iOS features to balance the use of a smartphone
Links and Resources:
Quotes from Josh Wetzel:
"So it's really thing about those moments. Thinking about these critical points in that journey and building messaging around that. And then taking a step below, you gotta about what are the options best for what thing.
If you gonna do an asynchronous kind of weekly update or some random promotion. That's a great promotion for an email.
If you send a note about "Hey, your order is taken" of  "Your order is on the way" it's about to come or "Hey, come back we've got a promotion – in the next 20 minutes for a pizza", you wanna use push."
Follow the Business Of Apps podcast