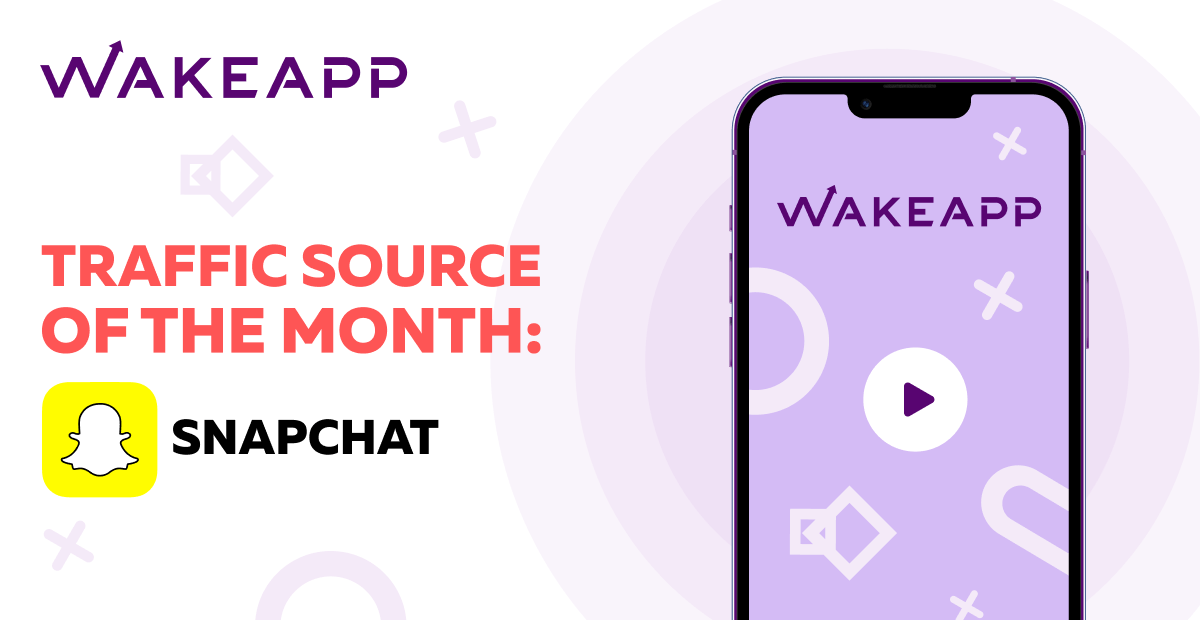 The mobile app promotion market is considered one of the most difficult advertising markets in 2022. Despite its age (a little less than 15 years), this revolutionary market managed to transform the concept of service and convenience on smartphones into a "life control panel", where everything is possible through one click. However, while it might be a simple task to create an Uber-ised program that connects the client and the service, today, the number of applications on the AppStore and Google Play has reached unprecedented heights. According to Statista, there are around 2.6 million applications in Google Play and almost 4.5 million in the Apple AppStore.
The WakeApp team decided to investigate this complex industry and provide a better understanding for interested individuals, from advertiser clients and partners to novice specialists, marketers, and startups. Every month, we'll be releasing instructions for promoting by traffic source and GEO traffic, talking about the features of promotion in particular regions, and sharing prohibitions and life hacks when promoting in particular sources. Think of it as a mobile marketer's desktop guide!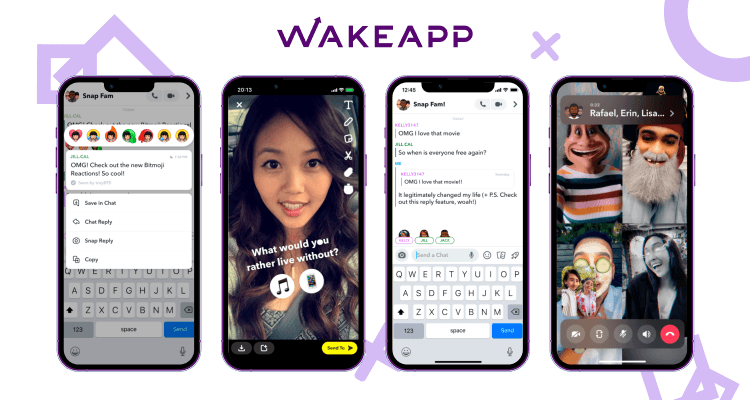 Snapchat was launched in 2011 as a messenger for quick photo sharing (taken from the word "snap", that is, a "snapshot"). Currently, the service offers the function of not only photo, but also video communication, while messages disappear within 24 hours.
Facts about Snapchat: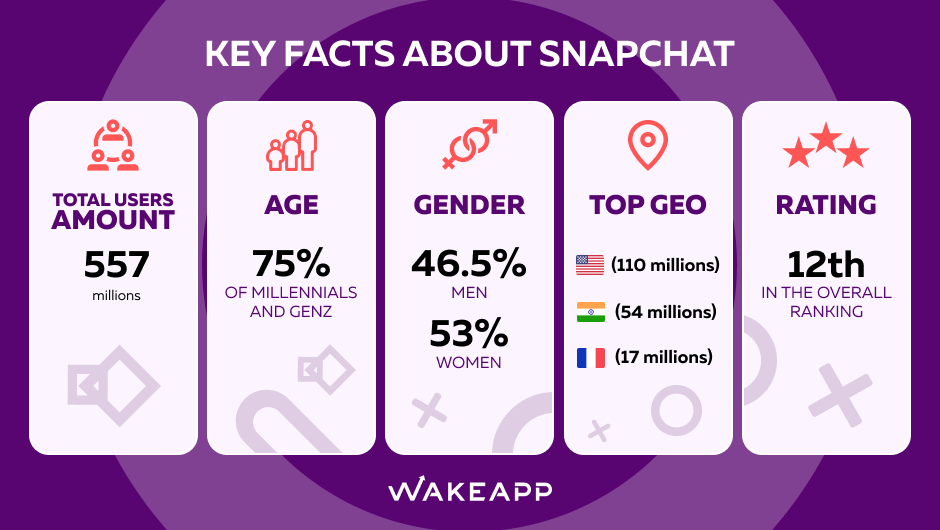 Age: Most Snapchat users are under 25. 75% of millennials and GenZ are reached by Snapchat.
Gender: 46.5% of social network users are men, and 53% are women.
Location: The three largest daily Snapchat audiences are the US (110 million), India (54 million), and France (17 million). The total audience of the social network is 302.36 million.
Popularity: Snapchat ranks 12th in the overall ranking of social networks in terms of active audiences in the world with 557 million users. It's also bypassed Reddit, Twitter, and Pinterest in popularity.
Daily Active Users: 347 millions
How can Snapchat be used by a marketer?
The most attractive feature of Snapchat is its young audiences. If your target audience consists of a young demographic, then this is a great way of connecting with them. At the same time, it's a very atypical format for advertising, avoiding audience rejection compared to other social networks. Essentially, you can play around with ads here.
At the moment, there aren't that many brands being represented on this social network. As an advertising platform, Snapchat is only recently gaining momentum. Therefore, placement on it implies a less severe competitive environment and lower promotion prices. According to AdAge, CPM on Snapchat costs $3 versus Instagram ($4) and Facebook ($5).
The ability to use Snapchat as a traffic source and run ads became possible in 2017. Remember that in order to start advertising on Snapchat, you need to have an advertising account on either Facebook or Instagram.

What does an ad office look like?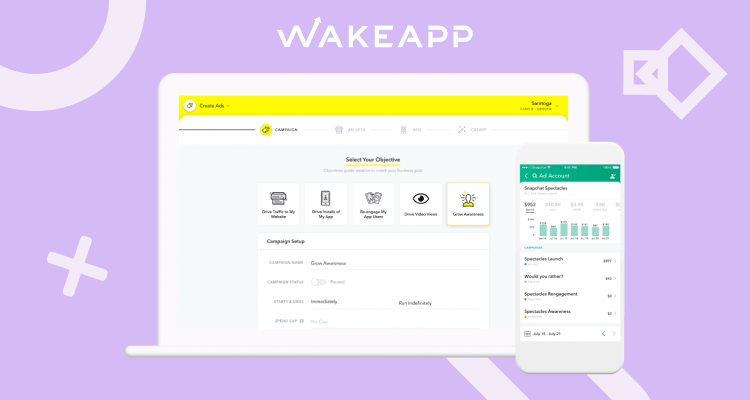 Snapchat only has four ad formats:
Filters: For overlaying on photos and videos.
Lenses: AR masks for the camera. They allow you to complement your image when communicating with 3D avatars. In this case, you can use both the front and back camera.
Snap Ads: Videos lasting 3 to 10 seconds. When swiping on a video, you can watch its longer version by timing, installing an application, going to a page, or performing any other targeted action. This format is interesting in that you can upload not only a video, but also a live photo, GIF, or even a picture.
Promoted stories: Allows you to share up to 10 vertical pictures or videos.
What can you target on Snapchat?
It's worth noting that the audience for campaigns on Snapchat is selected by a special artificial intelligence. For example, you can show ads to an audience that has previously reacted to content of a similar topic.
How does a user see Snapchat?
Due to the fact that this ad format is non-standard, it doesn't cause irritation. Brands get to play with the user in the full knowledge they're working with a young audience that needs to be hooked rather than overwhelmed. Consider, for example, the creative approach employed by HBO. Another great example is the brand Ralph Lauren, which has created masks that allow users to wear their branded items, which was especially relevant for previous pandemic conditions. Levi's and Disney followed suit.