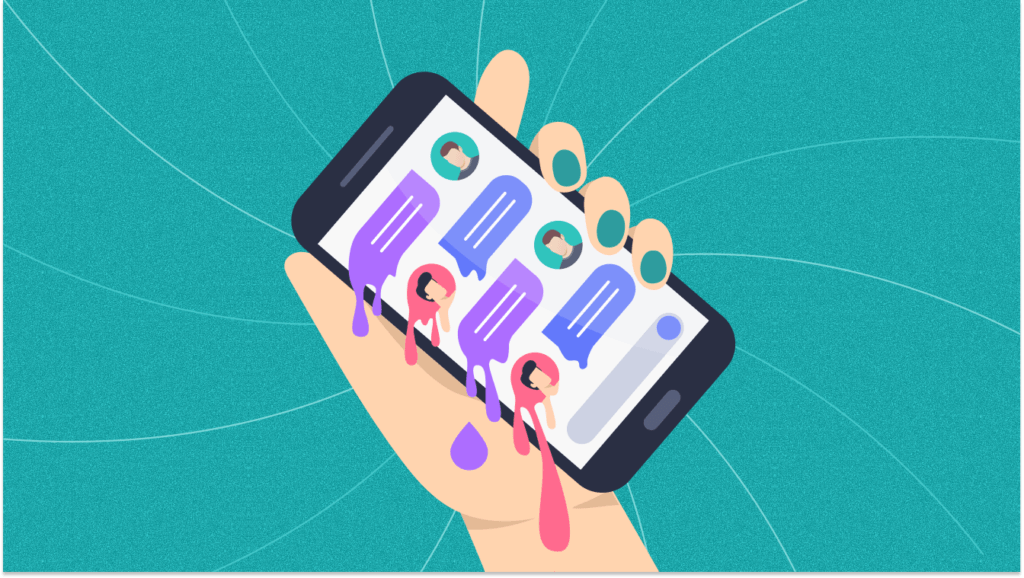 A large number of shoppers will be using mobile apps to make purchases this holiday season. An analysis of 640 of the top shopping apps on the Google Play Store by data privacy company Incogni finds that two-thirds of them share permissions with an average 1.8 ad libraries. It means that any app requiring permission for recording audio, taking pictures or reading texts would automatically share the permissions with any ad network it is connected to. 
Majority of apps share permissions
Around 65% of the analysed shopping apps used ad libraries with the average app using 1.8 libraries. This means users are granting permission to around three companies instead of just one, i.e. the app they gave permission to in the first place. 
One of the problems here is that Android systems don't distinguish between the host app and ad library permission use so that permissions aren't intercepted from being shared. While the app may be harmless, an ad library could contain harmful code. 
The most popular ad networks which apps share permissions with include AdMob and AppsFlyer.
Popular ad networks apps share permissions with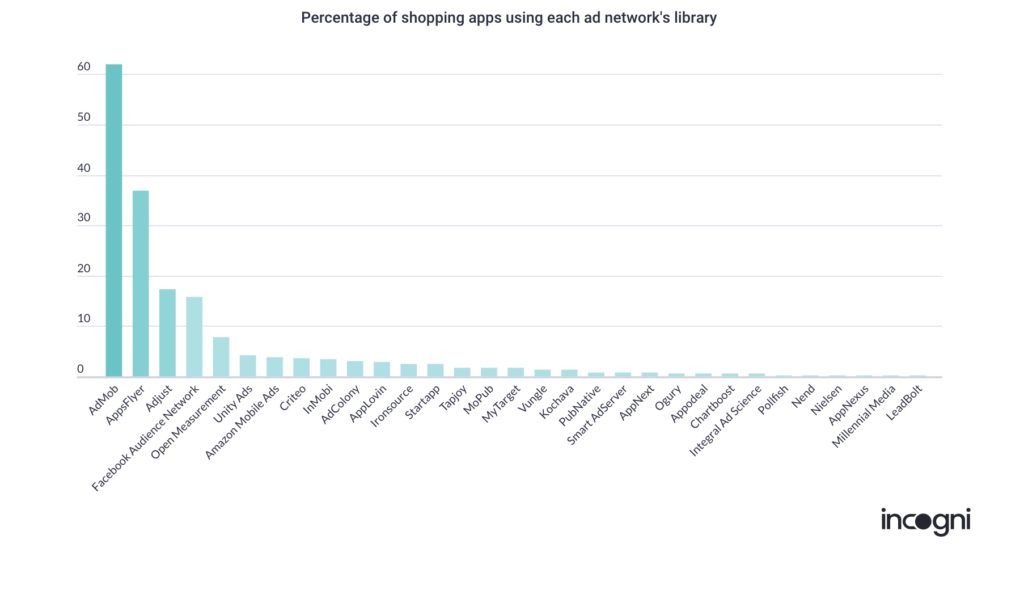 Source: Incogni
In fact, research by Trend Micro in 2017 found that over 800 Google Play apps contained a Trojan that stole user data and shared malicious code with infected devices. 
Why do apps request permissions?
A whopping 83% of apps request permissions. Some of the more worrying reasons for permissions include:
22.3% request permission to record audio
48.3% request permission to access precise (GPS) location
15.8% request permission to read your contacts
6.1% request permission to read calendar events plus confidential information AND add or modify calendar events and send emails to guests without owners' knowledge
1.6% request permission to read your text messages (SMS or MMS)
8.0% request permission to directly call phone numbers
Reasons for requesting permissions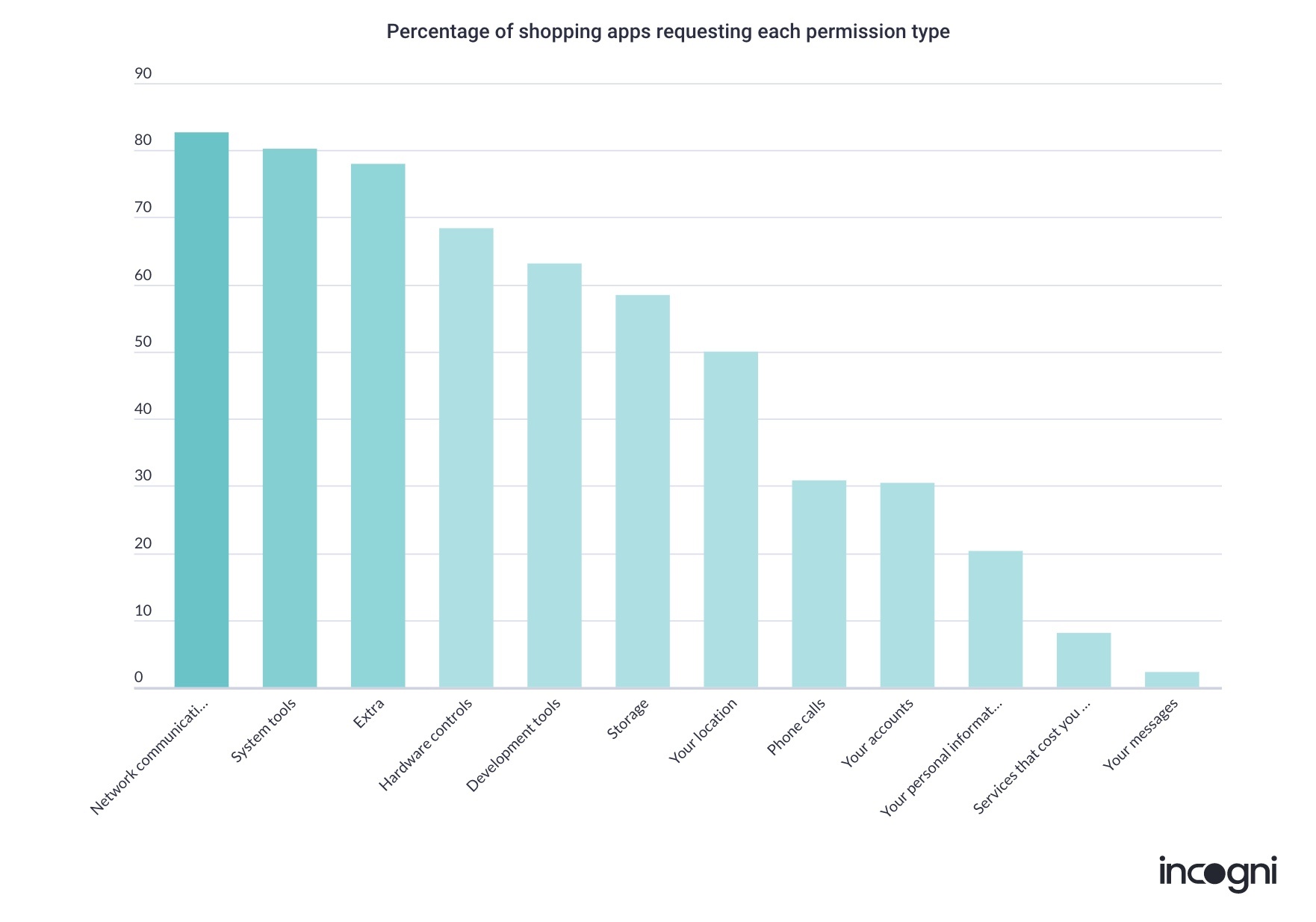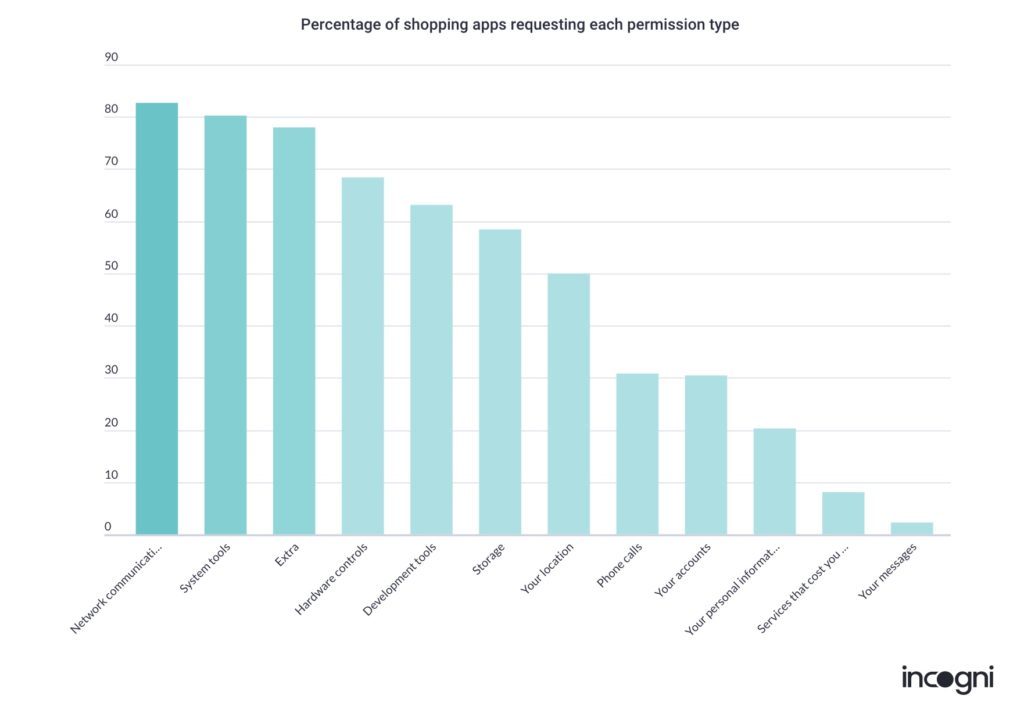 Source: Incogni
The report also found that four out of five of the most popular apps use ad libraries compared to roughly half of the least popular ones. 
To stay safe this holiday season, consumers can deny permissions or alternately shop with local retailers. 
Key takeaways
65% of popular Android shopping apps use ad libraries with the average app using 1.8 libraries
83% of apps request permissions
Four out of five of the most popular apps use ad library compared to roughly half of the least popular ones