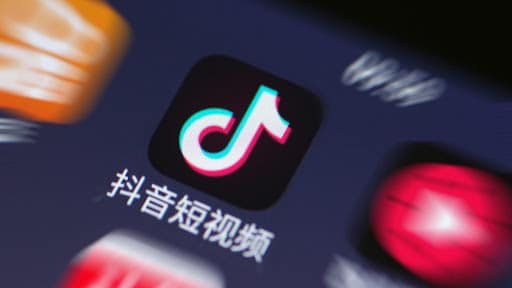 Amidst the possibility of a TikTok ban in the US, influencers are preparing to shift to alternative short-form video platforms in case ByteDance, TikTok, and the US government fail to come to a resolution. The app's Chinese ownership and cybersecurity laws have raised concerns about user data being accessed by the Chinese government. Tensions between China and the US have sparked fears that such data could be used to influence policy and sway opinion. Not only is the issue affecting TikTok ad revenues in the US but also its huge influencer base. Let's dive in.
Calming the storm
TikTok is taking steps to reassure advertisers and rally high-profile users in an effort to prevent a potential ban on the app in the US. The company has been holding meetings with top advertisers to address concerns about national security issues.
The US accounts for roughly half of TikTok's worldwide ad revenues, per Insider Intelligence estimates.
Change in US TikTok ad revenues to 2024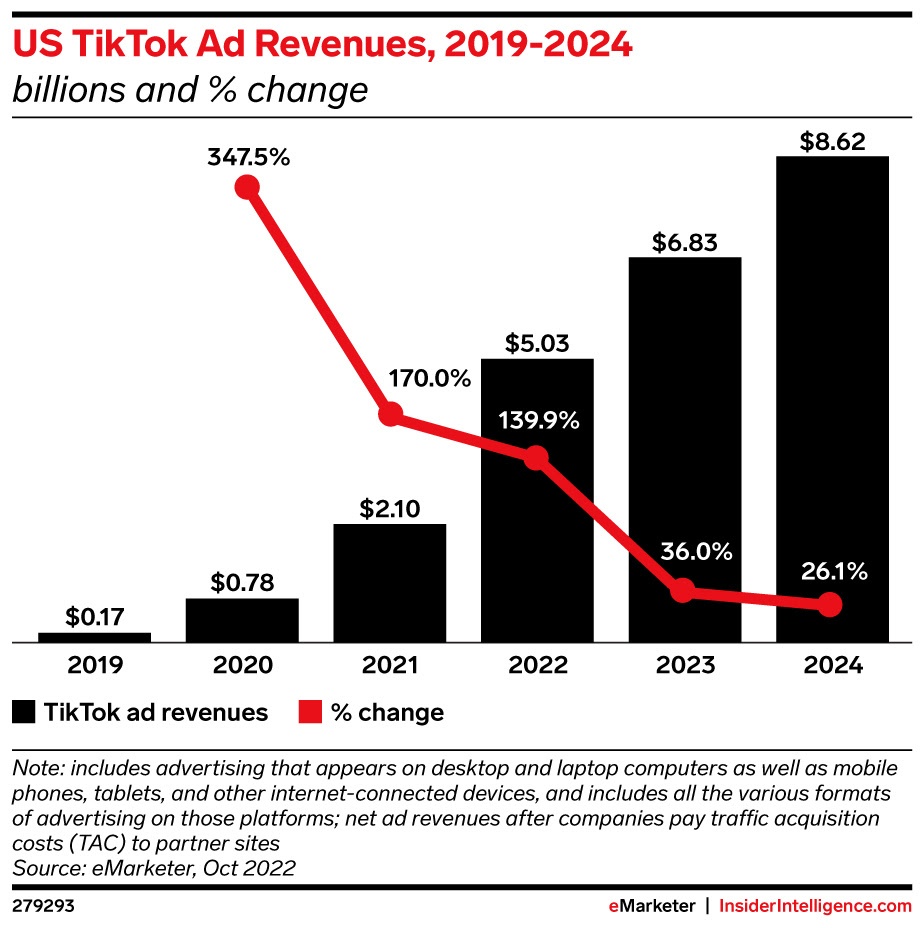 Source: eMarketer
Additionally, TikTok has been calling on high-profile users to fly to Washington, D.C. to lobby senators against implementing the ban. On Thursday, the CEO of TikTok, Shou Zi Chew, is scheduled to make an appearance before the US House Energy and Commerce Committee.
Insider Intelligence Principal analyst Jasmine Enberg believes:
"There is little TikTok CEO Shou Zi Chew can say on Thursday that will change US lawmakers' minds. Project Texas won't be enough to quell concerns about national security. And convincing lawmakers that TikTok doesn't or can't influence US public opinion as long as the app has ties to China is an impossible task."
She adds that Chew will need to prove that TikTok is not being used to manipulate American public opinion or push propaganda. Recent revelations, such as the discovery of the "heating button" – an internal button that lets TikTok and ByteDance pick videos to go viral – suggest TikTok's content recommendation system may be more complex than the company previously disclosed, and this could harm the group's argument. However, advertisers generally remain positive that the issue can be resolved. 
Send in the troops
TikTok is said to be reaching out to influencers to get support for a protest in Washington to challenge the proposed ban. According to anonymous sources, TikTok is offering to pay for the trip of select influencers it is contacting, some of whom rely on TikTok as their primary source of income. 
The company hasn't confirmed the rumours, but a spokesperson said that lawmakers in Washington should hear from those directly affected by any decision to ban the app. 
Change in % of TikTok users in the US
Source: eMarketer
TikTok has become a significant platform for influencers to advertise sponsored products, redirect users to their e-commerce websites, or even be rewarded by the platform for viral content. 
"TikTok's strategy of enlisting creators to advocate for the app is a tested tactic, but it may not work this time. It's more evidence of how entrenched TikTok has become in US lives and business and that growth has come somewhat at the expense of US-based social platforms," adds Enberg. "Advertisers should start looking at alternative venues to reach their audiences and nurture their communities on other platforms, but there is no need for immediate action just yet."
What are the alternatives?
If TikTok were to disappear, the significant portion of ad spending allocated to the platform wouldn't vanish; instead, it would likely shift to one of the two other top short-form video platforms: YouTube Shorts and Instagram Reels.
YouTube Shorts now attracts 50 billion daily views and Meta predicts that Instagram Reels will be revenue-neutral by 2024. According to Edison Research, 44% of US teens and adults use Instagram. 
YouTube could be a viable alternative to TikTok for creators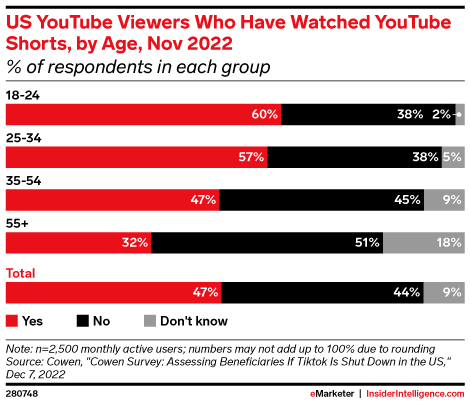 Source: eMarketer
YouTube's largest demographic in the US, excluding minors, is individuals aged 25 to 34 years.
Which one will they choose?
It's a tough call between YouTube Shorts and Instagram Reels. But,YouTube Shorts has a trump card with its creator payment system. The company recently introduced an ad revenue-sharing program for eligible creators, which offers greater transparency in terms of payment.
Key takeaways
TikTok is taking steps to reassure advertisers and rally high-profile users in an effort to prevent a potential ban on the app in the US
On Thursday, Chew will need to prove that TikTok is not being used to manipulate American public opinion or push propaganda
TikTok is said to be reaching out to influencers to get support for a protest in Washington to challenge the proposed ban