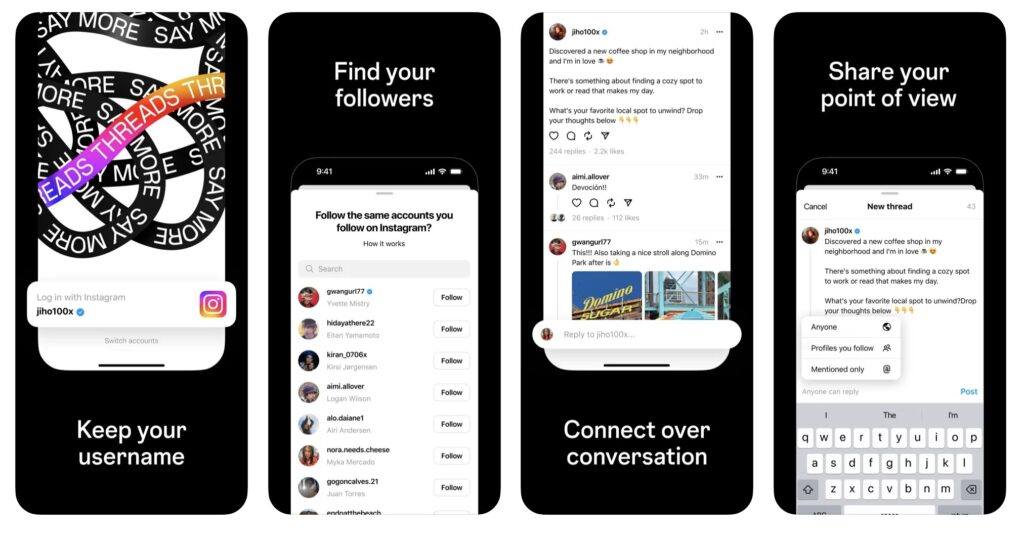 Instagram's text-based app Threads reached an impressive milestone of 100 million signups within just five days of its launch on June 6. That's according to the Quiver Quantitative tracker data.
Threads, Threads, Threads
As of July 11th, Threads users were up to 105 million. The milestone was also confirmed by Instagram's very own Adam Mosseri, who wrote:
"100 million people signed up for Threads in five days. I'm not sure I can wrap my mind around that fact. It's insane; I can't make sense of it.

The team has been busting their ass, but we know this is a race to the starting line. They say "make it work, make it great, make it grow." Well, we certainly did things out of order, but I promise we will make this thing great."
The app's impressive climb was well-documented by Meta's Mark Zuckerberg, who noted that the app garnered 2 million signups in two hours, 5 million in four hours, and surpassed 10 million registered users within seven hours.
By the next morning, over 30 million people had signed up, despite the app not yet being available in the EU due to privacy concerns.
Threads achieves over 100 million app sign-ups in first week


Source: Quiver Quant
In terms of user acquisition speed, Threads even outpaced OpenAI's ChatGPT bot, which achieved 10 million daily users in 40 days and 100 million monthly users in around two months. Of course, retaining all that users is a very different challenge and one many apps fail at.
But what actually is Threads?
Threads is essentially Meta's very own Twitter spin-off. That said, many early adopters have already complained that the app feels nothing like Twitter.
Threads is missing some features such as support for ActivityPub, the protocol used for posts on decentralised networks. While Meta has indicated that they are working on integrating it, until this integration occurs, the app will not be fully part of the fediverse.
Some also feel that the app's focus on self-congratulatory posts and the absence of a chronological timeline or topic search feature add to the perceived dullness. It seems Threads doesn't offer a compelling or engaging experience that could keep users coming back for more.
Other limitations are a read-only web interface, the absence of features like post search, direct messages, hashtags, and a "Following" feed, and restrictions on nudity due to Instagram's rules.
And yet, there's little denying that Threads' achievement of reaching 100 million users in a short time is undeniably impressive.
Key takeaways
Threads app reaches 100 million signups in five days, surpassing OpenAI's ChatGPT bot in user acquisition speed
Critics highlight missing features and perceived dullness, including absence of chronological timeline and topic search
Retention figures remain to be seen