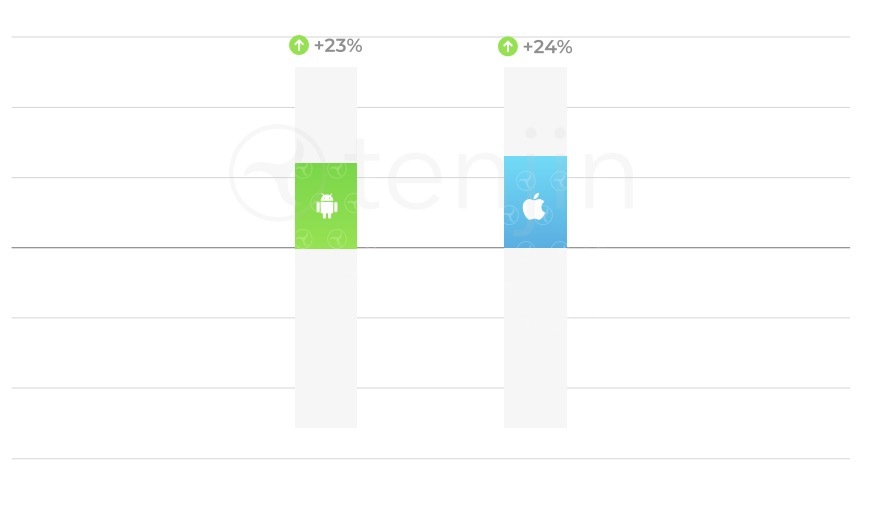 The average eCPM dropped 26% on Android and 12% on iOS between H2 2022 and H1 2023. That's according to the latest report from app and software firm Tenjin. Let's dive in.
Changes ahead
While some might interpret the declining eCPMs as a sign of an impending transformation in how digital content is monetised, it's crucial to recognise that ad monetisation remains a resilient and integral facet of the digital landscape.
The key to navigating this new landscape then lies in striking a harmonious equilibrium between various monetisation models.
Drop in eCPMs between H2 2022 and H1 2023 by platform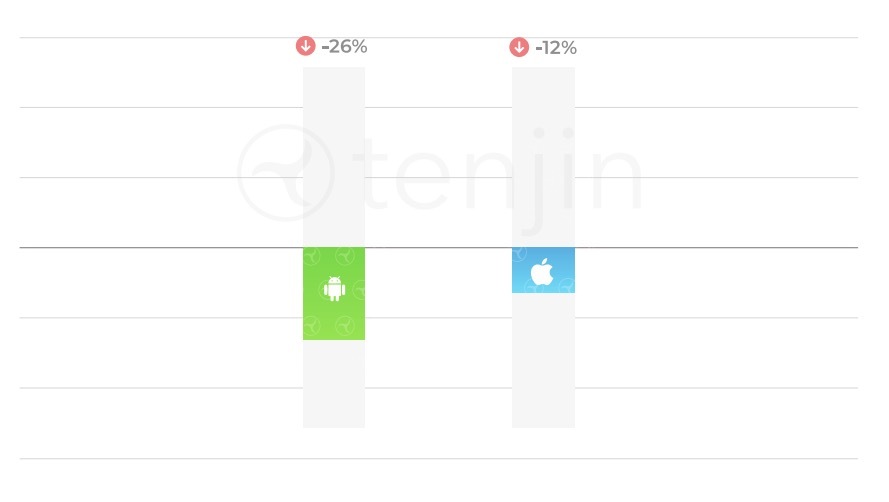 Source: Tenjin
The report also highlights a significant boost in in-app purchases with Android seeing a 23% increase and iOS in-app purchases up 24%.
"The remarkable growth in the number of in-app purchases is a testament to that. Game developers have embraced hybrid monetisation and successfully implemented it," said Roman Garbar, Marketing Director at Tenjin.
Regional differences
There's been little shift in the top 5 countries based on total app installs on Android between 2022 and 2023. However, on iOS the UK has now overtaken China, Japan, Canada and Germany.
The changes in the iOS landscape are causing app developers and advertisers to rethink their strategies. The UK's growing importance as a user hub and potential revenue source means advertisers might want to customise their campaigns to match the preferences of UK users. Adjusting app monetisation tactics could also attract this expanding user base, leading to more in-app purchases and subscriptions.
Top 5 countries by app installs (iOS)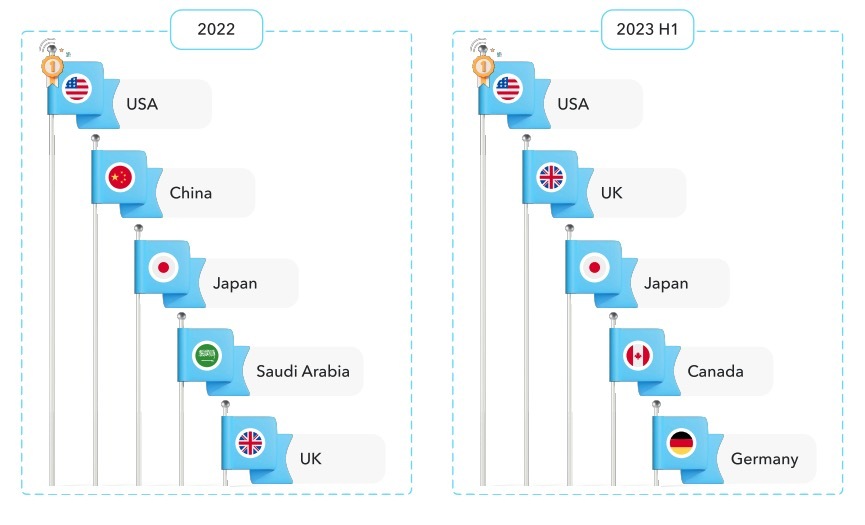 Source: Tenjin
This shift also highlights the importance of understanding local preferences for app monetisation and advertising. As the UK becomes more influential, other regions could follow suit with their app engagement. Developers and advertisers should stay flexible and adaptable, considering the changing user behaviours across different platforms and regions.
Key takeaways
eCPMs decline on Android and iOS in 2023, challenging ad strategies and monetization models
In-app purchases surge, driven by hybrid monetization and adaptable game developers
UK's iOS ascendancy sparks tailored strategies, highlighting regional importance and need for flexible adaptations