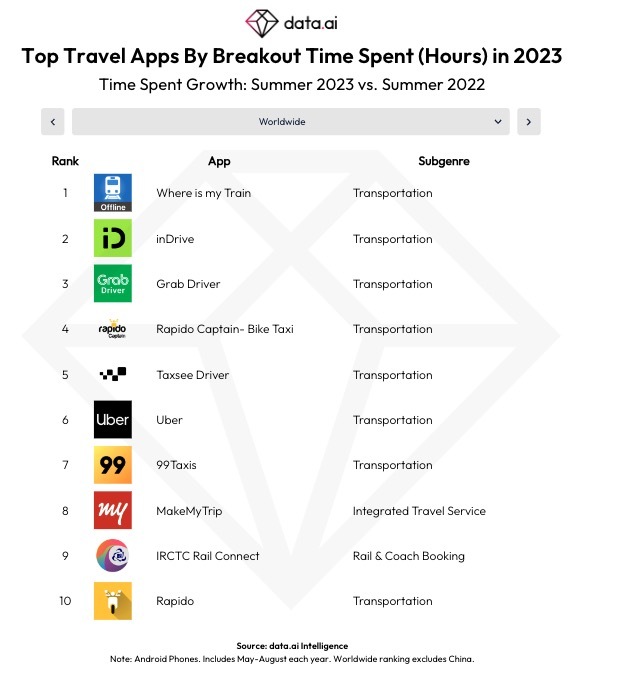 In the summer of 2023, there was an uptick in the utilisation of travel apps, surpassing the records of the preceding year. As per the most recent findings by data.ai, summer travellers exhibited an unprecedented reliance on their mobile devices. Let's dive right in.
14% surge in travel app usage
Between May and August 2023, Android smartphone users collectively dedicated four billion hours to travel apps, averaging over one billion hours each month. That's a 14% surge compared to the previous year.
But in contrast to 2022, when the surge was predominantly attributed to vacation-related apps, the growth observed between 2022 and 2023 was predominantly propelled by day-to-day travel applications.
Surge in travel app usage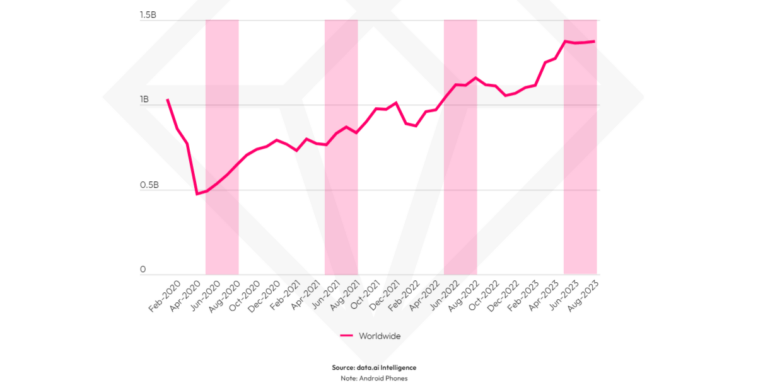 Source: data.ai
Notably, transportation apps like Uber and InDrive, along with rail and coach booking apps such as IRCTC Rail Connect, witnessed substantial spikes in their usage throughout the summer of 2023.
Which apps come out on top?
When examining the top breakout travel apps in terms of year-over-year growth during the summer of 2023, transportation apps clearly dominate the landscape.
Eight out of the top 10 breakout apps globally fall within the transportation subgenre. Notably, apps like "Where is my Train", "inDrive", and "Grab Driver" emerged as the standout breakout apps during the summer of 2023.
Interestingly, despite the prevalence of transportation apps, a variety of apps outside this subgenre also achieved top breakout rankings in crucial markets such as the US and the UK. In the US, apps related to flight tracking, airline services, and integrated travel services secured positions among the top 10 breakout apps.
Travel app type growth index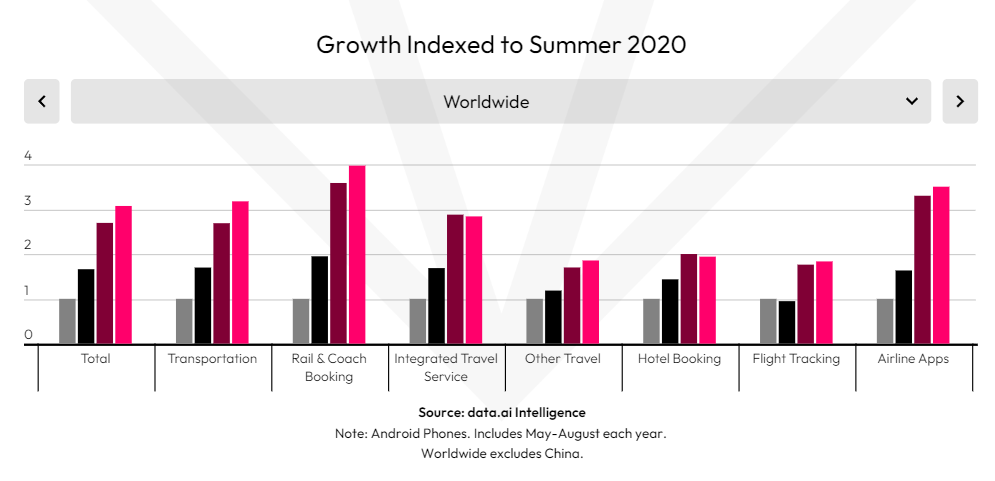 Source: data.ai
In the UK, apps focused on rail and coach booking, integrated travel services, and airline services also claimed prominent spots in the breakout rankings.
Post-Covid upswing
Reflecting on the backdrop of these trends, it's essential to note that the year 2020 witnessed the onset of the COVID-19 pandemic, which brought unprecedented challenges, wreaking havoc across various industries and affecting lives worldwide. Businesses faced closures, economies experienced hardships, and daily routines were disrupted as lockdowns and restrictions became the new normal.
One of the most profoundly impacted sectors was the travel industry. However, as vaccination rates steadily increased and a sense of hope emerged on the horizon, a noticeable shift occurred. The installation of travel apps has now experienced a 123% year-over-year surge.
Key takeaways
Travel app usage surges 14% YoY, with mobile reliance at an all-time high
Top breakout apps are predominantly transportation-based, but diverse apps shine in key markets
Travel app installs soared 123%, signalling a strong recovery from pandemic challenges