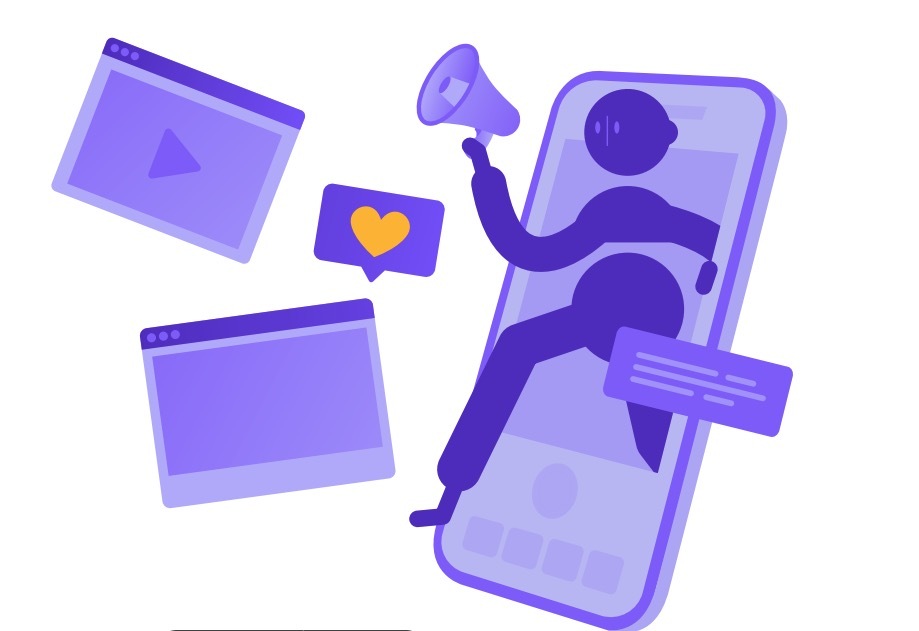 Among mobile gaming genres, Role Playing Games (RPGs) and Strategy games have some of the most loyal players. Mistplay analysed 500+ mobile games and millions of players to rank mobile gaming genres based on metrics such as retention, repeat purchase rate, and average user sessions.  Let's take a closer look.
Genres under the lens
According to Mistplay's Loyalty Index, RPGs secured the highest ranking with a remarkable score of  75 out of 100, closely trailed by Strategy games at 70, while Simulation games and Lifestyle games scored 67 and 61, respectively.
Lifestyle games stand out as the genre with the highest average sessions per user, driven by their engaging and repeatable gameplay tasks. Notably, they also excel in monetisation, ranking first in the percentage of spenders by Day 30 and third for repeat purchases. These games are strategically designed to entice players to return multiple times throughout the day, motivating them to make incremental purchases as they pursue their in-game aspirations.
Game genres ranked by player loyalty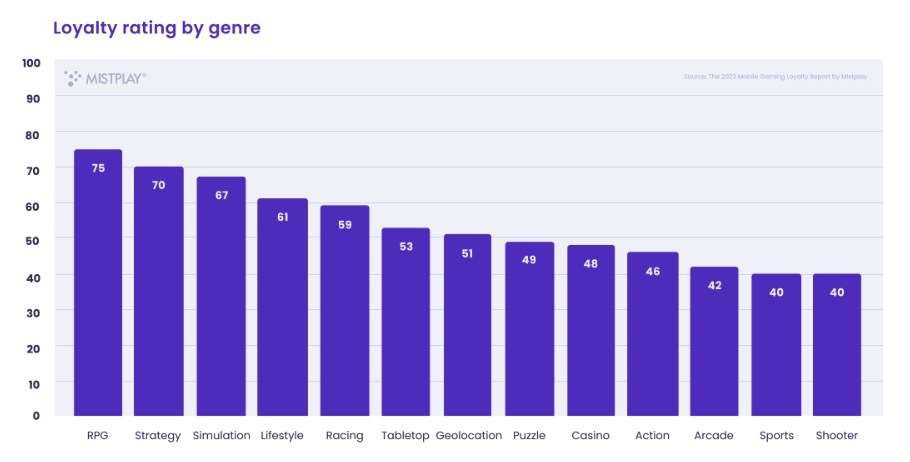 Source: Mistplay
Puzzle games, on the other hand, reign supreme in terms of pure player retention. They claim the top spot for Day 30 retention, and with a substantial gap between overall and top quartile performance, this genre offers significant growth potential, especially considering its appeal to a broad casual gaming audience.
"Player loyalty is perhaps the single most important element for mobile publishers to focus on as the industry continues to evolve," said Jason Heller, CEO of Mistplay. "It's the lifeblood of strong LTV and long term enterprise value for gaming publishers. Loyalty can be a challenge to measure by just a single metric, and its complexities must be carefully considered within the context of each game. We designed the Mobile Gaming Loyalty Index and our Player Survey to help publishers and developers take a deep dive into what loyalty really means. We also want to help the industry understand that cultivating player loyalty isn't just an empty buzzword to throw around, but a required set of mindsets, behaviours, and capabilities to operationalise." 
Engagement by genre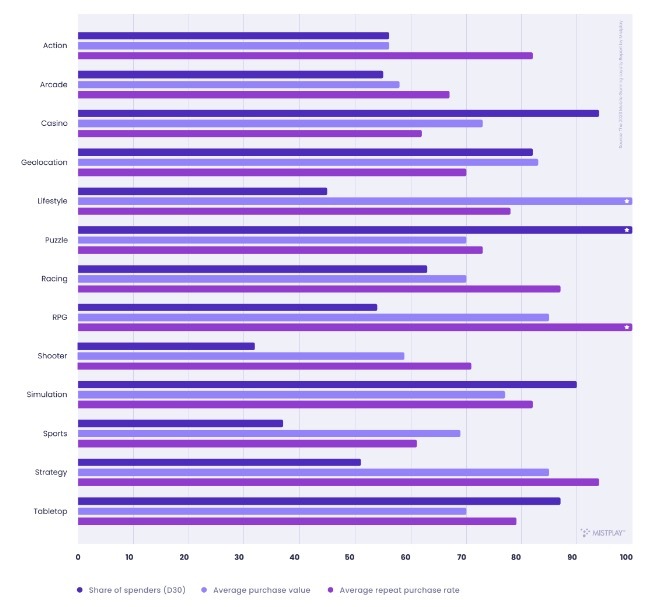 Source: Mistplay
Ads boost installs
The journey of player loyalty begins with the very first ad impression. Approximately half of players decide to install a game within a few days of encountering an ad, showing just how important leaving a lasting impact can be. Authenticity in advertising is a key factor, with 71.7% of mobile gamers emphasising the importance of seeing actual gameplay footage in ads. However, not all players respond to ads, as 36.7% typically ignore them entirely.
Game discovery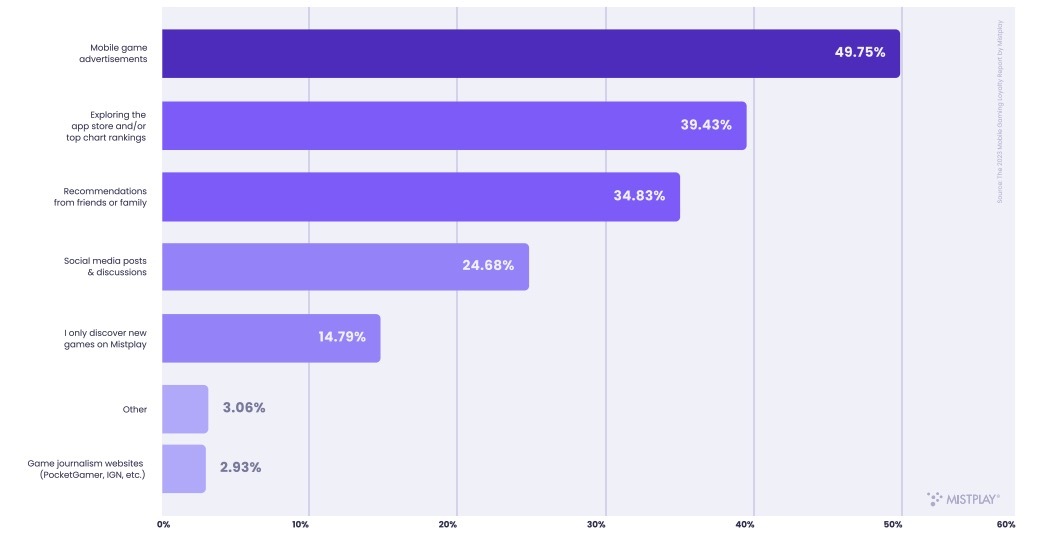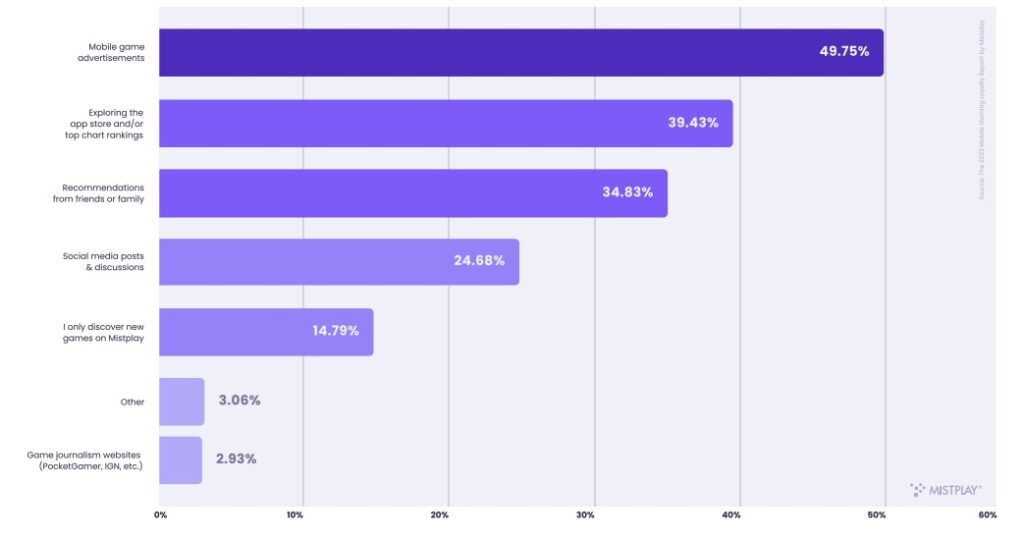 Source: Mistplay
High-value spenders exhibit distinct gameplay and spending motivations. Players who invest over $100 in mobile games are 28% more likely than their counterparts to engage with at least eight games per week. Moreover, they are 55% more inclined to spend money to maintain competitiveness with other players, highlighting their dedication to in-game advancement compared to other spenders (22.2% vs. 14.3%).
Monetisation by genre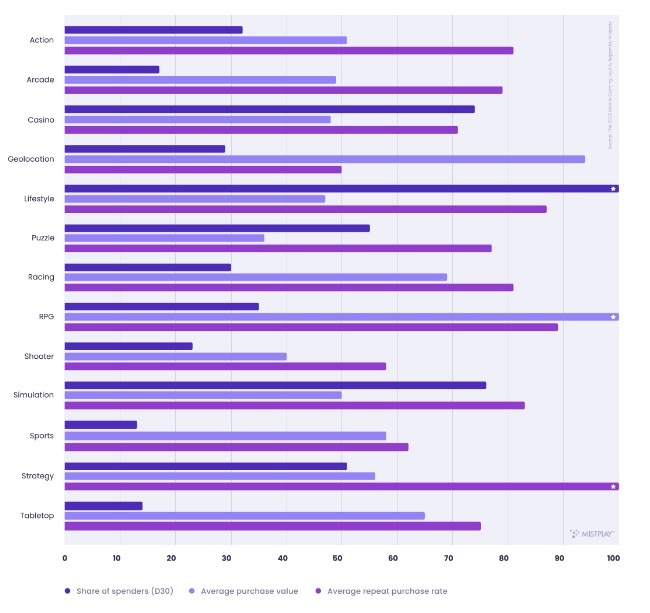 Source: Mistplay
A sense of progression serves as a critical motivator for mobile gamers. The top two reasons players continue playing a game are the desire to advance further (56.8%) and the avoidance of abandoning their in-game progress (50.3%). This underscores the significance of providing players with a clear sense of achievement and continued growth within the gaming experience.
Key takeaways
RPGs and Strategy games lead in loyalty, scoring 87 and 79, respectively, on Mistplay's Loyalty Index, showcasing their dedicated player base
Lifestyle games boast the highest average sessions per user and rank first in the percentage of spenders by Day 30, highlighting their engaging gameplay and strong monetisation potential
71.7% of mobile gamers emphasise the importance of seeing actual gameplay footage in ads, while 36.7% typically ignore ads entirely, underscoring the significance of authentic advertising in attracting players