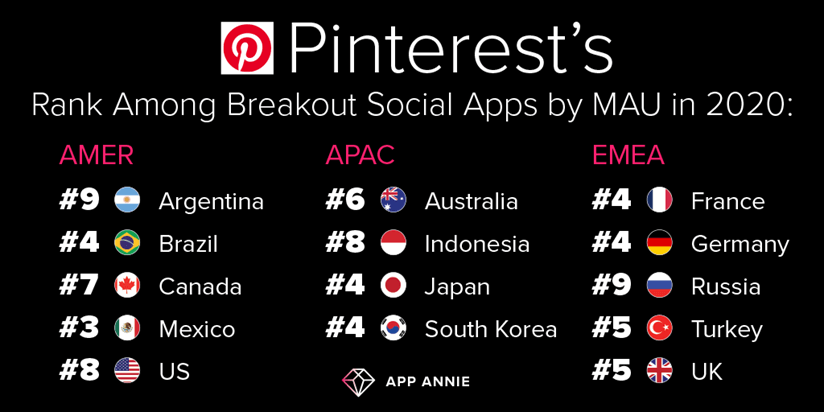 Mobile and social media shopping have boomed during the pandemic. Amazon has been one of the main benefactors from the boom and research shows that live shopping and social commerce could become a $2 trillion market by 2024.
New data from App Annie finds that in 2020, Pinterest downloads grew 193 million, up 50% from 2019. The increase was driven by a higher number of consumers using the platform to discover products and design for shopping inspiration.
Pinterest considerably expanded its footprint in 2020 and ranked among the top 10 social apps in areas including North America, LATAM, Asia Pacific and EMEAR.
"People have always come to Pinterest to shop, and in 2020 we made it easier than ever to go from inspiration to purchase, and for retailers to upload their catalogs and benefit from product discovery," said Dan Lurie, head of shopping product at Pinterest.

"The acceleration of online shopping during the pandemic has heightened the need for high quality, contextual and visually browseable shopping experiences that replicate how it feels to discover great products in-store or while window shopping. As distributed commerce unlocks seamless shopping experiences, we'll continue our work to make every item on Pinterest shoppable."
But the success of Pinterest hasn't stopped in 2021 with 33 million more downloads during the first two months of the year.
At the same time, the company has ramped up efforts to boost social commerce by integrating a shopping tab and boosting its merchant tools to allow retailers to reach new customers.
In the UK, Pinterest was ranked fifth for breakout social apps in terms of monthly average users in 2020.