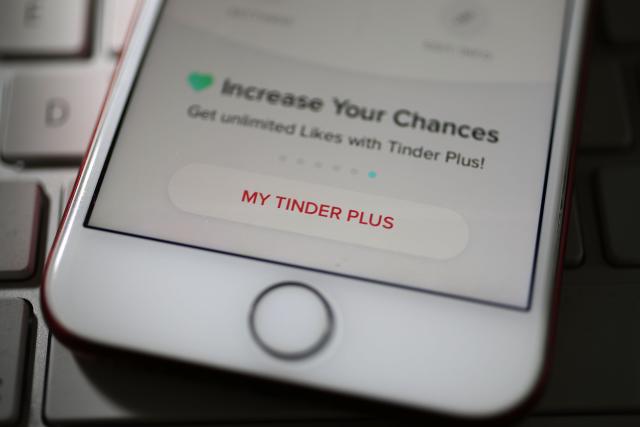 In an effort to diversify and generate more cash from subscriptions, apps are turning toward premium tiers. Dating apps such as Tinder, Match and Bumble are leading the way by introducing premium tiers that could run as high as $500 a month.
Weekly isn't enough
Earlier this month, Tinder announced that it was to launch premium tiers for its membership subscriptions. And it's far from the only one.
Notable dating platforms such as Match and Bumble are actively seeking ways to sustain their revenue growth, as they've seen users opting for paid features flatline.
According to Bloomberg, a tactic that's gaining traction involves the introduction of weekly subscription plans in order to attract a larger audience towards paid offerings.
Match Group saw robust interest in its recently unveiled weekly subscription models. In the UK, there's been a noteworthy 73% upswing in the adoption of paid plans by Gen Z women on Tinder ever since its introduction in April. A similar trend was observed on Hinge, another app within the Match Group umbrella as well as Bumble.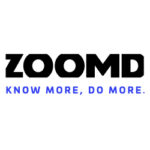 Bumble app paying users and revenues per user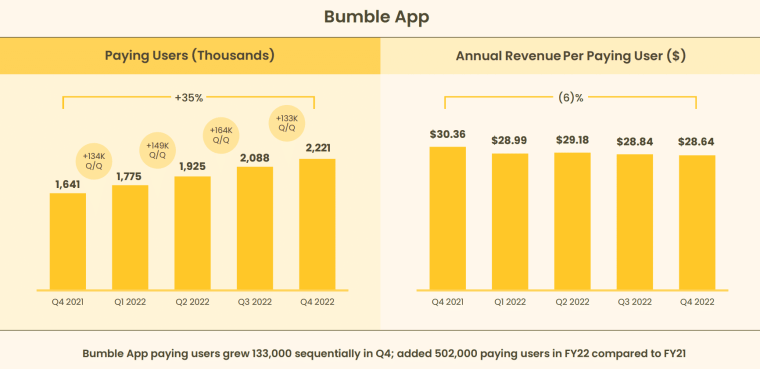 Source: Bumble
There's just one problem: weekly subscriptions often result in less predictable revenue as users may subscribe for short periods and then cancel.
Bring on premium
To address this issue, companies are exploring premium tiers at higher price points. Match Group, for instance, is preparing to launch a subscription tier priced at $500 per month in the upcoming months. Bumble, which already offers weekly subscription options, intends to test a premium tier later this year, alongside a more budget-friendly choice specifically tailored for Gen Z users. Grindr is also seeing favourable results from its new weekly subscription option and is contemplating the introduction of more affordable choices as well as a premium tier.
These premium tiers cater to individuals seeking a more personalised and precise matchmaking experience. Whitney Wolfe Herd, CEO of Bumble, noted during a recent earnings call that some users consider spending $40 to $50 per month to find a meaningful connection as a worthwhile investment.
While introducing these high-priced tiers, both Bumble and Grindr are also exploring the possibility of offering new tiers at lower costs compared to their current subscription plans.
Dating apps aren't the only companies striving to adapt to the preferences of Gen Z users. In April, YouTube announced two new advertising alternatives aimed at making it easier for advertisers to connect with this demographic.
Key takeaways
Dating apps like Tinder, Match, and Bumble are introducing premium tiers to diversify and enhance subscription revenue
Weekly subscriptions face challenges due to unpredictable user retention, leading companies to explore higher-priced premium tiers for stability
Match Group and Bumble are preparing to launch high-priced premium tiers, aiming to offer more personalized matchmaking experiences while also considering lower-cost options