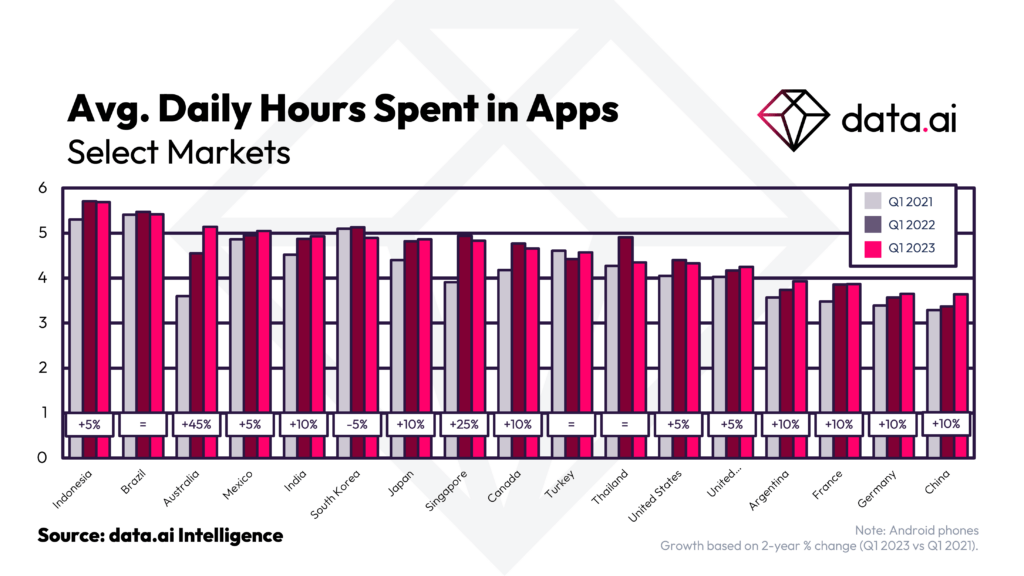 Data.ai an app analytics company, just released its Q1 Rankings Report, revealing that global consumers now spend an average of 5.5 hours per day on mobile apps in 2023, up from 5.4 hours in Q1 2022. But what apps are they spending their time on? Let's take a closer look at the mobile usage trends from Q1 2023.
Save, save, save
As consumers navigate an uncertain economic landscape marked by high-interest rates, macroeconomic headwinds, and rising inflation, they are increasingly turning to apps that offer deals and savings. These include apps that help users save money on goods and services.
According to the report, the breakout apps that have captured consumer attention include:
Secondhand marketplaces – Vinted (ranked #4 by breakout downloads in the UK) offers a platform for buying and selling affordable goods.
Fast-fashion and cheap goods – SHEIN (ranked #3 in the US and #4 in the UK) and Temu (ranked #1 in the US) employ mobile-native techniques, including social media interfaces, influencer-style marketing, and gamification features.
Budget-friendly travel – Fly Bonza (ranked #2 in Australia) is a mobile-only low-cost airline app, while Hopper (ranked #5 in the US and #9 in Singapore) helps users find the most cost-effective times to fly.
Don't skimp on entertainment
As consumers face tighter budgets, they're still willing to splurge on entertainment. In fact, TikTok takes the top spot for breakout consumer spending in Q1 2023 YoY, as users increasingly support their favourite creators through the app's tipping feature. Even with its ban in India, TikTok was a universal favourite in the markets analysed, ranking in all other markets. The app took the #1 spot for app store spend in the UK, France, Germany, Indonesia and the US.
Top non-gaming apps for consumer spending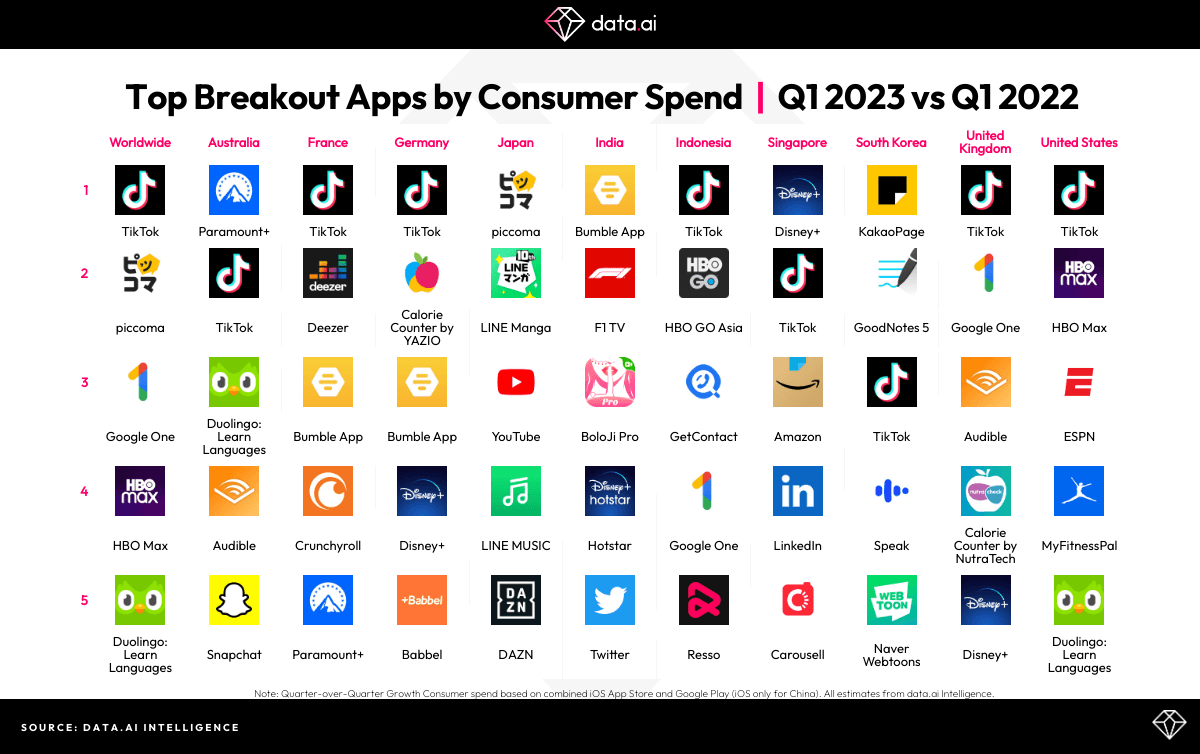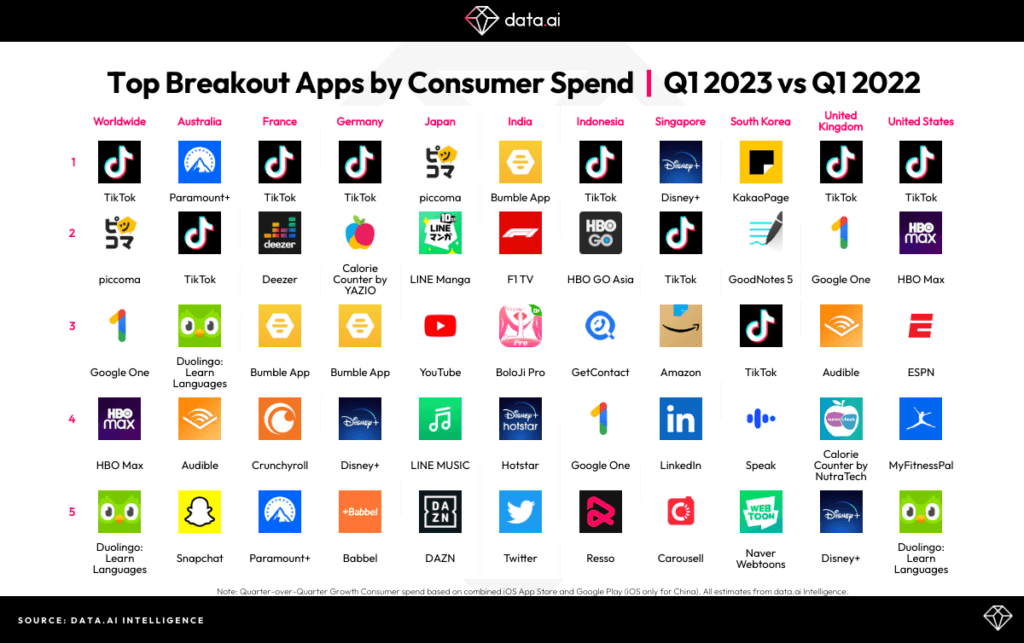 Source: data.ai
Alongside the surge in entertainment spending, other notable areas of growth in the mobile app industry include language learning, video streaming, comics and anime, and fitness. 
Language learning apps such as Duolingo and Babbel have seen a rise in subscriptions as consumers prepare for a year of travel. 
In the video streaming category, services like HBO Max, Disney+, Paramount+, DAZN, and ESPN have shown strong growth in subscriptions. 
Meanwhile, piccoma, LINE Manga, and Crunchyroll have emerged as leading apps for comics and anime enthusiasts, with piccoma ranking second only to TikTok for absolute growth in app store spend. 
Calorie-counting apps have also proven popular in Germany, the UK, and the US, as consumers turn to premium subscriptions to help achieve their fitness goals.
Gaming spending tightens
In the face of economic challenges, consumers are being cautious with their spending, including mobile game app store purchases. However, Q1 2023 has seen some diverse titles experiencing revenue booms, suggesting that there is still room for growth in this market.
According to data.ai's Q1 Rankings Report, there has been no further decline in mobile games app store spending, which had seen its first-ever reduction in 2022 with a 5% YoY decrease. Instead, consumer spending has remained relatively stable YoY.
Gardenscapes, the popular title by Playrix, has accelerated its user acquisition (UA) with an effective strategy that has driven both paid ads and organic downloads boost. This tactic has resulted in a surge in in-app purchases from both new and returning users.
Top game apps for consumer spending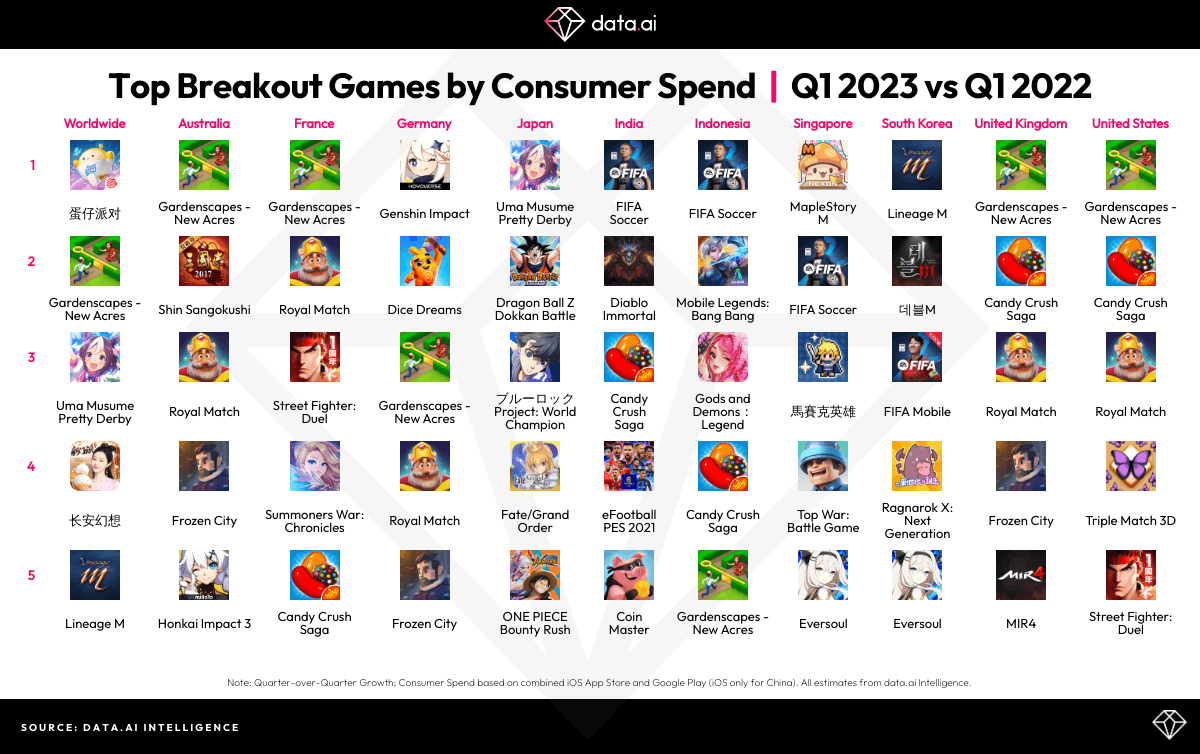 Source: data.ai
Royal Match has also increased its paid downloads, with the US remaining the top market for downloads and consumer spending. The $1.99 mini coin package was the most popular iPhone purchase in the US, representing over 40% of all in-app purchases in Q1 2023.
Lastly, soccer interest remained high in Q1 2023 with the 2023 updated season of FIFA Soccer. FIFA Mobile made India, Indonesia, and Singapore breakaway leaders in consumer spending growth, in addition to FIFA Soccer in South Korea.
Key takeaways
Customers increasingly turn to apps offering deals and savings
TikTok takes the top spot for breakout consumer spend in Q1 2023 YoY
Other notable areas of growth in the mobile app industry include language learning, video streaming, comics and anime, and fitness