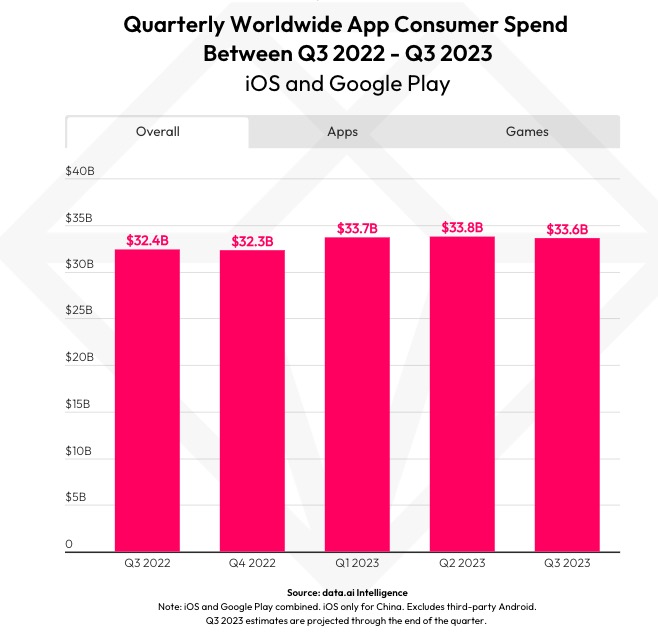 In the third quarter of 2023, global consumer spending on mobile devices hit a new milestone, reaching a total of $33.6 billion. This resurgence in spending suggests that the mobile market is making a strong comeback after a sluggish year in 2022, as reported by data.ai.
Mobile spending reaches $100 billion mark
The quarter's achievement is particularly remarkable because it marks the first time that consumer spending on mobile devices has reached the $100 billion mark by the third quarter of the year.
In previous years, it took until October to reach this milestone in both 2021 and 2022, and December in 2020 – the inaugural year when global consumer spending reached $100 billion.
In Q3 of 2023, iOS maintained its position as the leading platform for consumer spending, raking in a substantial $21.2 billion, while Google Play generated $12.4 billion in revenue.
Global consumer app spending
Source: data.ai
When it comes to mobile gaming, Google Play experienced a modest growth of 5% in consumer spending, but iOS saw a decrease of 5.6% in mobile game spending during the same period.

In terms of app downloads, consumers worldwide downloaded a total of 38.4 billion apps in the third quarter of 2023. This figure represents a slight decline when compared to the same period in the previous year.
No surprises: US leads
The US emerged as the frontrunner in consumer spending, experiencing a significant increase of over $600 million compared to the same period in the previous year. Impressively, nearly one-third of the total global consumer spending in the third quarter was attributed to the US.
South Korea also demonstrated robust year-over-year growth, recording an increase of $477 million in consumer spending during Q3 2023.
Meanwhile, the UK showcased a commendable performance, generating a total of $224 million in consumer spending during the same quarter.
Threads dominates downloads
Meta's recently launched microblogging app, Threads, made an astonishing debut in early July by achieving a staggering 150 million downloads within its first week. This achievement set a new record, as Threads reached this milestone 5.5 times faster than any other app in history.
As a direct consequence, Threads dominated the downloads charts throughout the third quarter of 2023.
Leading apps globally
Source: data.ai
In fact, Meta had a rather successful quarter overall, with four out of the top five apps in terms of downloads during this period, solidifying its position as a dominant player in the mobile app market.
Key takeaways
Global consumer mobile spending reaches $33.6 billion in Q3, signaling market recovery
US accounts for 30% of global Q3 consumer spending increase
Threads app's record-breaking 150 million downloads, driving Meta's Q3 success