Black Friday and the Christmas shopping season are just a few months away, a crucial period for retailers that can account for up to 40% of a company's sales. With a growing number of retailers adopting mobile technologies and launching their own retail apps during the pandemic, the shopping landscape has changed. But what exactly does the holiday season mean for shopping apps this year?
Shopping app visits on the rise
According to the latest predictions from the app and mobile experts data.ai, mobile shopping app visits are going to increase 22% year-on-year to 450 billion. That's not even including China yet, in which case sessions will rise to 850 billion. 
For the fourth quarter of the year, data.ai predicted that shopping app traffic to come closer to 28 billion sessions in the US alone on Android phones, up nearly 10% year-on-year. The findings highlight significant opportunities for retailers and brands to focus on the app marketing strategies that can help them to boost sales this season. 
Sessions in mobile shopping apps grow 22% globally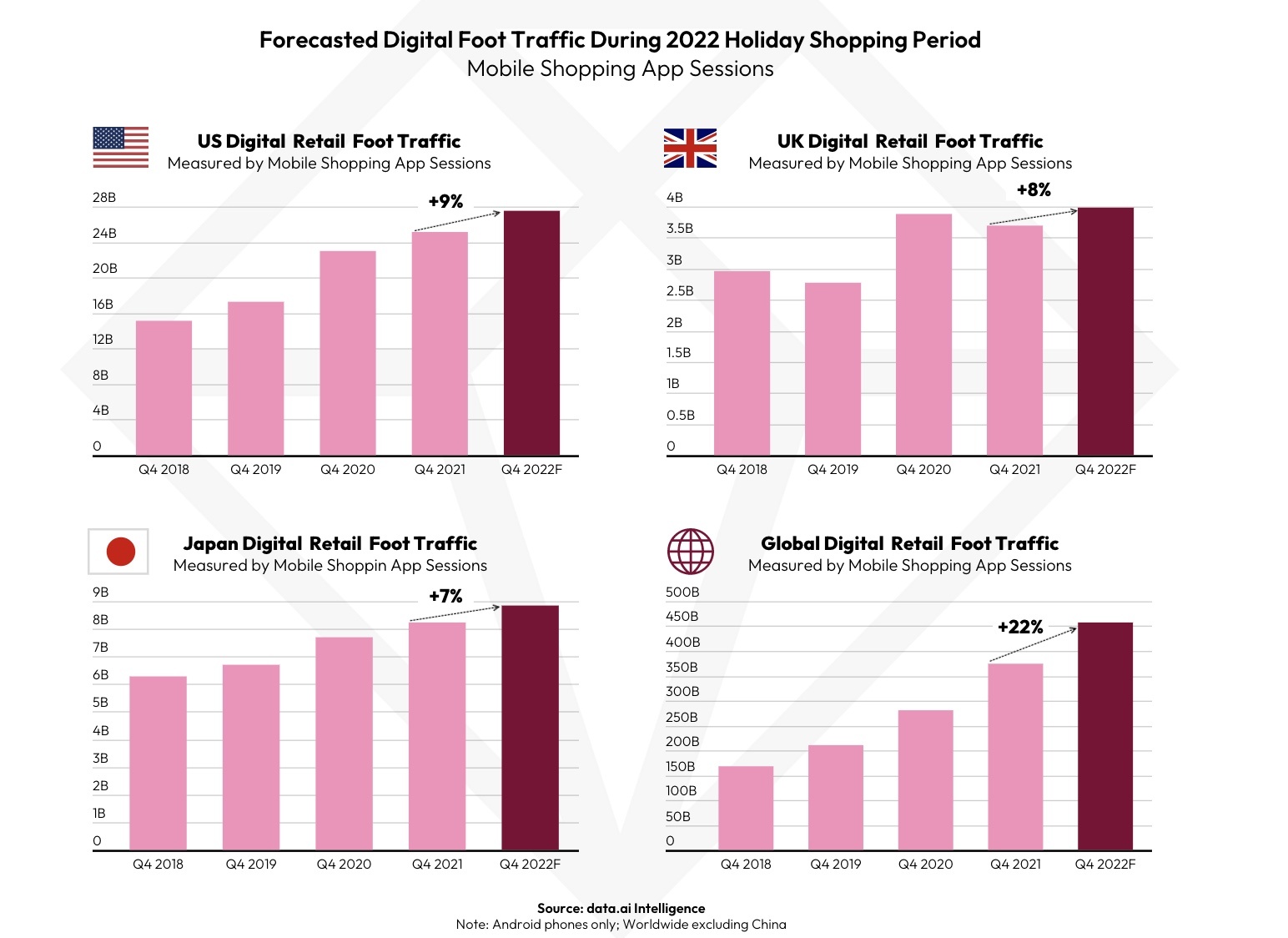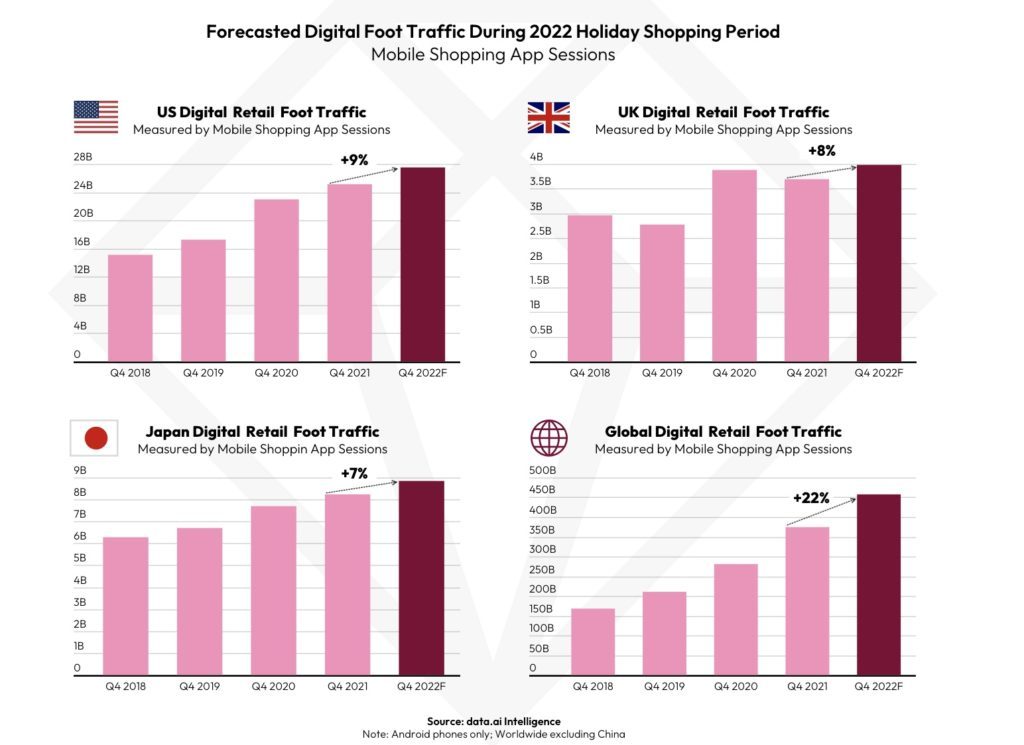 Source: data.ai
Higher app engagement drives retail sales
Arguably, the pandemic taught many of us how to shop in-app and the data shows we've made it a habit. Engagement in shopping apps grew twice as fast as downloads. 
Americans are expected to spend over 150 million hours on Android phone shopping apps during Black Friday and Cyber Monday, up 41% compared to pre-Covid years.
US shoppers are spending more time in shopping apps


Source: data.ai
What's more, time spent in apps correlates with higher retail sales. How's that for revisiting those loyalty programs and push notifications! For stationary retailers with a strong local presence, a mobile strategy could help them compete with mobile-first sellers.
Looking for ways to save
Given the threat of inflation, American shoppers will be looking for opportunities to save this winter. This becomes evident when taking a closer look at downloads of coupon and reward apps – up 31% during H1 2022 already. Coupon apps Upside and Fetch Rewards ranked five and six among the top shopping apps in the US.
Consumers are looking for ways to save by download coupon and rewards apps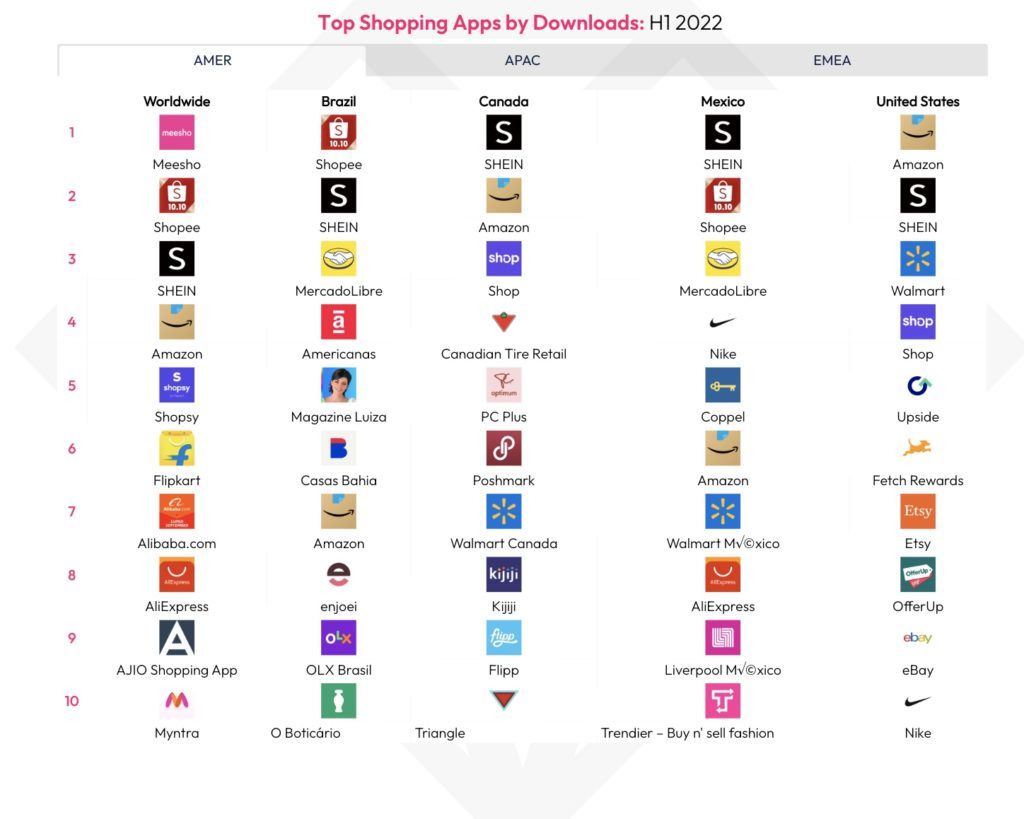 Source: data.ai
Global downloads of rewards apps grew 24% during the same period. 
Apparel apps such as SHEIN and Nike are expected to perform well this shopping season and despite the dire economic situation, Americans are still spending their hard-earned dollars on luxury goods. 
Key takeaways
Mobile shopping app visits to increase 22% year-on-year to 450 billion
US shoppers to spend over 150 million hours on Android shopping apps this holiday season (+41% YOY)
Coupon and reward app downloads jump 24% in H1 2022 globally