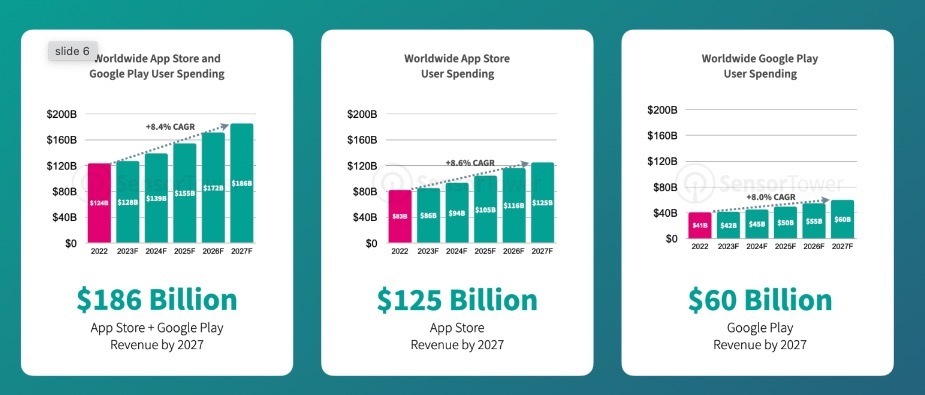 The global mobile app market is set to reach a whopping 189 billion installs and generate $186 billion in revenues by 2027, according to the latest report from mobile experts Sensor Tower. Let's check out the data.
Full steam ahead
There's much reason to be optimistic with the latest data from Sensor Tower's Mobile Market Forecast revealing a boost to mobile app installs and revenues over the next few years.
The forecast predicts an 8.4% compound annual growth rate in worldwide user spending. That signals a remarkable 50% increase in revenue compared to the previous year's total of $124 billion.
The growth is driven by both the App Store and Play Store, but Apple's marketplace is projected to have a significant edge here.
By 2027, the App Store will contribute $125 billion in user spending. In comparison, the Play Store is expected to account for slightly less than half of that amount, specifically $60 billion.
Consequently, Sensor Tower believes that now's as good a time as any for developers and marketers to assess the potential of the iOS market and take it into careful consideration when making strategic decisions.
India is projected to be the leading country in terms of mobile app downloads and is expected to maintain its top position in 2027. Brazil, on the other hand, is projected to surpass the United States and grow more rapidly by 2027. Over time, the country could become a dominant player.
Brazil to displace the US as global number two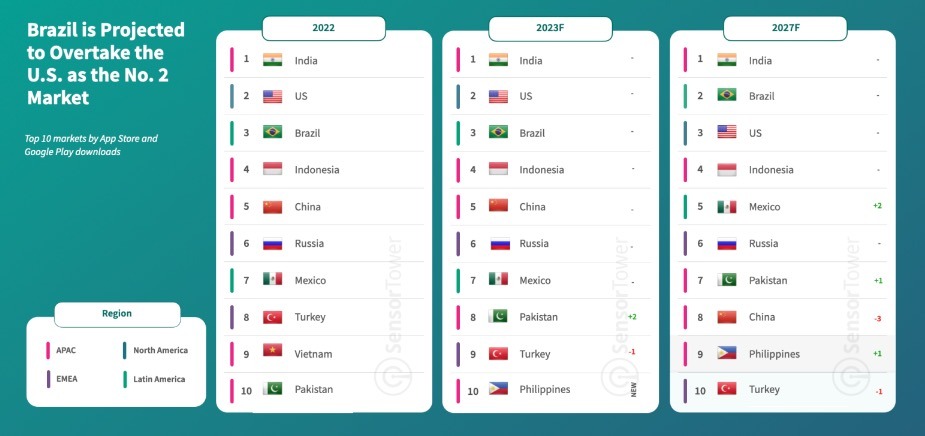 Source: Sensor Tower
Entertainment, video and photo revenues
There appears to be a noteworthy trend regarding the distribution of app revenue across different categories. Currently, mobile games contribute to 54% of the total app revenue.
Entertainment apps eating into gaming apps' pie

Source: Sensor Tower
However, the report suggests that this dominance will diminish by 2027, with their share decreasing to 47%.
On the contrary, the Entertainment and Photo & Video categories are predicted to witness an increase in their market share.
This growth can be attributed to the rising number of users who are transitioning towards and allocating more funds to apps with engaging content such as TikTok and YouTube.
Key takeaways
Global mobile app market to reach 189 billion installs and $186 billion in revenues by 2027
App Store leads with $125 billion in user spending, while Play Store contributes $60 billion
Mobile games decrease to 47%, entertainment and photo & video categories grow