The mobile advertising industry has been a significant driver of growth in the digital economy, with companies spending billions of dollars every year to reach customers through various online channels. However, the industry faced significant challenges in 2022, as highlighted in the annual report by the Internet Advertising Bureau (IAB). While overall internet ad revenues were down, mobile reached record growth.
What's keeping internet ad revenues down?
Internet ad revenue growth slowed down to 10.8% in 2022, following a record-breaking 35% gain in 2021, bringing the total revenue to $209.7 billion. The first half of the year showed robust growth, with the first and second quarters experiencing 21.1% and 11.8% growth rates, respectively. Growth slowed significantly in the second half of the year, with the third and fourth quarters experiencing growth rates of 8.4% and 4.4%, respectively.
Programmatic ad revenues, on the other hand, jumped 10.5% to $109.4 billion. 
And Search held the largest share of total digital ad revenue, noting a 7.8% year-over-year rise to $84.4 billion.
Overall internet ad revenues trend 2020-2022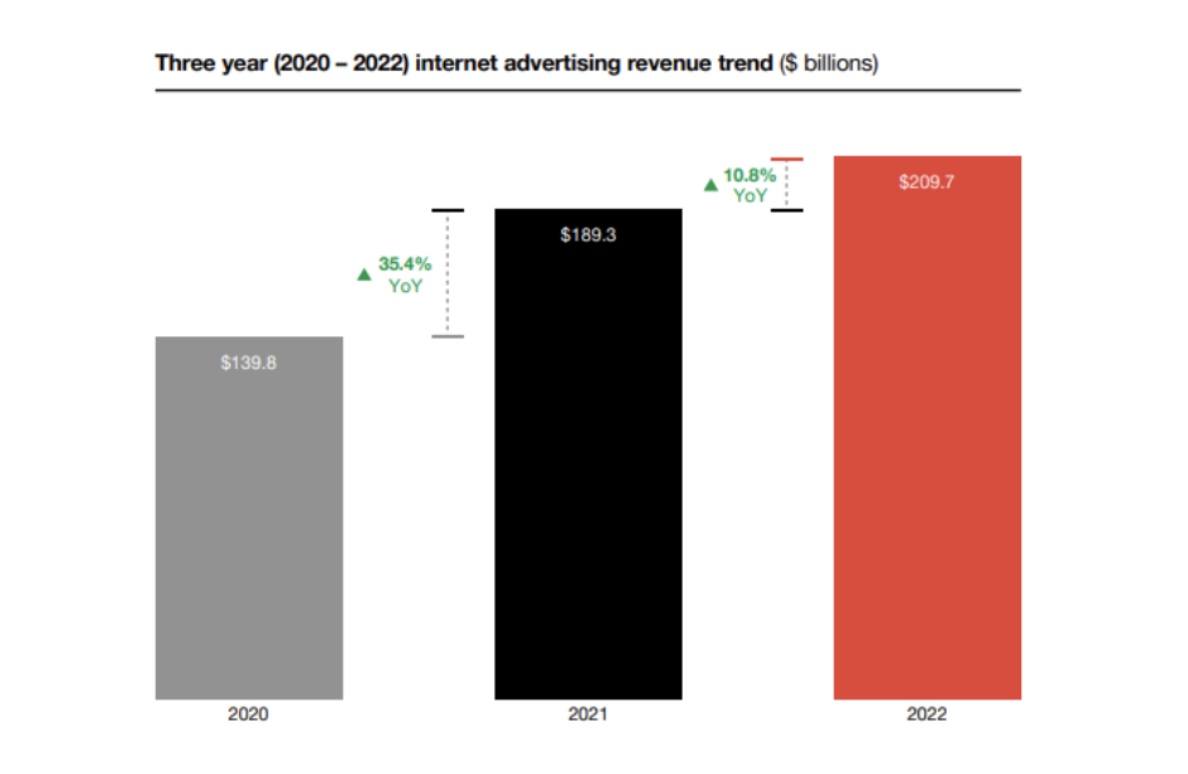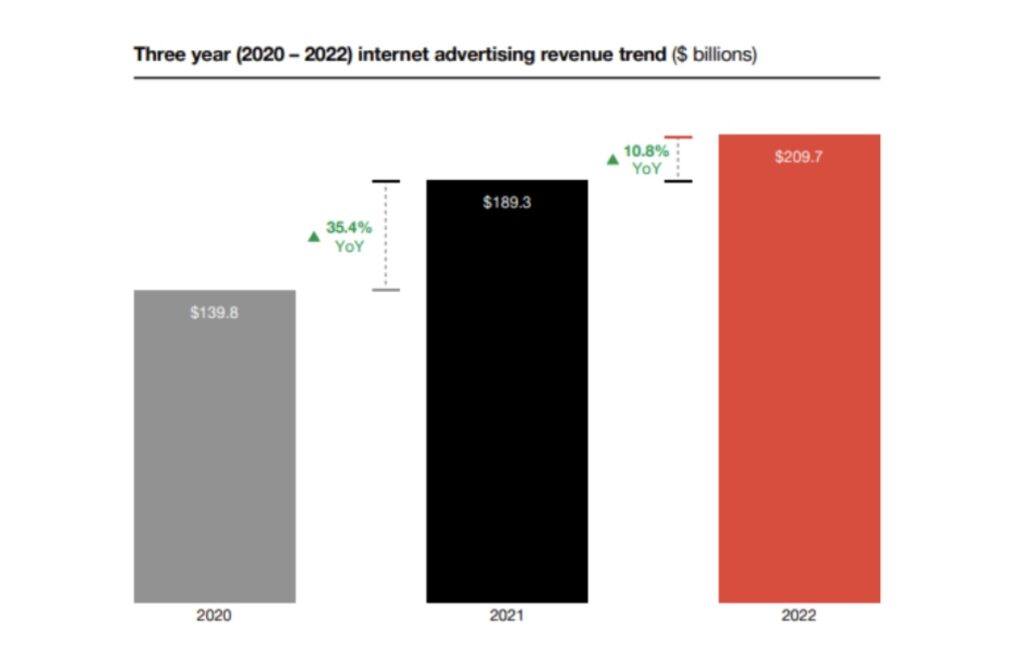 Source: IAB
The overall slowdown in growth can be attributed to several factors, including global economic uncertainty and regulatory changes. The ongoing COVID-19 pandemic has resulted in significant disruptions in the global economy, leading to a decrease in advertising spending by some companies. Furthermore, new privacy regulations have been implemented in several countries, including the European Union's General Data Protection Regulation (GDPR) and California's Consumer Privacy Act (CCPA), which have affected the industry's growth.
The pandemic also changed consumer behaviour, leading to changes in advertising strategies. For instance, the surge in eCommerce and online shopping has resulted in an increase in mobile app ad spending.
Mobile ad revenues are going up
While the overall growth of internet ad revenue may have slowed down in 2022, mobile ad revenue continued to grow, reaching a new record of $154.1 billion, an increase of 14.1% year-over-year. 
Mobile ad revenue now accounts for 73.5% of the total digital advertising revenue, highlighting the significance of mobile platforms for advertisers.
IAB expects further growth in mobile ad revenue due to the increasing demand for video and podcast content, the expansion of 5G technology, and the latest developments in virtual and augmented reality advertising. 
Historic trends of online ad growth by device over the years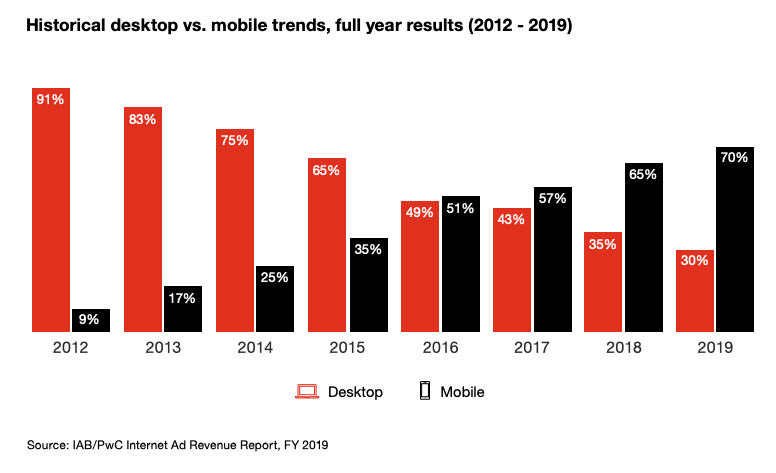 Source: IAB
The rise of mobile devices has resulted in advertisers shifting their focus from traditional advertising channels to mobile platforms, as they offer more targeted and personalised advertising options.
The popularity of video and podcast content has grown significantly in recent years, with more consumers using their mobile devices to consume this content. Advertisers are taking advantage of this trend by investing in video and podcast advertising, which is expected to drive the growth of mobile advertising revenue further.
Interestingly, social media revenue growth slowed with the first-half revenues growing $1.8 billion while second-half revenues plateaued at a growth of just $0.3 billion.
As mobile platforms continue to play an essential role in advertising, companies will need to adapt their strategies to take advantage of the opportunities offered by these platforms.
Key takeaways
Internet ad revenue growth slowed to 10.8% in 2022
Programmatic ad revenues, on the other hand, jumped 10.5% to $109.4 billion
Mobile ad revenue grew to $154.1 billion, an increase of 14.1% from the previous year