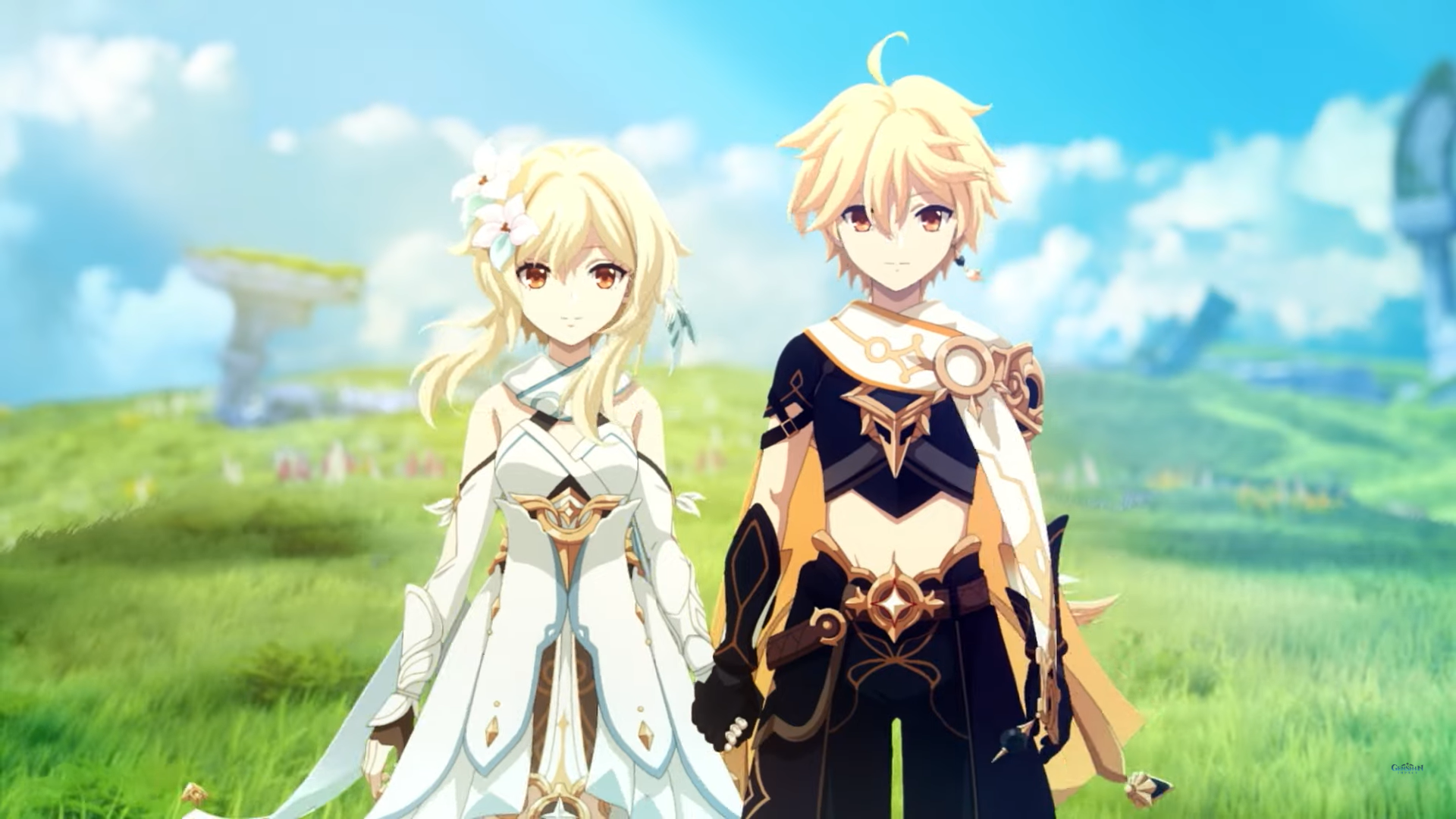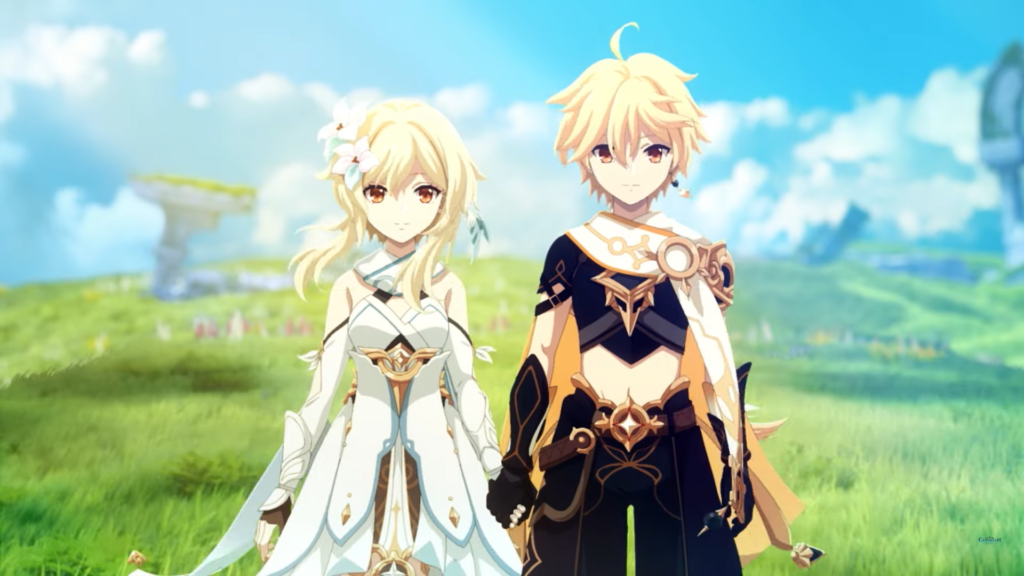 MiHoYo, the Chinese gaming app developer behind Genshin Impact, has now reached $8 billion in user spending across its catalogue of mobile games. That's according to data published by app experts AppMagic. But what's been driving the company's success?
The impact of Genshin Impact
Based on Appmagic data, Genshin Impact stands out as the primary contributor to MiHoYo's $8 billion in user spending, accounting for 73% of the total.
It's no surprise, considering the game's continued popularity nearly three years after its launch, reaching an 11-month peak earlier this year. The sustained success of Genshin Impact has undoubtedly played a pivotal role in driving MiHoYo's remarkable financial achievement.
miHoYo Games revenues and download tracker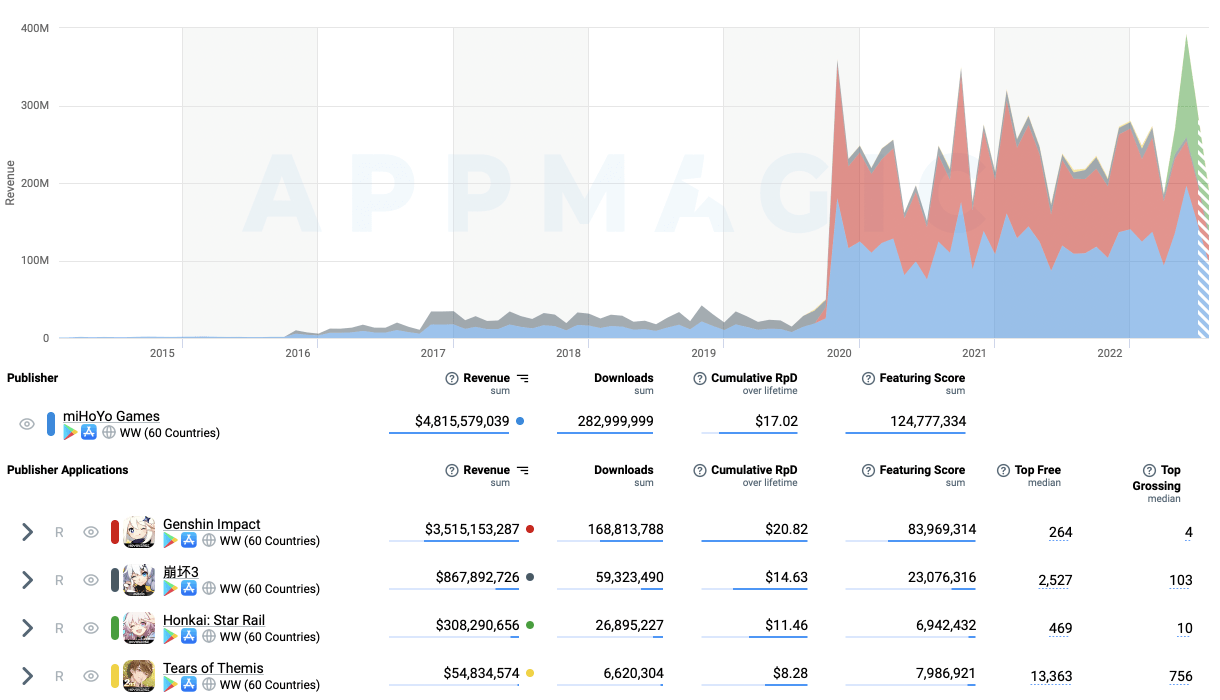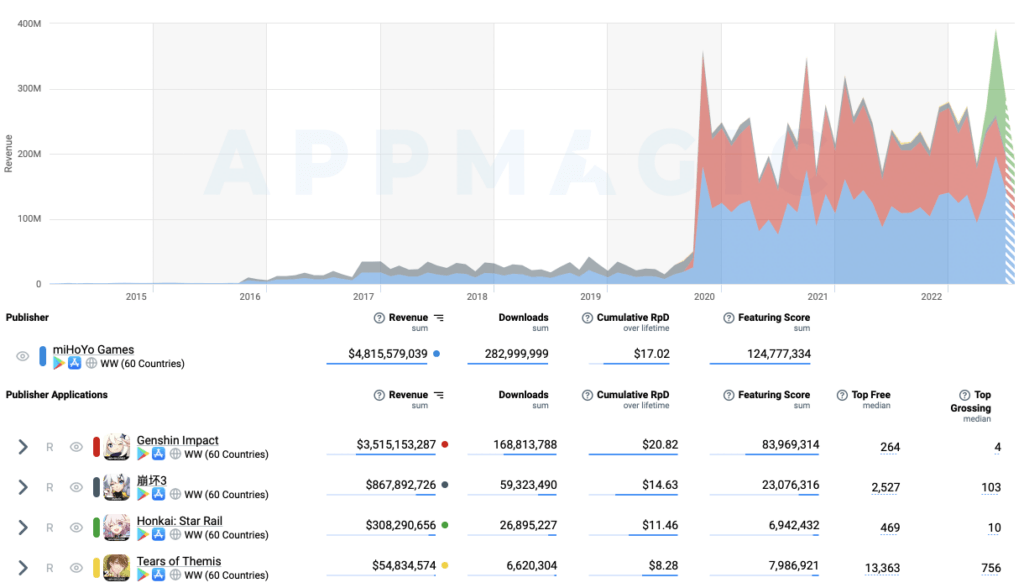 Source: AppMagic
No one-hit wonder
Naturally, many industry experts and gamers have wondered if MiHoYo's achievement with Genshin Impact was replicable or if it was a one-off phenomenon. Since its announcement as MiHoYo's first new release after Genshin Impact in 2020, Honkai: Star Rail attracted some impressive attention among gamers.
The title surpassed expectations and reached 20 million downloads within just two days. As a result, the game's consumer spending has flourished, even surpassing Genshin Impact's revenue in May. Perhaps more impressively, the data shows that MiHoYo can create hugely successful and engaging gaming experiences beyond Genshin Impact.
Honkai Impact 3rd follows in second place with 18% of the total spending, while the newly released Honkai: Star Rail has quickly amassed 6% of the total consumer spending.
Regarding regional consumer spending, Asia takes the lead, with China accounting for 39% and Japan at 21%. The United States represents 15% of the consumer spending.
When it comes to spending per store, the App Store leads the way with 69% of the total spending, with Google Play trailing behind at 31%.
China has been a dominant force in the mobile gaming industry, particularly in June, with MiHoYo playing a significant role. The top three most lucrative mobile games in June all originated from China, showcasing the country's remarkable influence in the mobile gaming landscape.
Key takeaways
MiHoYo's mobile game spending reached $8 billion in consumer spending, with Genshin Impact contributing 73%
Honkai: Star Rail generated enough spending to account for 6% of the total consumer spending in just a few months
Asian markets, particularly China, play a dominant role in driving consumer spending